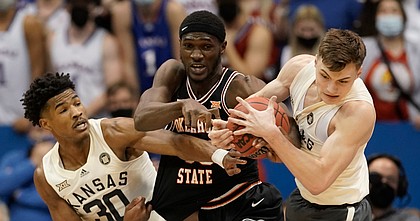 It's officially draft week for a handful of former Kansas basketball players hoping to hear their names called in Thursday's NBA draft.
And the anxiety, excitement and anticipation of it all only figures to grow with each passing day.
Five members of KU's national championship team worked out for at least one NBA team during the past couple of weeks and two of them — Ochai Agbaji and Christian Braun — are projected as locks to be selected in the 58-pick draft on Thursday night in Brooklyn, New York.
Agbaji, the 2022 All-American and Most Outstanding Player at the Final Four, has been considered a first-round pick for months. Many of the most popular current mock drafts are predicting that he will be selected in or just outside of the 14-pick lottery in the first round.
ESPN.com draft analyst Jonathan Givony has Agbaji going 14th to Cleveland.
"The Cavs will be looking to add size and perimeter shooting on the wing this offseason, both in free agency and in the draft," Givony wrote. "Agbaji, one of the best shooters in the draft with a 6-10 wingspan and chiseled frame, projects as a plug-and-play, 3-and-D prospect who should be ready to contribute immediately."
Kyle Boone and David Cobb, both of CBS Sports, also have Agbaji plugged into the No. 14 spot to Cleveland.
Colleague Gary Parrish is the highest on Agbaji. Parrish, along with The Field of 68 podcast and NBADraft.net, all have Agbaji going No. 10 overall to Washington in Thursday's draft.
"Solid NBA starter may be his ceiling, but the development Agabji showed from his junior to senior season showcased his relentless work ethic and capacity for improvement," Cobb wrote in his latest mock draft.
The Sporting News (No. 15 to Charlotte) and HoopsHype (No. 16 to Atlanta) predict that Agbaji will go just outside of the lottery, which is made up of the 14 teams that missed the 2022 playoffs.
Braun's positioning has been a little more fluid. While several projections had him going late in the first round throughout the month of May, when he turned in a strong showing at the pre-draft combine, the latest predictions for Braun have been split between late first round and early second.
Givony, who long had Braun listed with the 28th pick in the first round, to Golden State, now has Braun slotted at No. 32 overall to Orlando. That's the second pick of the second round. And while the difference between guaranteed money in Round 1 and a gamble in Round 2 used to be massive, plenty of players have shown in recent years that good money and long careers can be made after being selected early in the second round.
There are still those out there, however, that believe Braun is a first-rounder.
Cobb has Braun going No. 27 overall to Miami.
"Braun is a dynamic forward who can guard 1 through 4, knock down 3-pointers and get to the basket," Cobb wrote. "By turning down another season at Kansas in which he could have become a superstar, Braun made a bet on himself."
Parrish is also high on Braun. He has him plugged into the No. 25 pick in the first round by San Antonio.
The Sporting News also sees Braun as a first-rounder, pegging him to go with the last pick of the first round at No. 30 overall to Denver.
"The Nuggets acquired this pick from the Thunder and I could see them targeting wing depth — particularly with shooters and cutters — to complement (two-time MVP Nikola Jokic)," Kyle Irving wrote in his latest update. "Braun is the type of 3-and-D player who could excel playing off of a playmaker of Nikola Jokic's caliber. … Braun does all the little things to help a team and the Nuggets could use a player who plays winning basketball the way he does as they look to compete immediately when they return to full strength next season."
Kyle Boone predicts Braun will go No. 43 overall to the Los Angeles Clippers and HoopsHype has Braun at No. 35, selected early in the second round by Orlando.
Agbaji was one of 20 prospects invited to sit in the green room at Barclays Center on draft night. Braun and his family are also expected to be in New York for the draft, which is slated to begin at 6:30 p.m. and will be televised on ABC and ESPN.
Kansas coach Bill Self believes the many mock drafts are in the right range
"CB's put himself in position to be in the latter part of the first round, and I think that's very realistic," Self said recently. 'And Ochai (going) in the latter part of the lottery, I think that's very realistic. So, yeah, it would be great to see them their names called in those positions. But those names called in those positions (isn't) as important as them getting to a place where there's actually a fit, where they can actually develop and show what they can do."
Mitch Lightfoot (Charlotte), Remy Martin (Atlanta and Los Angeles) and David McCormack (Los Angeles) also worked out for NBA teams in recent weeks. None of those former Jayhawks are projected to be drafted, but all of them could quickly catch up with an NBA team as free agents ahead of the upcoming NBA Summer League.