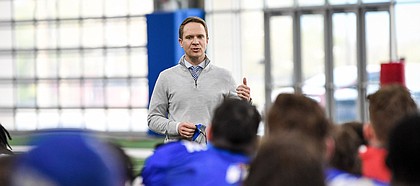 The University of Kansas athletic department has joined forces with Altius Sports Partners for its name, image and likeness initiatives, KU Athletic Director Travis Goff announced Monday.
The partnership, which is centered around Altius as a consultant for best practices in the NIL space, was announced by Altius late last week.
It does not replace KU's deal with Sixth Man Strategies, rather opens a door for Altius to work with Sixth Man Strategies, and others, to provide NIL opportunities for KU's student-athletes.
Sixth Man Strategies — and, later, 12th Man Strategies for KU football — has been handling KU's men's basketball NIL opportunities since the NCAA first began allowing athletes to profit on NIL last July.
According to the Altius release, "the partnership is designed to maintain (KU's) position on the cutting edge in the changing collegiate environment. The Altius Sports team will provide coaches and staff with educational workshops and resources targeting areas such as group licensing, managing external partnerships, and recruiting. Altius Sports will also assist in identifying and advising on strategies to support and empower the program's student-athletes across varsity sports."
During Monday's quarterly meeting of the Kansas Athletic, Inc., board of directors, Goff said he was "alarmed" by what had taken place with NIL on a national scale during the past six months. But he added that he remained proud of the way KU approached the changing landscape and said he thought it would be critical for KU's athletic department to continue to evolve in the space.
Goff said KU's strong foundational policies for NIL, which include the Jayhawks Ascend program, have both provided quality opportunities for KU's student-athletes and kept KU from having to pull back the reins after jumping into the NIL world too fast and furious like a few other universities which in recent weeks have found themselves receiving added attention and even under investigation from the NCAA.
"We've built this on a culture of compliance," Goff said of KU's NIL strategy, which he added was bolstered by a strong understanding of both "what NIL is and what NIL isn't."
Goff called KU's decision to team up with Altius "a progressive step forward in name, image, likeness" and "a real significant investment for our department."
He said representatives from APS were on campus this week, talking with coaches, athletes and other members of the department to assess KU's needs and desires in NIL, and he summed up the partnership by calling it KU making a move toward "additional resources, additional commitment and additional programming."
"Success and sustainability amidst the ongoing evolution of collegiate athletics requires innovation and collaboration, and Kansas is embracing that mindset," said Altius VP of Collegiate Partnerships Andrew Donovan in a news release announcing the partnership. "We look forward to combining forces with the Jayhawks to build on a solid foundation and proactively equip all KU stakeholders to navigate this new era responsibly and successfully – now and for years to come."
Some notable names on the Altius advisory team include: former West Virginia AD Oliver Luck, Joe Entz, the former president of Fox Sports and a producer at ESPN; Michael O'Hara Lynch, a former global head of sponsorship and marketing for Visa, Inc., and of consulting at Nielson Sports; ESPN broadcaster Jessica Mendoza; and Malcolm Turner, former Vanderbilt AD and one-time president of the NBA's G League.
Kansas Athletics is also in the process of hiring a director of NIL services and Goff said interviews with finalists for that position had begun.
In other news at Monday's meeting:
• The board approved the proposed budget for Fiscal Year 2023 at roughly $110 million. That's about $7 million higher than the approved budget for 2022. Most of the variance was attributed to the following areas: a $3 million increase in multi-media rights revenue, a projected increase of $1.5 million from football and men's basketball ticket sales, and a projected increase of $2.7 million in donor contributions.
As for the variance in expenditures, KAI Chief Financial Officer Pat Kauffman said Monday that KAI was projecting team travel to increase by $1.2 million, most notably because of inflation and the football team's travel cycle requiring more chartered planes than last year, and a $1 million increase in department operating expenses, which is tied largely to the return of the Kansas Relays in 2023.
The proposed budget, which was presented as fully balanced, passed unanimously, with KU Chancellor Douglas Girod noting that the $110 million projection for Fiscal Year 2023 was "probably right back to where we were pre-pandemic."
• Girod said the process to find a replacement for outgoing Big 12 Commissioner Bob Bowlsby was "moving along nicely." He added that the hope was for Bowlsby's successor to be in place by the end of the summer. Girod said the new commissioner's immediate attention will be on leading the conference through "a very dynamic time, as we transition two universities out of the Big 12 and four universities into the Big 12." Girod also made note of the Big 12's television rights contract expiring in 2024-25 and the important role the new commissioner will play in negotiation the next deal.
• Goff praised the work of KU's student-athletes in the classroom for improving the department's overall grade-point average from 3.23 in the fall of 2021 to 3.29 in the spring of 2022. Goff said the KU women's golf team set a new program record with a 3.79 GPA and added that all 16 programs were above 3.0 this spring. Individually, Goff said 334 of KU's student-athletes — or, roughly, 73% — also carried a 3.0 GPA or higher during the spring semester.