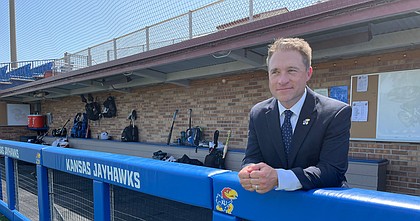 During his introduction at KU on Thursday afternoon, Kansas baseball coach Dan Fitzgerald made it clear that he believed the program had everything it needed to be successful.
He also made it clear that he cared very little about the hefty challenges — how many, how daunting or how taxing — that he and the program will face as he attempts to pull the Jayhawks out of the Big 12 cellar in the years ahead.
"To me, the challenges are exciting," Fitzgerald said Thursday, with his wife, Kelly, and three sons sitting proudly by inside Hadl Auditorium on KU's campus. "They're everywhere. I think every program has their own set. But you can out-team someone. We can out-together someone. You can out-family (people). And that's what I care about."
Photo Gallery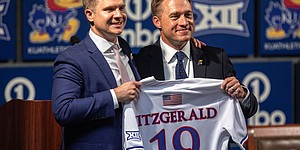 Dan Fitzgerald introduced as new KU baseball coach
Dan Fitzgerald introduced as new KU baseball coach
Over time, the issues that have plagued the program in recent years and threaten its future will have to be addressed. The status of the facilities is a concern. The weather issue is ever-present. And trying to compete in the Big 12 Conference is not for the faint of heart.
But that just scratches the surface of what Fitzgerald, 44, needs to set right with the program that finished last in the conference during the past two seasons and five times since 2011.
That's to say nothing of the challenges facing all college coaches in all sports with the transfer portal and name, image and likeness initiatives reshaping the landscape.
Fitzgerald's more immediate attention likely will go toward rebuilding a roster that was hit hard by graduation and the transfer portal and building a culture which inspires players to believe winning is possible and, more importantly, sustainable.
KU Athletic Director Travis Goff certainly did not shy away from that part on Thursday, noting that his goal was for the Kansas baseball program to win Big 12 championships and become a regular part of the postseason.
Related document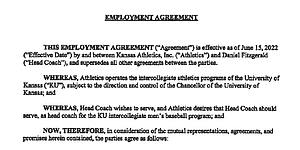 Dan Fitzgerald contract ( .PDF )
"At KU we only have 16 programs," Goff said. "Why wouldn't we expect excellence in every one of them."
Those words, and the action behind them from Goff and KU's athletic administration, may have been the first sign of renewed commitment and investment in Kansas baseball. That, too, was by design.
Goff said Thursday that those who took part in the search to hire Fitzgerald recognized that the opportunity they had was bigger than simply filling an office.
To that end, the process to find Fitzgerald mirrored that which Goff used to hire KU football coach Lance Leipold, a man who, a little over a year ago, signed on to try to tackle some of the biggest challenges in all of college athletics.
Probably not coincidentally, Leipold's name came up less than two minutes into Goff's introductory remarks on Thursday. As the news conference went on, it became clear that Goff found in both Fitzgerald and Leipold men he believes will work hard and be a joy to be around.
More than that, the partnership — and that's what both parties emphasized this new pairing would be — started with open dialogue about all of the good things and hurdles connected to Kansas baseball.
"You have to have honest conversations about those," said Goff of the challenges. "This is an opportunity the University of Kansas has embraced to build this program right (and) to resource it at a level that's commensurate with these heightened expectations. We started with that and led with that every step of the way."
The resourcing portion of that commitment is an important part, and Fitzgerald's $3.16 million contract, which averages out to just over $525,000 per year over six years, demonstrates KU's willingness to support not only Fitzgerald but also the program.
Fitzgerald said Thursday that he felt comfortable — connected even — with what Kansas was looking for from their earliest conversations.
What set Fitzgerald apart from the other candidates, according to Goff, was the plan and vision for KU baseball that he presented in his interviews. Goff called it "a customized version of (how) we can all build this program together." And he said that fact, which essentially was Fitzgerald already embarking on attacking one challenge, gave KU's leaders confidence that he was the right man for the job.
"Dan's plan in this interview process was a plan that was unique to the University of Kansas," Goff said. "It wasn't one that you could've pulled out and presented to Program X or Program Y or Institution X or Y. It was thoughtfully crafted over years of experience and over a background that puts him exactly where's supposed to be."
Fitzgerald said Thursday that Kansas was a place he had circled on his list of possible destinations for a long time. His familiarity with the region and respect for retiring coach Ritch Price played a role in that. The fact that he found an AD and athletic department that wanted to link arms with him and build something together only strengthened his belief that Kansas was the right job for him, warts and all.
"A building's a building," Fitzgerald said Thursday. "And as long as the base paths are 90 feet and the pitcher's mound is there and inside the white lines you can compete, the intangible (factor) is people. I really believe in Travis Goff and what he's doing and the people he has in place. And I could not be more thrilled to be here. To me, we have the intangible things here and the stuff that really matters."