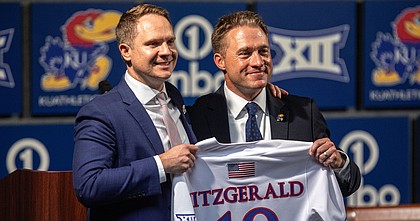 As someone who has recruited across the Midwest for the better part of two decades, Dan Fitzgerald has logged plenty of miles in Kansas.
In fact, as he joked, the longtime baseball coach has driven by the Interstate 70 exits for Lawrence more times than most people who live in the city.
"Someone asked me if I've spent much time in Lawrence, and I haven't," Fitzgerald said. "It's because there's not a junior college here."
Photo Gallery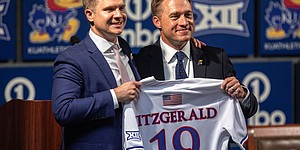 Dan Fitzgerald introduced as new KU baseball coach
Dan Fitzgerald introduced as new KU baseball coach
There is, however, one large university — and he will now be able to call it his. Fitzgerald was introduced as the next coach of Kansas' baseball team at a news conference on Thursday that was attended by his wife and three sons, a dozen of his new players, some of the Jayhawks' other coaches and a handful of others with connections to the program.
Fitzgerald spent this past season as an assistant coach at LSU, where he was in charge of recruiting, following nine seasons in the same role at Dallas Baptist. He replaces Ritch Price, who retired in May after 20 seasons.
It's fitting, then, given all the miles Fitzgerald has logged in the area that he agreed to become the Jayhawks' coach while sitting in his car in the driveway of his Louisiana home. He signed a six-year contract that, a source told the Journal-World, will pay him a base salary of $3.16 million, beginning with $500,000 in Year 1 and escalating to $540,000 in Year 6.
"I was thrilled," Fitzgerald said. "I haven't been a part of their committee meetings to figure out what it is that they're wanting, but I kind of feel like we want the same thing. I was fired up. I was really fired up. This is a place that I've had circled for a long time. A long time."
Related document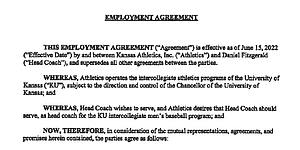 Dan Fitzgerald contract ( .PDF )
Kansas went 20-35 last season, including 4-20 in the Big 12, and was the only team that did not qualify for the conference tournament. Price formalized his retirement on May 22, one day after the season ended with an eight-game winning streak, and athletic director Travis Goff immediately began looking for a successor to the Jayhawks' most successful baseball coach in school history.
That search led Goff and the athletic department's search committee to Fitzgerald, who is from Edina, Minnesota, and was last a head coach in 2012, when he completed his fifth season in that role at Des Moines Area Community College.
Goff downplayed the significance of hiring an active head coach as merely "an item on the list" and pointed to Fitzgerald's time in Iowa as fulfilling that need. He went 249-73 leading the Bears, who advanced to the NJCAA College World Series four times during his tenure.
"The coaches that we talked to that know Dan, that have been around Dan, countless have said to us, 'Dan could have been the head coach all over this country six years ago,'" Goff said. "Dan's been a candidate and a name that has been talked about in head-coaching searches for years. What Dan hasn't done is gone out and campaigned.
"I think that's the beauty of the guy that we got is the confidence and also the humility to know that he's going to go on his journey doing it the right way and the right opportunity is going to present itself. This is a guy that could have been a head coach at so many great places across the country, and not just this year or last year but over the course of many years out there."
Fitzgerald's immediate challenge will be to try to replace what the Jayhawks have lost. Shortstop Maui Ahuna, who had a chance to be Kansas' first player to be chosen in the first round of Major League Baseball's first-year player draft, decided to transfer to Tennessee last week. A pair of redshirt freshmen — Jack Hammond and Cooper McMurray — have transferred to Long Beach State and Auburn, respectively, and second baseman Tavian Josenberger, a sophomore from Kansas City, Missouri, has also decided to leave and hasn't yet found a new school.
In all, nine of the Jayhawks' 10 best hitters from last season have left the program either via transfer or graduation. Those who remained, though, are pleased with what they heard from Fitzgerald, who first spoke to them via a videoconference on Wednesday before the university publicized his hiring.
"We're super excited," said infielder Zac Cox, who attended the news conference. "It seems like he wants to get us all together. I haven't really gotten to talk to him much, but from what we've heard and heard from him and speaking to him a little bit, we're definitely very excited."
Fitzgerald said he does not have a timeframe for when he plans to hire his assistant coaches and thanked Price, Dallas Baptist head coach Dan Heefner and LSU coach Jay Johnson for the opportunities they have provided him.
He also had tears as he thanked his wife, Kelly, and their three sons, Will, Max and Ben, and said the discussion surrounding moving to Kansas — which took place in their living room — centered on whether the opportunity would work for everyone.
"We just felt like this was a place that checked every box," Fitzgerald said. "So, yeah, it was a great conversation."