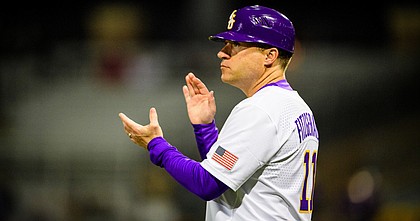 The Kansas baseball program is now in the hands of longtime Division I assistant Dan Fitzgerald, who was announced as the Jayhawks' new leader on Wednesday afternoon.
Fitzgerald comes to KU after a one-year stint as an assistant coach and recruiting coordinator at LSU and nine years at Dallas Baptist before that.
For the better part of the search to find Ritch Price's replacement, those who followed along looked at KU Athletic Director Travis Goff's track record of hires for clues.
The biggest of those came from Goff's hiring of KU football coach Lance Leipold, a former head coach and program builder who already has reworked the culture of the Kansas football program.
But while Fitzgerald does not have the title of Division I head coach on his resumé, he does share possess other qualities for which Leipold is known. Most notable among them is his likable demeanor and uplifting personality.
In a news release announcing the move on Wednesday, Goff called Fitzgerald, "a man of exceptional integrity, proven leader, developer of men, tremendous baseball mind, elite recruiter and the perfect fit for Kansas baseball."
After talking with KU alumni, current student-athletes and others throughout college baseball, Goff said Fitzgerald's name was one that kept surfacing. That approach, and its result, also mirrored the search to find Leipold last spring.
After participating in a Zoom interview with KU's search committee last week, Fitzgerald was on campus this week for an in-person interview during which he separated himself from what multiple sources said was a strong group of candidates after presenting his plan to KU administrators.
"Dan clearly articulated his vision for the future of Kansas baseball and passionately demonstrated his desire to be at the University of Kansas," Goff said in the release. "We could not be more excited about the outlook for our program with coach Fitzgerald at the helm."
Like other candidates, Fitzgerald was in the mix for several other openings and his previous stint at Dallas Baptist, where he coached for nine seasons from 2012-21, likely made him a candidate at Baylor.
"The pool Kansas had to choose from was phenomenal," a source with knowledge of multiple ongoing searches told the Journal-World on Wednesday.
In a statement in the KU release announcing him as the program's next leader, Fitzgerald said he had been waiting for the right opportunity to take over a program.
"And this was the perfect destination for me and my family," he said.
He continued: "In my conversations with Travis and the search committee, it became crystal clear that our visions aligned regarding the future of this program. There is a passion for KU that permeated from each individual I met with and that shared partnership will be vital to the program's future success. I look forward to developing these student-athletes as baseball players as well as men, and putting a program together that all Jayhawks can be proud of."
Dating back to his time at Dallas Baptist, Fitzgerald, 44, became known as a powerhouse recruiter and that continued during his short stint at LSU.
Fitzgerald was hired by first-year LSU head coach Jay Johnson on July 9, 2021, and, during his one season with the Tigers, he helped put together the No. 1-ranked recruiting class in the country per PerfectGame.org. Baseball America ranked LSU's 2022 recruiting class second, noting that it could be the deepest class in America.
That group included 11 top-100 prospects, which was the most in the country.
The Tigers finished the 2022 season with a 40-22 record and an appearance in an NCAA regional. That included a 17-13 mark in the SEC, and Johnson told the Journal-World on Wednesday night that his job "just got more challenging with Dan leaving."
"He's first class all the way through," Johnson said in a phone interview. "He's been ready to do the job he's about to do for a long time now. He's a great evaluator, great recruiter and just has great feel for building a winning team through the recruiting process. I don't think Kansas could have hired a better guy to do all of that than Dan."
In 2021, just before leaving for LSU, Fitzgerald helped lead Dallas Baptist to a final national ranking of No. 14 and came within one victory of reaching the College World Series.
In a 2020 survey of 90 college head coaches by Baseball America, Fitzgerald landed at No. 7 on the list of current assistants who would make the best head coaches.
Prior to DBU, he coached at Des Moines Area Community College in Boone, Iowa, from 2008-12. While there, his teams averaged 50 wins per season and reached the Juco World Series four times.
A native of Edina, Minnesota, Fitzgerald began his coaching career at Iowa in 2000, and he also coached at Northern Iowa Community College and Flagler College.
In college, he played baseball at the University of St. Thomas in St. Paul, Minnesota, and the University of Wisconsin-River Falls before graduating from Minnesota in 2000.
Fitzgerald is expected to be officially introduced at KU this week. He and his wife, Kelly, have three sons – Will, Max and Ben.