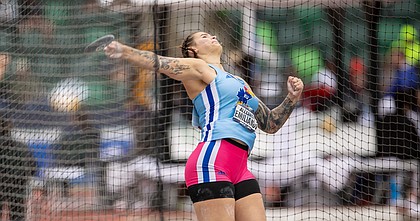 Kansas senior Alexandra Emilianov capped off her college years by finishing second in the discus at the NCAA outdoor track and field championships Saturday afternoon at Hayward Field in Eugene, Oregon.
Emilianov, who was competing at the meet for the fourth time, endured a steady rain and wet circle to throw the discus 58.44 meters (191 feet, 9 inches). That distance was only surpassed by Arizona State senior Jorinde van Klinken, who defended her championship by reaching 62.16 meters (203-11).
A three-time Big 12 champion in the discus, Emilianov, who is from Moldova, fouled just once — on her last throw. She reached 55.39 meters (181-8) on her first throw, 56.95 (186-10) on her second throw and 56.41 (185-1) on her third throw in Flight 2 of the semifinals.
Van Klinken, who is from the Netherlands, reached 57.59 meters (188-11) on her first throw, fouled on her second throw and hit 58.06 meters (190-6) on her third throw. Nine of the 24 competitors then advanced to the finals, with van Klinken and Emilianov having thrown the greatest distances in the semifinals.
Emilianov's fourth throw, after the 10-minute break between rounds, traveled 56.61 meters (185-8). Van Klinken then fouled on her fourth throw, and Emilianov responded with her best throw of the afternoon — one that sailed directly down the middle.
The throw put her in the lead, albeit only briefly. Van Klinken's next throw was her best, and Emilianov wasn't able to match it as her sixth and final throw sailed to the right for a foul.
Emilianov stopped to hug van Klinken on her way out of the circle, and van Klinken finished the event with a throw of 59.20 meters (194-3). Texas Tech junior Malin Smith, who fouled five times, finished third as her second throw traveled a personal-best 56.78 meters (186-3).
Van Klinken holds the Netherlands' record in the discus with a throw of 70.22 meters (230-5), which she achieved in May 2021. She won the NCAA discus title a year ago with a throw of 65.01 meters (213-4) that broke the 21-year-old meet record.
Emilianov holds Kansas' school record in the discus, a throw of 60.26 meters (197-8) at the Rock Chalk Classic on May 1, 2021. She also holds the school record in the shot put in the indoor season (16.80 meters; 55-2) and the outdoor season (17.25 meters; 56-7).
Meanwhile, Kansas junior Rylee Anderson finished 13th in the high jump after she cleared a distance of 1.80 meters (5-10 3/4). Anderson, who finished second in the Big 12 meet, cleared 1.72 meters (5-7 3/4) and 1.77 meters (5-9 3/4) on her first two jumps and needed three tries to surpass 1.80 meters, but was unable to clear 1.83 meters (6 feet) in her three attempts at that distance.
Texas A&M; junior Lamara Distin won the high jump by clearing 1.95 meters (6-4 3/4), Middle Tennessee State senior Abigail Kwarteng was second at a personal-best 19.2 meters (6-3 1/2) and South Carolina sophomore Rachel Glenn was third at 1.86 meters (6-1 1/4).