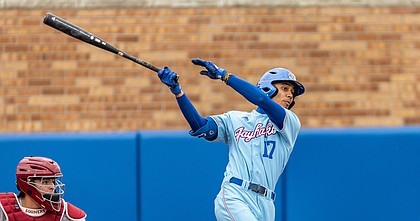 Maui Ahuna has found a new home.
The shortstop has decided to transfer to Tennessee nearly three weeks after he chose to leave Kansas following the retirement of coach Ritch Price.
Ahuna batted .396 with a .479 on-base percentage while starting all 53 games for the Jayhawks as a sophomore this season. He hit eight home runs, tied for the team lead with 16 doubles, was second on the team with 42 runs and 48 RBIs and finished the season on a 20-game hitting streak.
"The SEC is a good conference and the best conference (for) baseball and I'm excited to play with the best guys and I'm sure they're excited to play with me," Ahuna told KHON-TV in Honolulu. "It's a new step in my life and my journey in baseball.
"Since I entered the portal, it's been a long, hectic two weeks. I was really excited to enter the portal and I knew with the season I had this past year, I knew what was going to come and I knew schools were going to contact me and obviously, Tennessee contacted me. They were one of the first teams to contact me and I knew that was the spot for me."
https://www.khon2.com/sports/maui-ahuna-ready-to-join-the-best/
Ahuna, from Hilo, Hawaii, was named to the all-Big 12 first team in May, making him the first Kansas infielder to earn such honors since catcher Michael Tinsley in 2016.
Price retired after 20 seasons on May 22, a day after the Jayhawks finished the season 20-35, including 4-20 in the Big 12, and were the only team to miss the conference tournament.
Ahuna said in mid-May that he would never consider leaving Kansas because of the relationship he had built with Price, who is a close friend of Ahuna's father's college baseball coach.
"I could be anywhere in this country, but I love this place," Ahuna said then. "This place is good. I love the guys. I love the place. I love the coaches. No doubt. Growing up, exposure was a key thing. I didn't get much, but I'm loving it here."
Before the season ended, several Major League Baseball scouts told Price that Ahuna had a good chance to be a first-round pick when he is again eligible to be drafted next spring. He would have been the first Kansas player to be chosen in the first round.
Instead, he heads to Tennessee, which spent nearly the entire season as the No. 1-ranked team in the country. The Volunteers went 49-7 during the regular season, won the SEC tournament and are facing Notre Dame in the best-of-three Super Regionals, which began Friday with the Fighting Irish winning 8-6.
Three of Tennessee's starters — shortstop Cortland Lawson, third baseman Trey Lipscomb and second baseman Jorel Ortega — have a chance to be drafted high enough to leave following this season.
Ahuna will play this summer for the Falmouth Commodores of the Cape Cod Baseball League, long considered the most prestigious league for collegiate baseball players. Games are scheduled to begin Sunday.