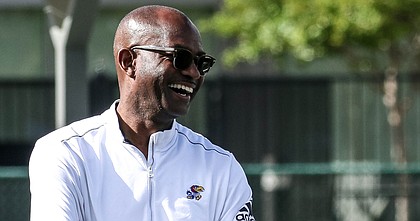 Kansas freshman Alexander Jung cleared a decathlon-best 4.91 meters in the pole vault at the NCAA track and field championships in Eugene, Oregon, on Thursday.
Jung finished 18th out of 24 entrants in the event with 7,341 points. In addition to the pole vault, he was 15th in the 110-meter hurdles (14.97 seconds), 11th in the discus (40.58 meters), 12th in the javelin (53.24 meters) and 19th in the 1,500 meters (4:49.52).
Arkansas junior Ayden Owens-Delerme won the decathlon with a meet-record 8,457 points, with Texas sophomore Leo Neugebauer second with a personal-best 8,362 points and Georgia sophomore Kyle Garland third at 8,333 points.
Kansas senior Honour Finley competed in the semifinals of the 800 meters and 4x400-meter relay on Thursday but was unable to advance to the finals in either event.
Finley finished 16th in the 800, and sixth in her heat, after running a 2:04.42. It was only her fourth time competing at that distance after she set a school record with a 2:03.87 set at the NCAA West Preliminary on May 28.
She also joined senior Mariah Kuykendoll, senior Satanya Wright and junior Anna Siemens for the relay, in which they combined to finish 14th in 3:34.96.
The meet will conclude on Saturday with Kansas senior Alexandra Emilianov competing in the discus and senior Rylee Anderson in the high jump.