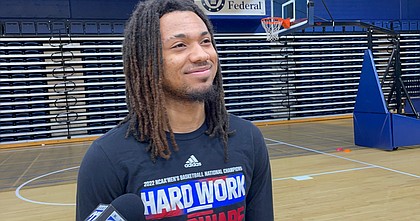 Topeka — After a year of dealing with injuries that ranged from uncomfortable to intolerable, sophomore guard Bobby Pettiford is finally pain free again.
Pettiford said as much earlier this week while helping out at Washburn basketball camp, where he joined Kansas teammate KJ Adams and dozens of young campers on the court at Lee Arena.
"I can't believe it," Pettiford told the Journal-World of finally feeling like himself again. "It just feels good. My body's not in any more pain, and I'm ready to rock out this year, ready to be more explosive and all that."
After arriving at KU in a walking boot a year ago because of torn ligaments in his ankle, Pettiford was shut down for good in late February after having surgery to repair a torn muscle in his pelvic area.
"I still don't know how it happened," the KU sophomore said of the abdominal injury. "It just somehow happened."
Once it did, he quickly became severely limited. He tried to push through the pain early on because he liked the role both he and KU coach Bill Self saw for him as a true freshman.
"I was at the point where coach was really kind of trusting me," Pettiford said this week. "I was getting 15 minutes and I was like, 'I'm here.' But it got to the point where I was just playing on one leg."
Pettiford played in 14 games during the 2021-22 season, in-cluding six Big 12 contests. He averaged eight minutes, 1.4 points and 0.9 assists per contest.
The whole reason he tried to stay available was because he didn't want to leave his teammates hanging. With Remy Martin already shut down for part of the season, Pettiford said it was as simple as not wanting to force starting point guard Dajuan Harris Jr. to play 40 minutes per game every time out. But that team-first mindset only went so far.
When Pettiford discovered that he could barely handle a couple of trips down the floor per game, he and his family, along with the KU coaching staff, decided to shut him down for good.
"Me and coach both wish we had done that (earlier)," he said this week. "But we didn't think the injury was that bad at first."
The arrival of the offseason gave Pettiford more time to heal and he has taken full advantage. In addition to rest and rehab in Lawrence through the end of the school year, Pettiford did some physical therapy during the month he spent back home in Durham, North Carolina.
The 6-foot-1, 190-pound combo guard considers his ongoing recovery still to be a "day-to-day process." But he's seen enough evidence to know that his body is getting stronger and his injuries are no longer a concern.
He admitted to feeling a few sharp pains from time to time — most notably when trying to guard Harris — but said those were more in his groin and not his core. Beyond that, they have not lasted long or caused him any real issues.
Never was that more obvious than Monday at Bill Self's Youth Camp, when Pettiford heard hundreds of campers calling his name.
"The kids were chanting, 'Dunk, dunk, dunk,' and I'm like, 'Uh, I haven't dunked in I don't know how many months," Pettiford said.
That didn't stop him from trying, though, and after he threw one down, Pettiford said he felt an immediate surge of energy.
"I was like, 'Wait, maybe I am getting there. I'm back.' It felt good. I finally got that confidence back and my body's like, 'We're back; we can do it again.'"