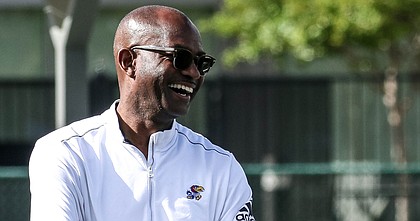 Kansas freshman pole vaulter Clayton Simms cleared a personal-best 5.50 meters Wednesday at the NCAA track and field championships in Eugene, Oregon, to earn first-team all-America honors.
Simms, who was also a first-team all-American during the indoor season, finished seventh in the event. Teammate Zach Bradford, a senior, capped his career by also clearing 5.50 meters, finishing ninth and earning second-team all-America honors.
Princeton junior Sondre Guttormsen, from Norway, won the event by equaling a personal best of 5.75 meters. Sam Houston senior Clayton Fritsch finished second at 5.70 meters and Kentucky sophomore Keaton Daniel was third at 5.65 meters.
Simms and Bradford each cleared 5.30 meters — Simms on his second attempt and Bradford on his third — before moving to 5.40 meters, which Simms cleared on his first try. Bradford cleared it on his second, and they advanced to 5.50 meters, which Simms needed two attempts to overcome.
Bradford cleared that height on his third attempt but it was ruled a foul, but he protested and the foul was overturned.
Simms then failed to clear 5.55 meters twice and then passed on his third attempt for a shot at 5.60 meters, which he missed. Bradford missed all three attempts at 5.60 meters.
Kansas freshman Alexander Jung is in 21st place after the first five events of the decathlon, which concludes Thursday. Jung, who has 3,673 points, was 19th in the 100 meters (11.30 seconds), 20th in the long jump (6.70 meters), 18th in the shot put (12.97 meters), 15th in the high jump (1.92 meters) and 20th in the 400 meters (51.67 seconds).
Arkansas junior Ayden Owens-Delerme, who finished second last season while at Michigan, is first in the decathlon entering Day 2 with 4,490 points.
The women's 800 meters will be held Thursday night, with Kansas senior Honour Finley set to compete in the second of three semifinals beginning at 9:14 p.m.