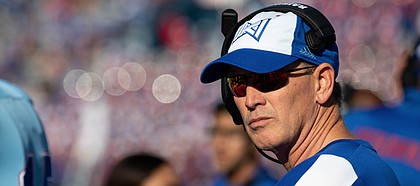 It wasn't until late in October that Kansas coach Lance Leipold realized the Jayhawks needed to get older.
Leipold, who was hired the previous April, had too many challenges to confront during his first several months on the job to recognize what it meant to have a team full of underclassmen.
The solution? The transfer portal. Since the end of last season, Kansas has added 19 players who spent last season playing at another college — the most of any Big 12 school.
Many of them will hold significant roles as soon as the season opener at home against Tennessee Tech on Sept. 2.
"When we got through that first eight weeks or so, we knew we were going to have to do some things and take advantage of new opportunities and a new group of people," Leipold said. "On that note, I really think that for the ones that are here, they fit in well. They fit into what we're asking them to do and those things. Sometimes you can just try to fix needs and hurt your locker room, and I don't think we've done that at this point."
At Big 12 football media days earlier this month, Leipold outlined the way he, his assistants and his support staff identified and added those 19 players, of which 12 are on defense and seven on offense.
According to ESPN, more than 3,600 players from FBS schools entered the transfer portal by mid-April — nearly 30 per team — and that doesn't include all of those who decided to leave after spring practice had concluded or those at other levels. (Kansas lost 22 scholarship players since the start of last season.)
Leipold said his staff monitored the portal for any additions, including those from Division II and Division III given their roots, and would flag anyone who it believed may have a chance of helping the Jayhawks. One player, offensive tackle Dominick Puni, transferred to Kansas from Central Missouri, a Division II school.
"We try to get eyes on every guy that is in the portal, and then from there, we'll do background and reach out to different people and how and what and is there a fit," Leipold said. "Those are things that we've gone to, and I would say we would probably consistently continue to look at all avenues to improve our roster."
Part of those background checks includes intelligence from other coaches and players who may have relationships with those who are looking to transfer. One player who decided to transfer to Kansas this offseason, Louisiana linebacker Lorenzo McCaskill, exemplifies the staff's approach.
The Kansas coaches were alerted to McCaskill's availability when they were a camp at Eastern Michigan over the summer. Another coach who knew McCaskill told them he had yet to find a new home, and the Jayhawks' four players from Detroit shared how he could fit in Kansas.
"When guys make those decisions based on being in the portal, prior relationships will play a part, and right now, that Detroit area has been pretty good for us," Leipold said. "But again, it's still going to be relationships and development of your current roster, and again, the quick fix isn't always going to be the answer."
Leipold also said that roster construction remains a priority. Kansas did not add any high school wide receivers, nor anyone else who plays the position, as part of the recruiting class when it was unveiled in mid-February. It later added one in Doug Emilien, who left Minnesota after spring practice concluded and decided to transfer to Kansas in early May.
"Maybe we didn't add at certain positions — or as many at a certain position — until after spring or as we continue because we want to continue to evaluate the development of that position," Leipold said. "But again, then you have opportunities to make it more competitive, first of all — to make it deeper. Again, a lot of those things are still balancing scholarship numbers, but yeah, you have to worry about the psyche and maintaining what's there already."
With several of those 19 players who transferred to Kansas expected to make an impact, it would be understandable if those who were "recruited over" were upset. But Leipold noted that none of the players the staff projected in April to be a starter or a primary backup this season chose to leave.
"That's a balancing act, and I made sure to talk to them as well [to tell them] that this isn't anything that you're not doing or can't do," Leipold said. "This is also where we have to make things internally better to try to add to our program. ... It's part of the new way of what's going to happen, but I think overall, our team has handled that really well."
Whether Leipold and his staff need to continue to use the transfer portal so heavily beyond this season is uncertain, but it will remain an avenue by which players join the team.
"We've got a lot of ways to address things," Leipold said, "but it's still going to back to the evaluation of talent and need and how it's going to affect the team."