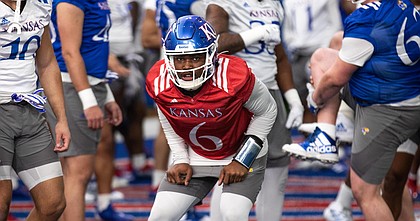 Quarterback Jalon Daniels' attempt to form a bond with each of his Kansas teammates led to a seemingly unlikely friendship developing over the summer.
Daniels, the junior from greater Los Angeles, has grown close with cornerback Brian Dilworth, a freshman from South Florida.
"I was cool with him on his visit when he came to KU, but since he came to Kansas, me and him have been like road dogs," Daniels said earlier this month at Big 12 football media days. "Like, he'll hit me up when he has questions about the program — anything he needs to do better and all that stuff. He plays cornerback, so it's always good to have that connection on both sides of the ball."
Daniels mentioned his friendship with Dilworth after he shared that he has often gone to running back Ky Thomas' dorm room this summer to play video games.
He said he tries to "hang out with as many people as I can," whether that's having informal meet-ups or going to the movies.
"Honestly, it really came to me when you realize that the coaches are the ones that are calling out the plays, coaching you, doing all of this outside of football, but the outcome of the game at the end of the day is on the players," Daniels said. "You have to be able to communicate with the ones around you. You have to be able to be confident in your player next to you making that play."
Dilworth was the lone high school player to sign a letter of intent to play football at Kansas in February.
A three-star prospect according to Rivals.com, he committed to Auburn in May 2020, when he was a sophomore, but decommitted in February 2021 and let his recruitment play out for nearly a year before choosing Kansas over Louisville, NC State and UMass.
Daniels rejected any idea that he was trying to serve as a mentor for Dilworth and instead said he was just trying to hold him to the standard that any teammate should.
"It's about trying to ensure that he achieves the goals that he has for himself," Daniels said. "At the end of the day, you don't just go to college football just to go to college football. ... You have a goal of something that you want to get out of it.
"One thing that my strength and conditioning coach teaches (is) as a leader, you don't want to make somebody do something. You want to try to make them want to do it. That's the biggest emphasis that I've taken on as a leader this offseason."
Neal a fan of K-State's Vaughn
Running back Devin Neal said he was pleased to also have a chance to connect with Kansas State junior running back Deuce Vaughn at Big 12 football media days.
Neal, a sophomore and Lawrence High graduate, said he first spoke with Vaughn after the Wildcats' 35-10 win at David Booth Kansas Memorial Stadium on Nov. 6 "about what makes him him."
Vaughn ran 11 times for 162 yards and three touchdowns and caught six passes for 70 yards in that game. Neal, meanwhile, ran 19 times for 62 yards.
"He's just, overall, just the perfect mode of a running back," Neal said. "He can just do it all. What's phenomenal is he's kind of adapting to a style that's being developed in the NFL a little bit with how often he catches the ball. You see that with Christian McCaffery and Alvin Kamara and other running backs now. He's adapting that style so early that I think it's going to give him the best chance to really do well in the NFL when he gets that chance."
Leipold: Venables has OU in 'good hands'
Leipold thinks Oklahoma made the right decision in December when it hired Brent Venables to replace coach Lincoln Riley.
Venables, who spent the last 10 seasons as the defensive coordinator at Clemson, previously coached at Oklahoma from 1999-2011. A linebacker at Kansas State in 1991 and 1992, he served as a graduate assistant and then the linebackers coach for the Wildcats from 1993-98.
"His reputation through his time, whether it be at K-State or OU or Clemson, speaks for itself," Leipold said. "His energy and his enthusiasm and his passion for the game are second to none there. I know he's going to do an outstanding job."
Leipold said he met Venables for the first time during the Big 12 meetings in Scottsdale, Arizona, in May.
Riley, who spent the last five seasons as Oklahoma's coach following two seasons as its offensive coordinator, left in November to become the coach at USC.
"Oklahoma is a special place, and so when everything got right and I knew that I was going to be supported the way that I feel like I needed to be a successful head coach, it was a no-brainer," Venables said.
Kansas, which has not beaten Oklahoma since 1997 (though the teams have not played every year), will get another chance in Norman on Oct. 15. The Jayhawks were up 17-14 on the Sooners at the end of the third quarter last season before falling 35-23 at home.
It may be the last time the teams face off in the foreseeable future. The Big 12's expansion to 14 teams once BYU, Houston, Cincinnati and UCF join for the 2023 season, and the departures of Oklahoma and Texas to the SEC no later than 2025, means there will be scheduling imbalances in the conference.
"That program is going to be in very good hands and he's going to try to put his twist on it," Leipold said of the Sooners under Venables. "I guess if there's anything — again, being a far outsider — is they're back to a defensive-minded head coach as coach (Bob) Stoops was."