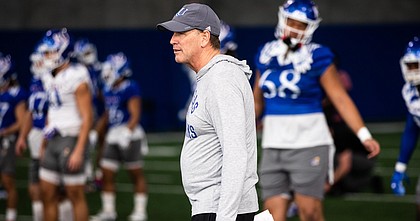 Despite the perception of improvement during the offseason and a newfound belief in the program's ability to compete, any measures of the Kansas football team's progress this season aren't likely to be seen in the standings.
That doesn't deter coach Lance Leipold — or any of his players, who remain committed to the project of trying to turn the woebegone program around.
"I think what we're really saying is, 'How are you going to measure progress when it's not showing up in the win and loss column all the time?'" Leipold said earlier this month at Big 12 football media days after he was asked how he evaluates success during the formal portion of the event.
"Our players have really embraced it," he added. "We understand, and we emphasize as well, that we're not in the moral victory business. We understand that completely, but we're always looking at, whether it be individual improvement in certain things or how we've gone about our daily business and, really, how we've connected dots with our players about becoming better holistically, whether it be weight room or academically and being better leadership, better teammates, that these things are going to stack upon themselves and help us on game day."
The Jayhawks, who went 2-10 last season, have not won more than three games since 2009. But they have shown signs of life under Leipold, a six-time Division III national champion at Wisconsin-Whitewater who then spent six seasons at Buffalo and is entering his second at Kansas.
Buffalo has been moderately successful over the last 15 years, constantly enduring a cycle of bowl eligibility and rebuilding as coaches find success and head elsewhere. In 2015, Leipold's first season there, the Bulls went 5-7, then plummeted to 2-10 a year later.
Fortunately for Leipold, who had never previously won fewer than seven games as a head coach, that was the low point. In Year 3, Buffalo went 6-6 but did not receive an invitation to a bowl game; in Year 4, they went 10-4, won their division and reached the Dollar General Bowl.
It seems unlikely that the Jayhawks will struggle as significantly as they did last season, when their first eight losses were by an average of 31.5 points per game. Leipold and his staff, hired after spring practice began in 2021, had to spend preseason camp not only installing its scheme and concepts but learning each player and his abilities.
But many in and around the program acknowledge that Year 2 is still about building a foundation. Athletic director Travis Goff acknowledged that "tangible improvements" may mean anything from more wins than expected to more close losses, but he said that his biggest sign that the team is improving comes from his conversations with the five players — quarterback Jalon Daniels, running back Devin Neal, safety Kenny Logan Jr., left tackle Earl Bostick Jr. and defensive tackle Caleb Sampson — who represented the team for media days and other associated events.
"How it shows itself on the field obviously matters," Goff said. "We're all hopeful and excited and hope it shows itself in tangible ways. But, at the end of the day, I couldn't feel any better about what's happened and the things that matter most in this program."
Leipold said his approach "would be the same if we were off a 10-2 season as a 2-10" season but acknowledged that there is "more sense of urgency and attention to detail than ever before."
Some of that is fueled by the minor turnaround late last season that the coaches and players have consistently cited as a reason for optimism. Following the surprising 57-56 overtime win at Texas, Kansas lost to TCU and West Virginia by a combined nine points.
"I think the belief is there that if we keep progressing and doing the things that are being asked of us to get better daily, we're in a lot better position," Leipold said. "I think those games are proof of that — and playing well down the stretch. But playing consistently also shows (improvement) because you can't go out and have the blowouts also and think it's just going to be an on-again, off-again thing.
"Those are the things that we've got to continue to work on. But to have those games against those types of teams and the history and tradition and success of those programs were definitely big pluses for us last year."
Kansas opens the 2022 season on Sept. 2 at home against Tennessee Tech. Preseason camp is slated to begin Tuesday.