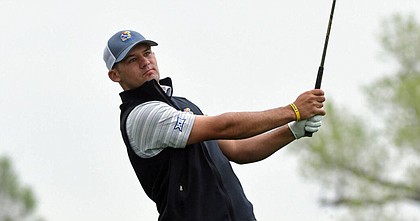 The Kansas men's golf team lost one of its top players to the transfer portal this week.
After three strong seasons with the Jayhawks, sophomore Luke Kluver is headed to Oklahoma to finish his college career. The move was announced by OU on Monday. Kluver has two years of eligibility remaining.
"We're incredibly excited to add Luke to our family," OU coach Ryan Hybl said in a press release announcing the addition. "We know the type of player he is and what he brings to our program is invaluable. We can't wait to get going."
A native of Norfolk, Nebraska, Kluver was one of the Jayhawks' top contributors from Day 1. He started 24 events during his three-year career and carried a scoring average of 72.05 in 64 rounds. He recorded nine top-10 finishes and three top-fives, including a win at the 2021 Gopher Invitational.
Twelve of his 21 career rounds in the 60s came during the 2021-22 season, and Kluver was a critical part of KU's record fall that featured four team titles. Kluver carried a scoring av-erage of 69 during his 15 events last fall, with all 15 coming in under par. He also helped KU qualify for nationals this spring.

He closed the 2021-22 campaign ranked No. 138 by Golfstat and No. 2 on the Jayhawks' roster.
Kluver's departure could hit KU hard. He was in line to be the team's top returner and most experienced player next season, and KU already will lose seniors Harry Hillier, Ben Sigel and Callum Bruce from the 2022 squad that qualified for nationals.
The rest of KU's sophomore class, which includes regular 2021-22 contributors William Duquette and Davis Cooper, will be leaned on heavily in the coming year.