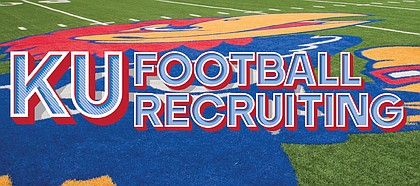 The Kansas football program picked up a commitment in the Class of 2023 from 3-star defensive end Blake Herold on Wednesday night.
Herold, who hails from Shenandoah, Iowa, attended KU's Friday Night Lights camp in late June and returned on Tuesday for an unofficial visit.
He told Jon Kirby of JayhawkSlant.com that he loved everything about the visit and had to talk himself into not committing on the spot.
He waited and returned to Iowa with his family on Tuesday night. The next day, he called KU defensive line coach Jim Panagos and KU coach Lance Leipold and pledged his services to the Jayhawks. Analyst Oscar Rodriguez Jr. was the first to pass Herold's name and film to the rest of the coaching staff.
A linebacker throughout much of his prep career, Herold is expected to move to the defensive end this season. That's where he projects in college, with the idea that his speed and mobility will serve him well in the future. According to 247Sports, Herold had 73 tackles, including 14.5 for loss, last season.
Panagos was the lead recruiter for Herold and he likely will be his position coach at KU, too. Herold told Kirby that the opportunity to spend some extra quality time with Panagos played a huge role in him making his decision to commit to KU this week.
"I like the way coach Panagos coaches," Herold told Kirby in late June after the KU camp. "I like his philosophies and stuff. He's not going to scream at you because he thinks it's not going to do anything. He's going to keep repeating it and letting you go over the motions and stuff like that. And having you really learn hands-on and stuff."
At the time of his commitment, Herold, who Kirby called a standout at the Friday Night Lights camp, also had offers from North Dakota, North Dakota State and Northern Iowa.
Herold's first opportunity to make his commitment to KU official will arrive on Dec. 21, the first day of college football's early signing period.
Herold is the seventh player to join the Jayhawks' class of 2023 and the second on the defensive line after defensive end Tony Terry Jr. from Jackson, Missouri.
Kansas is also heavily recruiting Jarra "Bear" Anderson, a defensive tackle from Katy, Texas, who took an official visit on June 17 and subsequently canceled his trips to other schools.
Marcus Calvin, a three-star defensive tackle from St. Petersburg, Florida, has narrowed his college choices to Kansas, Vanderbilt and Liberty and will reveal his decision on Monday.