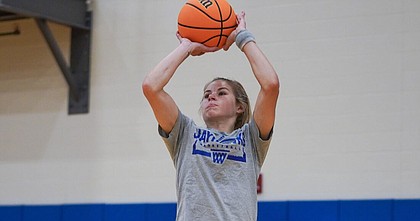 There's a photo Bella Swedlund shares whenever anyone asks about her fondness for basketball. It's of her as a baby, during her first Easter, holding a bright orange ball instead of an egg.
"I always tell people, 'That's kind of when it started,'" Swedlund said. "I fell in love with it pretty early."
That love was tested through 5:30 a.m. workouts, countless weekends spent traveling the country for tournaments and a torn ACL in her left knee in eighth grade.
This summer, it led her to Kansas, where she began taking classes as she adjusts to life as a college student and a player on the women's basketball team.
Swedlund, a 5-foot-8 guard from Witten, South Dakota, excelled at Winner High School, where she scored a school record 2,256 career points. A star on the varsity team while in seventh grade — she led the Warriors "in everything that year" despite being just 13 — she's a sharpshooting perimeter threat who will fight to earn minutes in Kansas' crowded backcourt.
The Jayhawks lost Aniya Thomas and Julie Brosseau after last season, and Swedlund and Tulsa transfer Wyvette Mayberry will look to fill their roles.
Swedlund, who isn't used to sitting on the bench, said her willingness to shoot is what should earn her a spot in the rotation. She learned just as much in a scrimmage last week, when she chose not to shoot at all and teammates Taiyanna Jackson and Chandler Prater gave her a pep talk.
"I started shooting each day this last week and my confidence has just gone up and up," Swedlund said. "Knowing that they have faith in me and that I can contribute makes me want to keep working and keep putting myself toward them, that I want to contribute."
More than 20 schools had offered Swedlund a scholarship, including Illinois, Colorado State and Navy, before Kansas did so.
During the recruiting process, she built her strongest relationships with Grand Canyon assistant Karyla Middlebrook and North Dakota State assistant Morgan Paige; when both were hired at Kansas prior to last season, they realized Swedlund was atop their recruiting lists and had no problem convincing coach Brandon Schneider to reach out.
"There were some schools where I was like, 'Yeah, I could go there if I have to,' but I never really had a favorite," Swedlund said. "So, definitely when KU stuck in my head, I was like, 'Obviously, that's telling you something. That's God saying KU. Wake up.'"
Swedlund, who arrived on campus on July 1, will join forward Zsofia Telegdy in the Jayhawks' freshman class. Telegdy isn't expected to join her teammates until mid-August because she was representing her native Hungary in the FIBA U20 European Women's Championship earlier this month.
Schneider said both will need to adjust to "the level of physicality, the pace and intensity" in order to get on the court. Swedlund, who grew up on a farm, has laughed about having callouses on her hands and has already been able to show off her strength and endurance in summer workouts, may have proven herself at least in one aspect.
"Both, I think, are going to have the opportunity to be tutored, if you will, by some really experienced players," Schneider said. "It's not a situation where they have to come in and be the leaders of the team or lead us in rebounding or scoring as freshmen. They have to come in and kind of work their way into things and we're going to put the best players — the people that give us the best chance to win are going to play."
The oldest of four siblings, all girls, Swedlund believes she's prepared to succeed at Kansas because of her family and her faith. Her mother, Sara, is a nurse, and her father, Tresh, is an entrepreneur who runs South Central Livestock Supply, a regional agricultural supply company.
Her goal is to someday be a college basketball head coach, if not work in athletics in some capacity, but the rest of her playing years will come first.
"My quote with high school and with my family, it was, 'Just a kid from Winner,'" Swedlund said. "I always have, like, just a chip on my shoulder. I'm just a small-town kid coming here and trying to show what I can do."