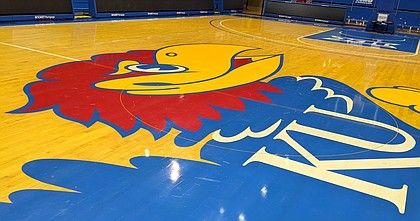 The 2022-23 Kansas men's basketball schedule was altered slightly on Wednesday so that KU will not be hosting a men's basketball game and a home volleyball match on the same night this fall.
KU's exhibition hoops game against Pittsburg State has been moved from Wednesday, Nov. 2 to Thursday, Nov. 3. Game times have not yet been announced.
The game against the Gorillas will be KU's lone exhibition game this season, and Bill Self's defending national champion Jayhawks will open the regular season four days later at home against Omaha.
The KU volleyball program's clash with K-State, which will be played at Horejsi Family Volleyball Arena, will come in the middle of the Jayhawks' conference schedule, with Ray Bechard's team playing 10 Big 12 matches before the K-State showdown and five Big 12 matches after it.
After two seasons of splitting up the conference schedule into two sets of home and away series, the Big 12 elected to return to its regular round-robin format this fall, with every team playing all eight opponents both at home and away during the upcoming season.
The split-schedule format was initially done to accommodate COVID-19 restrictions. The format was used last season to even things out so that teams would play an equal number of home and away matches against all opponents over the two-year span.
The KU volleyball team, which reached the Sweet 16 of the NCAA Tournament last season, will open its season with an exhibition match against Drake on Aug. 19 at home.
KU's regular season opener is slated for Aug. 26 against Utah Valley at the Utah Classic in Salt Lake City.