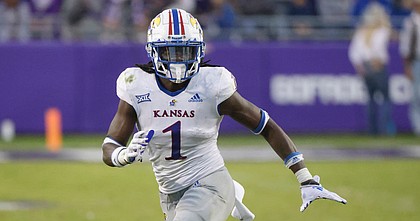 After a season in which Kansas' Kenny Logan Jr. led all safeties in Power 5 conferences with 113 tackles, he has his sights set higher as a senior.
"I want to try to lead the NCAA in interceptions and try to lead the conference in interceptions," Logan said.
Logan was reliable on the back end of the Jayhawks' defense last season, with only Kent State's Dean Clark, who had 116 tackles, finishing with more among FBS safeties. He made 79 tackles by himself and had four for a loss and was a second-team All-Big 12 player after the season. That led to his selection Monday to the watch list for the Thorpe Award, given to the nation's best defensive back.
Intercepting passes is a different skill than making tackles, especially for a player who had just one interception last season and had two the year before. But Logan's boast, made during Big 12 football media days earlier this month, comes from the ideas that he broke up six passes last season and that he feels more confident in his defensive teammates.
"I don't want as many tackles this year because we have great linebackers that came in, so I don't feel like I'm going to have that many tackles," Logan said.
Four linebackers have transferred to Kansas since the end of last season, including three with significant experience: UCF's Eriq Gilyard, Ohio State's Craig Young and Louisiana's Lorenzo McCaskill.
Gilyard, a redshirt senior, played in 38 games and made 23 starts. Young, a redshirt junior, played in 26 games. McCaskill, a sixth-year senior, was a second-team All-Sun Belt player last season.
They'll join a trio of holdovers from last year who started at least four games in seniors Rich Miller and Gavin Potter and junior Taiwan Berryhill.
For Logan to reach his mark, he'll need help from them all. With Kansas often trailing in games last season, opponents didn't need to throw the ball and instead could wear down the clock by running it. A more competitive effort by the Jayhawks would present additional interception opportunities.
And although the Jayhawks have likewise been fortified at safety with the addition of three players during the offseason — including Marvin Grant, a redshirt junior from Purdue — and have capable depth, Logan plans to play nearly every snap. He was on the field for 701 snaps last season, according to Pro Football Focus, while playing in all 12 games.
"I definitely feel like it's key for me to be on the field as much as I can, which is hopefully the whole game," he said. "I don't plan on really coming out too much. I plan on just being in position and helping the next guy being in position to make the play when I need to."
Three players — Baylor senior safety JT Woods, Penn State senior safety Ji'Ayir Brown and Oregon redshirt junior safety Verone McKinley III — tied for the FBS lead last season with six interceptions.
But six players combined to intercept seven passes for Kansas last season, with only cornerback Jacobee Bryant intercepting more than one. Those seven interceptions were the fewest in the Big 12 and tied for the eighth fewest among Power 5 teams.
Logan, who is widely considered one of the team's leaders, has an outgoing personality that has endeared him to his coaches and teammates. He joined quarterback Jalon Daniels, running back Devin Neal and left tackle Earl Bostick Jr. in representing the Jayhawks at media days, and he listened to — if not participated in — their news conferences after his concluded.
Coach Lance Leipold said that he wants to try to find a way to allow Logan to display those traits on the field.
"It's not just 'line up and play,'" Leipold said. "We want to see personality. We find ways to utilize it, whether it be for the young man or the program or for whatever it may be. Again, to give him that opportunity to do that and have that is great for our team and it's great for Kenny."
Logan's ability to make tackles is also good for the team. But he wants his impact to go beyond that.
"This year, I don't really plan on being that high in tackles," Logan said. "I want to definitely make the tackles when I need to make them, but I definitely want to be ranked that high in interceptions. I definitely want to give the offense our ball back and just create plays like that."