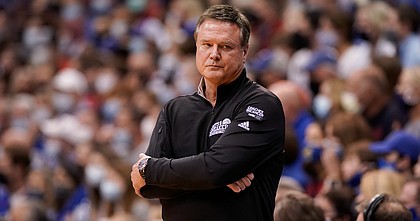 Kansas men's basketball coach Bill Self and assistant coach Kurtis Townsend did not recruit in person over the past six weeks, a move that appears to be an attempt to lessen the impact of any penalties handed out in the wake of allegations of recruiting improprieties.
According to a report by CBS Sports, Self and Townsend were not in attendance at any AAU events during the four summer open evaluation periods, the last of which ended on Sunday. The reigning national champions were, however, represented by assistants Norm Roberts and Jeremy Case, meaning the Jayhawks were not completely off the road.
The decision was self-imposed and not mandated by the NCAA, which has for years been investigating Kansas for five alleged Level I violations. The organization has historically embraced any sanctions imposed by universities under investigation, but any resolution to the Jayhawks' case does not seem imminent.
Ten people were arrested on corruption and fraud charges in September 2017 amid an FBI investigation into illicit payments in college basketball recruiting. The NCAA handed Kansas a notice of allegations in September 2019, including a charge of lack of institutional control, and its enforcement staff alleged in May 2020 that Self and Townsend "encouraged" representatives with Adidas to steer top basketball recruits to the Jayhawks.
Kansas has vigorously disputed those allegations for years. The case has since been referred to the NCAA's Independent Accountability Resolution Process (IARP), which has provided irregular updates on the process since it began its review, and it seems unlikely it will be settled before the start of the season.
University officials have long held that they will no longer comment on the case, though athletic director Travis Goff said during Big 12 football media days in Arlington, Texas, two weeks ago that "unfortunately, there's not" an update that he could provide.
"I've been hopeful that in 2022, we're going to be able to move past that, and we're halfway home in 2022, so it remains to be seen," Goff said.
Despite the off-campus restraint, the Jayhawks have been able to host recruits on campus for official visits. Mikey Williams, a five-star guard from San Diego, and Taison Chatman, a four-star guard from Minneapolis, each were in Lawrence late last month.
Kansas is not the only program waiting to hear from the IARP on its infractions case. Arizona, Memphis, LSU and Louisville also have yet to be given a ruling.