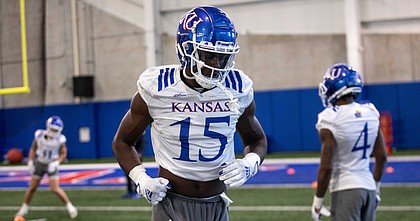 Even though linebacker Craig Young only transferred to Kansas before the spring semester, safety Kenny Logan Jr. said he has already begun to take a leadership role on the team.
Young, who played in 26 games over three seasons as a backup at Ohio State, is expected to be one of the Jayhawks' starting linebackers and at least compete to be their top nickelback.
Logan, speaking last week at Big 12 football media days at AT&T; Stadium in Arlington, Texas, was asked about how players are buying into coach Lance Leipold's concept of a player-led team.
He responded by telling a story about how Young stepped into a leadership role.
"We had a conditioning run the other week, and Craig Young was holding a young freshman accountable," Logan said. "Just seeing that shows the growth of our team and shows who we have in this program. I kind of backed him up with what he was saying just because that's the level that we're at right now.
"Everybody has to be at this standard, and it's our standard that matters. Not the coaches'. The coaches have their own standard that we also have to follow, but it's the players' standard that matters because we also have to go out there with each other on Saturday."
Logan said the biggest transformation in the team from last year, when it was just getting acclimated to the idea of Leipold as their coach, is the increased attention to responsibility and togetherness.
"Just pushing the standard," Logan said. "Just making sure that you're doing everything that you need to do. Making sure that you stay on top of each other and making sure that we're accountable for our actions."
Young, who is 6-foot-3 and 230 pounds, was a sectional champion sprinter at Wayne High School in Fort Wayne, Indiana, who ran the 100 meters in 10.7 seconds.
"Craig is just very agile in how he moves at that height and weight, so it's definitely exciting to see when I'm out there with him," Logan said. "I'm like, 'Man, Craig. You're a freak of nature.' It's definitely exciting to see him go with us this year."
Logan was also asked if Young could be one of the Jayhawks' best athletes.
"There's a lot of great athletes on the team but Craig Young is definitely a beast," Logan said. "Craig Young does a lot of things. Craig Young is fast. Craig Young is very athletic. Craig Young can be singled out and put in positions that a lot of people can't sometimes, and Craig Young is going to help us at the highest level this year."
Houston game a Big 12 preview
Coach Lance Leipold said the game at Houston on Sept. 17 may give the Jayhawks a first glimpse at what they can expect from the Cougars in the future.
Houston, BYU, Cincinnati and UCF are set to join the Big 12 on July 1, 2023. Their additions mean the conference will have 14 teams for two seasons until Texas and Oklahoma depart for the SEC in 2025.
"It'll give us a little bit for what's maybe coming down (the road), but you don't know now if there's 14 teams, we may not see that team for a few years after that," Leipold said.
Big 12 teams are expected to continue to play nine conference games despite the additions, meaning four teams would not appear on the schedule.
Kansas and Houston were contracted to play a return game at David Booth Kansas Memorial Stadium on Sept. 16, 2023, but the teams will each need to find new opponents given the Cougars' move from the AAC.