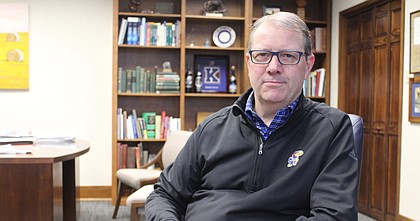 Chancellor Douglas Girod on Thursday expressed confidence Kansas will "land in a good place" as conference realignment again grips college athletics, but didn't quite rule out that place could be somewhere other than the Big 12.
In a brief interview with the Journal-World Thursday, Girod was asked whether he was concerned about the Kansas' ability to effectively compete in athletics if the Jayhawks aren't a member of either the Big Ten or SEC, the two conferences that are positioning themselves to become the two most powerful leagues in college athletics by adding new members.
"I think we are well positioned to land in a good place. I don't know where that place is ... " Girod said, stopping midsentence, before shifting his comments away from KU and toward the Big 12. "I mean, I think we are well positioned to make sure the Big 12 is really that third leg of the stool, if you will, as this all shifts."
Girod was asked whether there has been "any feasible interest from the Big Ten" about a possible KU move to that growing conference. He did not disclose whether any discussions between KU and the league had occurred.
"Our focus right now is supporting our new (Big 12) commissioner and strengthening our brand and our position with obviously our media partners and figuring out what sort of competition alliances can be created to make sure our teams continue to play on the big stages," Girod said in response to the question. "It is all hands on deck right now in that regard."
Girod's comments are some of the first by a KU leader since USC and UCLA surprised the world of college athletics earlier this month by negotiating a deal to leave the Pac-12 to join the Big Ten.
That move has drawn criticism from some for its disregard of geography. As structured, the closest Big Ten member to the two West Coast universities is Nebraska. That creates the prospect of student-athletes spending large amounts of time away from their university campuses for travel to athletic competitions. Girod, however, said that may not be as big of a problem as some fear.
"I think we have yet to see how it plays out," Girod said. "Even though you may have a coastal presence, that doesn't necessarily mean you are going to compete coast to coast for your entire season. I think we still have a lot to figure out. Do you talk about divisions? Do you talk about sub units to ease that strain on our student-athletes?
"But it also, frankly, gives them a chance to play on the biggest stages and have great experiences. There are pros and cons to everything."
Girod said the UCLA and USC moves make it even clearer that the aspect of competition between universities of the same region is becoming less important in the world of college athletics.
"This changes the landscape of why you are competing against who you are competing against," Girod said. "The regional rivalries are becoming less important."
Girod stopped short of saying what that will mean for KU or the Big 12.
"I wish I could tell you where it is all headed. I can't," Girod said. "I don't think anybody can right now. I know there are a million different conversations going on."
Girod said those conversations — he praised the Big 12's new commissioner, Brett Yormark, for being "fully immersed at a national level" on realignment — are likely to produce more changes.
"It doesn't mean it is going to look like it does today," Girod said. "Everything from mergers of conferences to realignment of players, you know it is all on the table right now.
"But I feel good about where we are. It doesn't hurt coming off a national championship in basketball. It doesn't hurt being an AAU institution. We have a lot of assets we bring to the table, and I feel confident we will continue to be prominent on the national stage."