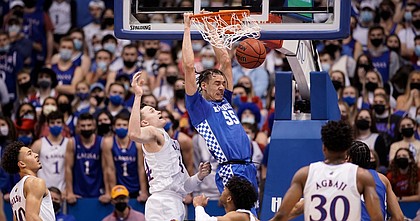 The 12th-ranked Kentucky Wildcats got everything they wanted in Saturday's first half against No. 5 Kansas.
And everything they wanted was all they needed in an 80-62 rout of the Jayhawks at Allen Fieldhouse.
No one player summed that up better than Kentucky junior Keion Brooks Jr., who exploded for a game-high 27 points on 9-of-16 shooting from the floor and nine makes in 10 attempts at the free throw line.
"We went into a couple of different defenses where we were trying to make him beat us; and he beat us," KU junior Christian Braun said after the loss. "We didn't want him to shoot wide-open shots, obviously, but if we were going to have anybody shoot the ball, we wanted it to be him and we wanted it to be contested. He got off way too many open looks."
Related document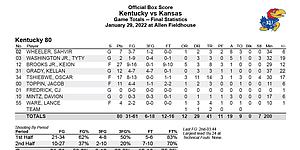 Box Score: Kentucky 80, Kansas 62 ( .PDF )
Most of them were no-doubt buckets the minute they left Brooks' hand. And many of them looked like those that come during shooting drills in practice rather than blue-blood battles on national television.
To put Brooks' night in perspective, he scored more against Kansas (17-3 overall, 6-1 Big 12) than he did against Texas A&M;, Auburn and Mississippi State in his past three games combined.
"They had real athletes on the court," Kansas coach Bill Self said after the loss, highlighting the 4 and 5 positions specifically. "Their guys got to a certain level and our guys couldn't quite get to that level, from an athletic standpoint."
Brooks wasn't the only one who hurt the Jayhawks inside on Saturday night.
UK junior Oscar Tshiebwe added 17 points on 8-of-13 shooting to go along with a game-high 14 rebounds. Those two, combined with the 10-of-13 collective shooting by Kentucky's Kellan Grady, Jacob Toppin and Lance Ware, put pressure on KU all afternoon and never allowed the Jayhawks to come closer than 14 the rest of the way after falling behind by 15 points midway through the first half and trailing by 20 (51-31) at halftime.
Photo Gallery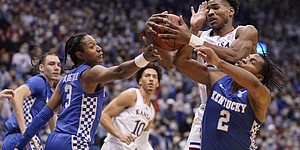 Kansas basketball v. Kentucky
View a gallery of photos from Saturday's game between the Kansas Jayhawks and Kentucky Wildcats at Allen Fieldhouse.
The bottom line on Saturday was simple: When Kentucky got to its spots and took the shots it wanted, Kansas was powerless to stop it. The Jayhawks flashed moments of defensive disruption — most off of various zone looks — but those were too few and far between for KU to keep up.
"It wasn't the offense," Self said while breaking down what went wrong. "Offense may not have looked good, but we gave up 51 points at home at halftime. There's been numerous games we've scored 31 points at half and been OK. When you don't play well, you have to make the other team play poorly and we didn't do that."
Despite the constant uphill climb on Saturday, the Jayhawks said they always believed they could get back in it. That was a product of Self's squad finding a way to win tough, tight games in the past couple of weeks.
"Everybody was thinking we were going to come back, and we had that spark going that we kind of had at the K-State game," KU senior Ochai Agbaji said of coming back from 19 down at halftime in last Saturday's win over Kansas State.
Added Braun: "We got there and the crowd got into it. I think everybody on this team just believes there's nothing that we haven't seen yet. We're pretty battle-tested, and we thought we were going to get back in it. And then they hit us again."
Kentucky controlled things from the start, ripping off an 8-0 run early to grab a 10-5 lead and then extending it from there.
The Jayhawks looked slow, bottled up and, at times, rattled, while Kentucky played free, loose and with a little of that Wildcat swagger that John Calipari's best teams have been famous for. The Wildcats (17-4 overall, 6-2 SEC) had five uncontested dunks in the first half alone — Brooks had three of them — and, as a result, shot 61.8% from the field in the first 20 minutes.
That, along with a 29-14 run throughout the middle portion of the first half, led to a Kentucky lead that proved to be insurmountable.
Perhaps the one play that best summed up the first half for Kansas came with 6 minutes to play, when Jalen Wilson was bumped on a drive to the basket, which caused his shot to miss. As the two teams battled for possession off the rim, UK's Ware saved the ball from going out of bounds right off of the face of Mitch Lightfoot.
On the ensuing possession, Toppin picked up the Wildcats' fourth dunk of the first half — and second in a row — to push the Wildcats' lead to 39-22. That lead grew to as many as 20 by halftime and 24 in the second half, bringing into question whether the Wildcats, victims of that infamous 150-95 loss to KU in Allen Fieldhouse back in 1989, would join the 2020-21 Texas squad and the 1988-89 Missouri team that beat Kansas by 25 in their own building.
The Jayhawks managed to save face in that area, outscoring Kentucky 31-29 in the second half. But after an and-one in transition by Agbaji cut the UK lead to 62-48 with 13:12 remaining, the Jayhawks did not score again until the 9:10 mark. At that point, both time and score were stacked heavily against the Jayhawks.
The moment that essentially ended all hope and started sending fans to the exits came with just over six minutes remaining, when Grady buried a 3-pointer (his fourth of the night) to push the UK lead back to 19 and TyTy Washington stole the ensuing inbounds pass by Kansas.
Officials stopped the game to check the shot clock and, during the break, the loud and proud group of Kentucky fans in the building belted out the loudest "Go Big Blue, Go Big Blue" chant of the afternoon.
So now the Jayhawks move forward hoping to forget about this one and get back on track in the Big 12 Conference race that they're currently leading by a half game over Baylor, which also lost in Saturday's SEC/Big 12 Challenge — 87-78 at Alabama.
At the top of the Jayhawks' wish list for the games that lie ahead are better rebounding and more competitive fire.
"You want to win every game," Braun said after the loss. "So we came into this game confident, we thought we were prepared, we were going to play hard, and they punched us in the mouth first."
Teams that get to where this Kansas team wants to be typically handle that scenario in one of two ways — either they don't let the opponent swing or they punch back. The Jayhawks did neither on Saturday, leaving Self with one reality above all others after it was over.
"We're a long ways from our ceiling," he said.
Next up, Kansas heads to Iowa State to take on the Cyclones (16-5) at 6 p.m. Tuesday at Hilton Coliseum on ESPN.