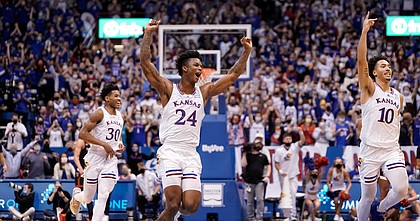 Energy, effort and physicality were non-issues for the fifth-ranked Kansas men's basketball team in Monday's rematch with No. 13 Texas Tech.
Finishing, however, was.
Despite watching Texas Tech erase a 12-point second half lead in the final minute of regulation, KU survived 94-91 in double-overtime at Allen Fieldhouse behind a hard-charging effort in all aspects of the game. The win helped the Jayhawks avenge one of their two losses on the season.
Kansas senior Ochai Agbaji likened Monday's victory to what the Kansas City Chiefs had just delivered one night earlier.
"When it went to overtime I was like, 'It's like the Chiefs game. They won at all costs and we have to do the same thing,'" Agbaji said after the victory.
As he has done so often this season, Agbaji led the Jayhawks (17-2 overall, 6-1 Big 12), but his teammates also did their part to provide the kind of defensive support and street-fight scrappiness that led to victory.
"It was a great game," said KU junior Christian Braun after the victory. "Ochai was huge, as he has been in every game we've played in, but that was probably his best performance of the year."
Related document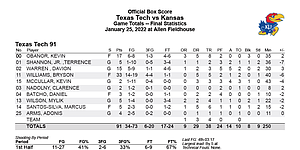 KU 94, Texas Tech 91, 2OT ( .PDF )
Of course, Agbaji's career-high 37 points and seven 3-pointers, along with him delivering the biggest highlights of the night, did not hurt the way the raucous home crowd took in Monday's victory.
With KU leading by 10 with just under 7 minutes to play, Agbaji caught a lob from Christian Braun and simply rose above the Texas Tech defender, who was in good position by the rim, to flush an alley-oop and give Kansas a 12-point lead.
As he came back down to the Fieldhouse floor, Agbaji displayed a smile as big as his hops.
"So much fun," he said of Monday's thriller. "Those are the best games to win."
No play was bigger than Agbaji's 3-pointer to tie the game with 7.3 seconds remaining in overtime that set the stage for double-OT.
Asked if anyone else on the Kansas roster would've taken that shot in that moment, Braun was honest.
Photo Gallery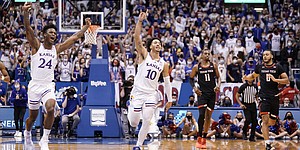 Kansas Basketball v. Texas Tech
View a gallery of images from Monday night's game between the Jayhawks and Red Raiders at Allen Fieldhouse.
"Well, if they were open," he said. "But there's nobody we wanted more than Ochai to take that shot."
And he drilled it.
It wasn't just the shot that impressed Kansas coach Bill Self, though that was a big part of it.
Agbaji played 46:25, made 13 of 23 shots — including 7 of 12 from 3-point range and added seven rebounds to his 37 points.
"It was a great win," Self said. "We played a terrific team that played terrific. We didn't play great, but we played good, and we had one guy go off. I think that we can play better. But I don't know if an individual can play better (than Agbaji). I don't know if I remember us ever having an individual play better than that."
Freshman forward KJ Adams who logged some massive minutes in the second overtime while grabbing three rebounds and a huge tip-in, summed up Agbaji's night in a slightly different way than his head coach.
"All that was going through my mind was, 'That's a bad boy,'" Adams said of Agbaji. "He really does what he does, and I really think he's the best player in America. He's just working hard and it's showing now, all his hard work."
KU trailed in the first overtime period by five points on two separate occasions but just kept coming until Ochai got enough room to bury the game-tying/saving shot in front of the Kansas bench.
"I was kind of blocked, but it went in. I saw it go in just a little bit," Agbaji said of his clutch shot. "I wasn't really reacting after that because I was so tired and (it didn't) matter because we were going to (double) overtime. I was just like let's get a stop here and get to overtime."
The surge of both confidence and adrenaline that came as a result of getting it to the second OT helped KU control the majority of the second extra frame.
The Jayhawks opened Monday's game with a surge of emotion, adrenaline and offense racing out to a 5-0 lead behind a 3-pointer by Agbaji and a two-handed hammer dunk from David McCormack.
Texas Tech's Bryson Williams (33 points) traveled on the possession that followed the dunk and, in that moment, Allen Fieldhouse was essentially bursting at the seams with noise and emotion. It was a stark contrast to the lethargic approach that got the Jayhawks in trouble in their 75-67 loss to Texas Tech in Lubbock, Texas, on Jan. 8.
It also was short-lived. Ninety seconds after KU claimed a 5-0 lead, Williams brought things back to a murmur with a 3-pointer that tied the game.
Kansas maintained the upper hand throughout the next several minutes, with Harris, Mitch Lightfoot, Martin and Agbaji all scoring buckets to give KU a 13-9 lead.
The stretch lacked efficiency, though. KU fell victim to a handful of empty possessions, a few turnovers and a little Texas Tech success. What was crystal clear throughout the first half and much of the game was that KU wanted to play as fast as possible, disinterested in letting the vaunted Texas Tech defense get set.
Never was that more evident than late in the first half when Agbaji scooped up a loose ball after a Texas Tech miss and, while standing sideways, launched it ahead to a sprinting Braun, who did the rest with a finger roll at the rim to put Kansas up 36-30 at the break.
While the halftime break offered both teams a breather from the slugfest on the floor, all of that air was gone by the first media timeout of the second half.
Williams scored seven quick points in the second half for the Red Raiders and the two teams combined for 25 points in the first 4:10 of the second frame.
While that made it seem like the defense slipped, most of those points came as the result of second-chance points and tenacious effort by both teams, a la KU's showing in the second half at Kansas State last weekend.
KU now has won five in a row since losing at Tech earlier this month. The Jayhawks will return to Allen Fieldhouse at 5 p.m. Saturday to play host to No. 14 Kentucky in this year's Big 12/SEC Challenge. ESPN's College Gameday will be in Lawrence for the battle of the blue bloods.
Asked to sum up what this one, and so many other grinders like it, has done for the psyche of this Kansas basketball team, Agbaji pointed to gains in poise and confidence.
"I was telling CB after the game in the locker room, whether we're down five, down six, down three, down two, don't count us out," Agbaji said. "We have the offensive ability and that defensive mindset to get stops."

Added Braun: "Both teams made great plays down the stretch. We just made one more. ... There's no choice but to win these games at home and we did that."