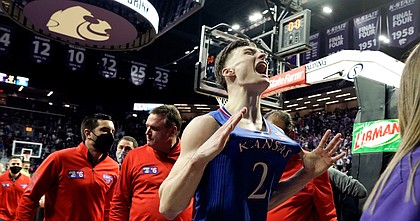 Manhattan — The 7th-ranked Kansas men's basketball team bullied Kansas State on the glass, played tough on defense when it counted and got another game-winning play from senior Ochai Agbaji.
Business as usual for the Jayhawks, right?
Hardly.
One day after the passing of Kansas coach Bill Self's father, Bill Self Sr., the Jayhawks dug deep and found a way to steal a 78-75 victory on a day they didn't have their best.
Kansas State did for much of the game, and, according to the Jayhawks, that made the victory that much sweeter.
Related document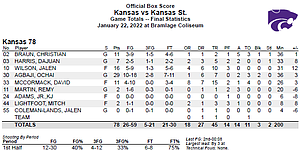 Box score: Kansas 78, K-State 75 ( .PDF )
"We knew that if we didn't (fight), they were going to run away with it," KU junior Christian Braun said after the victory. "We were down 16 at half. So, there was no choice but to fight back. We played the worst half of basketball we've played this year. They might've played their best. And we still ended up with the win."
Said KU sophomore Jalen Wilson, who Self said may have been the best they had ever seen: "That was the most fun I've ever had playing."
Added Agbaji: "There's not a 16-point bucket. It was like a slow grind throughout the second half."
All of it added up to the 63rd victory for Kansas in the last 69 meetings with their Sunflower State rivals. None of it came easy.
The Jayhawks (16-2 overall, 5-1 Big 12) gave every ounce of energy they had to survive a 35-point explosion from K-State guard Nijel Pack, and it was not until the final seconds of Saturday's game at Bramlage Coliseum that they found out whether that was enough.
Kansas led for just 1:07 the entire game, but the most important of those came in the final eight seconds, when Agbaji scored what proved to be the game-winning bucket on a hard drive to the rim with 8 seconds to play.
Kansas followed that up by forcing Pack to miss a contested shot from deep and Agbaji's two free throws — which gave him 29 points on the day — set the final margin.
Photo Gallery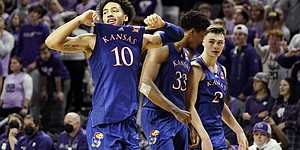 Kansas basketball at Kansas State
View a gallery of images from Saturday's game between the Kansas Jayhawks and Kansas State Wildcats at Bramlage Coliseum.
Asked about that final shot by Pack, KU junior Christian Braun admitted he never saw it.
"I was turned around, just praying it didn't go in," Braun said. "The guy didn't miss a shot all night. He played great. He's really tough."
Pack (35 points on 12-of-18 shooting, including 8-of-12 from 3-point range) completely controlled the first half. Whether he was knocking in open 3-pointers, playing off the ball or creating for others, KU had no answer for the 6-foot sophomore guard from Indianapolis.
He hit his first three 3-pointers from pretty much the same spot on the floor — deep corner opposite the KU bench — and had 19 points, on 7-of-8 shooting (5-of-6 from 3-point range) with 7:31 still to play in the first half. That total grew to 22 by halftime and looked like it might be enough when Pack hit yet another 3-pointer on a baseline inbounds play with around 6 minutes to play that gave K-State (10-8, 2-5) a five-point lead and put the momentum back in the home team's corner. But Kansas kept coming and did not stop until the final horn sounded.
A big reason for that was the job Dajuan Harris Jr. did on Pack in the second half.
"I don't think I've ever seen him be that (firm)," Agbaji said of Harris' plan to check Pack in the second half. "He was just like, 'I'm taking him and I'm staying on him the whole entire time.'"
Self liked the passion and was thrilled with the way Harris defended Pack in the second half. But he added that the 6-1, 170-pound Jayhawk didn't have much of a choice.
"It was kind of like we narrowed our choices down to one and then he was like, 'OK, I'll take him,'" Self joked. "But he did a good job on him the second half."
"He was a first-team All-American today," Self added of Pack. "He may have been the best guard in America today. And we may have had the best wing in America today (Agbaji)."
None of KU's efforts — be it Agbaji's heroics, Wilson's toughness or Harris' defensive effort in the second half — would have mattered had it not for Kansas' performance on the offensive glass.
It wasn't just the fact that the Jayhawks out-rebounded K-State 18-7 on the offensive end — it was 18-4 at one point. It was the way they did it.
David McCormack led everybody with 15 rebounds and eight offensive boards. And Wilson also reached double digits, grabbing 10 boards and four off the offensive glass. Many of those boards, and others like them, led to a 19-8 advantage in second-chance points for KU.
"That's where we won the game," Self said. "They played better than us, but we were pretty tough on the glass."
Wilson, who added 16 points to his 10 rebounds, stepped slowly off the postgame podium after meeting with the media, moving like an old man trying to get out of bed in the morning. It was the perfect illustration of how hard he had played and he confirmed it by saying simply, "I was on the floor a lot today," as he left the room.
That's the way they teach it at KU, of course. But there wasn't a person in that locker room on Saturday that would have disagreed with the claim that this effort, on this day, was a little extra than normal, even by Kansas standards.
Wilson tried to sum up why during his postgame comments.
"With this kind of game, and this win, I think it's bigger than us, bigger than coach; this is for everybody in Kansas," Wilson said. "I don't know how long this rivalry's been going on, but when it's this type of game and we're over here, it was the 30 of us that traveled here versus the entire arena, it seemed like."
There was one more person on their side, too. Tearing up at times during Saturday's postgame media session, Self said he thought his father would have been awfully pleased with the way this one went.
"He would've respected how hard the kids tried," he said. "That would've been special for him."