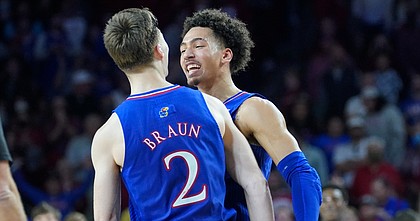 Norman, Okla. — Relatively quiet going into the final minute of the Tuesday's game, Kansas junior had a simple philosophy about his role in the seventh-ranked Jayhawks' 67-64 win at Oklahoma.
"Everybody else stepped up and hit a big shot, so it was my turn," Braun said of his 3-pointer from the wing that proved to be the game winner. "I just had to hit the shot."
With leading scorer Ochai Agbaji missing eight minutes in the first half because of a wrist injury, and the Jayhawks basically using just their five starters for most of the second half, Kansas survived a 20-2 second-half run by the Sooners by executing flawlessly in the final few minutes.
With his left wrist heavily taped and Agbaji misfiring on open shots throughout the game, the KU senior and Big 12's leading scorer finally cracked the scoring column on a tough layup with 5:25 to play. The bucket, which followed a sick spin move in transition by Jalen Wilson, who led all scorers with 16 points on Tuesday night, tied the game at 52 after Kansas had trailed by six just a few minutes earlier.
Related document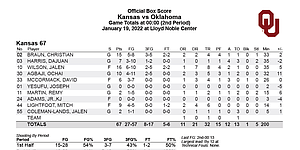 Bos score: Kansas 67, OU 64 ( .PDF )
More important than that, though, it sparked a stretch of 10 points in the final few minutes that helped Kansas emerge victorious.
Agbaji hit two 3-pointers — one that pulled Kansas to within a point and the other that tied the game at 58. Then, with just under a minute to play, he drove hard to his right to give Kansas a 62-60 lead.
"Well, he's a winner," Kansas coach Bill Self said of Agbaji after the victory. "He's been our best player all year long and CB's been our second best, so for those guys to step up and make those plays in the last four minutes speaks volumes of talent, but also toughness and character."
While each one of Agbaji's points was massive in what Self called "a grind-it-out, piece-it-together win," the fact that the injured Jayhawk emerged again as a dangerous scoring threat after being off all game, may have been the biggest part of the equation.
See, for the second time in a week, it was Agbaji who had the ball in his hands with the game tied and the clock racing toward zero. A week ago, he stopped his drive and dished to Dajuan Harris Jr., who hit the game-winning layup against Iowa State.
On Tuesday, he did the same thing, this time dishing to Braun for the same result.
"It was so similar to Iowa State with Dajuan," said Braun, who finished 5-of-8 from the floor for 15 points in 33 minutes. "Och is the best player in the Big 12 right now, probably the best player in the country. So everybody's going to look at him. And both times everybody's looked at him, he's made the right play.
"We expect Och to make the right play down the stretch every time. We want him taking shots, obviously, but if he can make the right play, that's what he's done two times and it's worked out."
After the bucket, which fell through with 10.9 seconds to play, Braun let out a roar and had what he called "a discussion" with a few OU fans sitting courtside in the corner.
"They were telling me good job and congrats," Braun said with a sly smile. "They were telling me it was a good shot down the stretch. I told them, 'Thank you,' and that's all it was."
Oklahoma had two shots to tie the game in the final 10 seconds, but KU fouled intentionally on the first possession, sending OU to the free throw line with 6.1 seconds to play, and then happily surrendered a prayer from beyond half-court on the Sooners' final possession.
"We wanted to foul the first time," Wilson said. "But the second time we were going to live with the half-court shot."
Tuesday marked the return of senior guard Remy Martin to the Kansas lineup. Martin played 15 minutes off the bench and made one of five shots. His playing time was limited to just two minutes in the second half, but Self said that was mostly because of Martin's rust and the strength of his starters.
"It looked like he hadn't practiced in two or three weeks, or practiced much," Self said of Martin. "He tried to do too much early and turned it over. And, in the second half, I just thought we'd be better off going with the guys that were out there."
Asked if he knew how Martin's bone bruise in his sore right knee held up throughout the game, Self said, "I do not. I assume fine. Nobody told me anything different."
Braun and Wilson certainly weren't worried about Martin's psyche or anything else after Tuesday's victory.
"He's doing good," Wilson said of Martin. "We're all keeping him up. Games like this happen. Mentally, he's still there. We were all cheering as loud as we could, so he's good."
Added Braun: "We're really excited when Remy gets 100% (healthy). He's going to be great for us. Remy's the best teammate. Loves Jayhawks. Loves playing at Allen Fieldhouse more than anything. Remy doesn't really care about how many minutes he plays as long as we win."
While Self and company were pleased with how they finished the game, the trio of Jayhawks who talked with the media after Tuesday's win said there were still far too many areas in which they could have performed better.
KU (15-2 overall, 4-1 Big 12) scored on four straight possessions to open the second half, giving them a 12-point lead. Kansas then made seemingly every play late to escape with their second conference road win of the season.
"In between we were awful," Self said.
The Sooners (12-6, 2-4) had plenty to do with that, ripping off a 20-2 run that flipped the script and gave OU total control. But KU responded and played its best basketball when it counted the most.
"We work on those kinds of moments in practice every day," Wilson said of executing down the stretch. "I think we're very prepared for games like that. We've shown it in the past and I think we love games like that."
Asked what there is to love, Wilson smiled and said, "It's just the grit. Those kinds of games are fun. Especially on the road."
Next up, Kansas will stay on the road when the Jayhawks head to Kansas State for this season's first edition of the Sunflower Showdown. Tipoff is slated for 3 p.m. on Big 12 Now via ESPN+.