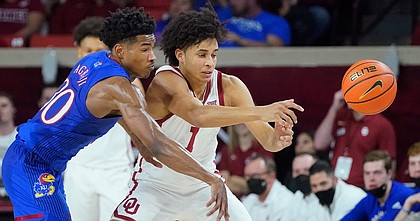 Norman, Okla. — Kansas basketball coach Bill Self has never been a big fan of intentionally fouling with his team up by three late in games.
But on Tuesday night, in the seventh-ranked Jayhawks' 67-64 road win over Oklahoma, Self had two opportunities to do so and planned to take them both.
Leading by three after junior guard Christian Braun broke a 62-all tie with around 10 seconds to play, Self instructed his team during the timeout that followed to foul the Sooners when they got the ball across half court.
Braun did, with 6.1 seconds to play, and Self immediately wished he could have taken it back. The reason? OU's Jordan Goldwire had picked up his dribble and was more or less stuck with nowhere to go. Still, Braun fouled him, and both Self and Braun felt like the referees may have played a bigger role on the play than just blowing the whistle.
Related document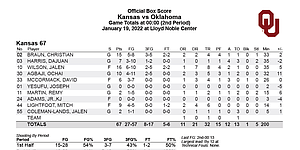 Bos score: Kansas 67, OU 64 ( .PDF )
"(Fouling on purpose) was a part of the plan," Braun said. "But we had them in a good spot and I didn't try to foul him. I don't know that I hit him that hard. But we were saying, 'foul,' so, obviously, if you're saying, 'foul,' and the ref hears that, whenever you touch him it's going to be a foul."
Self agreed.
"If I could take it back, I wouldn't have wanted him to foul," he said. "I've never thought that was the percentage play. I've always thought defend it."
After the teams traded free throws, leaving Kansas up 67-64 with around four seconds to play, Self had another decision to make and planned to foul again. But the plan changed when he saw the way OU inbounded the ball from under its own basket, needing to cover three quarters of the court for a game-tying 3-pointer.
"We were going to foul in the last four seconds," he said. "And they threw the ball (short) and I yelled, 'No foul.'"
No one fouled. The Sooners threw up a harmless three-quarter court shot that clanged high off the backboard and the Jayhawks got out of town with the victory.
"You can do it either way, and we fouled him and it ended up working out," Braun said. "Win. That was (Self's) main focus."
First meeting with Moser
Tuesday's game was the first between new Oklahoma coach Porter Moser and the Jayhawks, and Self, who had several battles with former OU coach Lon Kruger over the years, said this trip to Norman was awfully similar to all of the others.
"I actually think it was a lot like playing Lon," he said. "A lot of similarities. Guard your man. Not going to get a lot of easy baskets. Not going to score in transition. You're going to have to make some shots. I thought it was very similar to a Lon-coached team."
KU holds Groves in check this time
With memories of Tanner Groves' 35-point performance for Eastern Washington in last year's NCAA Tournament still in their heads, the Jayhawks knew they needed to guard him better on Tuesday night.
Playing KU as a member of the Sooners for the first time after transferring to OU in the offseason, Groves finished with just eight points on 4-of-13 shooting, including misfiring on all four 3-pointers he attempted.
"Last year, we saw him make every one of those," Self said. "So I know we were pretty fortunate on that front."
Agbaji named Player of the Week
Kansas senior Ochai Agbaji on Monday was named the Big 12 Player of the Week.
It marked the second time Agbaji had won the award this season and the third time in his career that he has received a weekly honor from the Big 12.
Last week, Agbaji posted back-to-back 20-point games in two Kansas Big 12 victories, with 22 points versus No. 15 Iowa State and 20 against West Virginia.
He shot a combined 16-of-32 from the floor and hit four of eight 3-pointers in each game.
The senior from Kansas City, Missouri, had stretches in each game where he scored two or three consecutive baskets for the Jayhawks, and he said after the WVU victory that he thinks this team has a lot of players who can get on hot streaks like that.
"I like to get my team rolling by making shots or getting stops," Agbaji said. "But that's just how our team is. We see someone else kind of getting hot and that kind of lifts everyone else up, offensively, and that just turns up the entire team, just with even a shot going in."
Agbaji has made four or more 3s in a game seven times this season and has made 14 from beyond the arc in his last three outings. Agbaji also tied his season high with seven rebounds in both wins.
Garrett waived by Heat
Former Kansas guard Marcus Garrett has been waived by the Miami Heat after a wrist injury forced him into season-ending surgery.
According to a report from The Miami Herald, Garrett, 23, will have surgery to fix the "instability in his right wrist" and remain around the organization while going through rehab. Garrett has not played for the Heat since late December, with tendinitis in the wrist plaguing him throughout the season.
The Dallas native signed a two-way deal with the Heat in September after impressing in the NBA's Summer League as an undrafted free agent.
While it was his defense, high basketball IQ and effort and tenacity that earned him a roster spot, Garrett recorded 13 points on 5-of-21 shooting (including 1-of-4 from 3-point range) to go along with 23 rebounds, 7 assists, 5 steals and 3 blocks in 12 games with Miami this season.
The rest of Garrett's time was spent playing for the Heat's G League team, the Sioux Falls Skyforce. In Sioux Falls, Garrett averaged 12.8 points, 8.3 rebounds, 5.1 assists, 2.1 steals and 0.6 blocks in eight games.
This and that…
Tuesday's win moved Kansas to 153-69 all-time against the Sooners. That includes a mark of 54-45 in games played in Norman and a 21-20 edge in games played at Lloyd Noble Center… KU is now 6-2 this season in games played away from Allen Fieldhouse, including 3-1 in true road games… KU is now 4-1 or better to open Big 12 play for the 16th consecutive season… KU's 47.1% field goal percentage was a season-best on the road… Kansas led 34-32 at the half and is now 13-1 this season when leading at halftime.