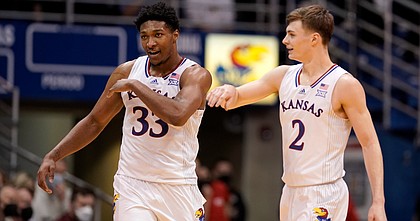 After grinding their way through the start of the Big 12 Conference season, the ninth-ranked Kansas Jayhawks rediscovered pure, unrelenting fun in the second half of Saturday's 85-59 win over West Virginia at Allen Fieldhouse.
After scrapping to a 33-31 halftime lead, the Jayhawks (14-2 overall, 3-1 Big 12) outscored the Mountaineers (13-3, 2-2) 52-28 in the second half, using a fast-paced approach, high-flying dunks and consistent sharing as the main catalysts in the clobbering. KU's 23 assists tied a season-high.
Kansas coach Bill Self called the second-half surge the equivalent of a dam bursting, which, Self quickly reminded everyone, does not happen that often.
Related document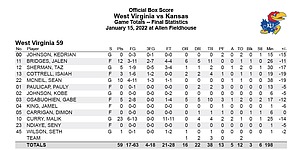 But it happened in a big way on Saturday and arguably the two Jayhawks who needed it the most were largely responsible for the runaway win.
Jalen Wilson, with 23 points, and David McCormack, with 15 rebounds, both tied career-highs on Saturday afternoon, and both delivered the types of plays and passion that many expected to see from Day 1.
"They were both great," Self said after the victory. "Jalen was fabulous in just about every area, and, David, that was probably as dominant as he's played this year."
While Self hopes that McCormack and Wilson returning to the kind of form that made them all-conference selections will stick, he noted that the second-half surge was the product of a lot of things going right for Kansas and wrong for West Virginia and not necessarily something that they can expect to recreate.
Photo Gallery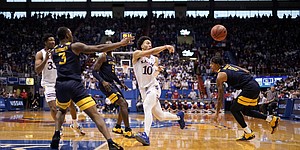 Kansas basketball v. West Virginia
View a gallery of images from Saturday's game between the Kansas Jayhawks and West Virginia Mountaineers.
"That's not real," Self said. "We got on a roll there. But the way that we played to start the second half, I would say is indicative to how we hope to play."
It featured a 9-0 Kansas run that blew the game open and West Virginia, which shot 27% from the floor on Saturday, never came close to recovering.
"It was great," said Wilson, who added eight rebounds, five assists and two steals in his 32 minutes. "We started the second half with, like eight assists in a row. When we're playing with that energy, playing with the crowd, that's the best kind of basketball we can play and the most fun, as well."
The joy derived from Saturday's performance was obvious and could be seen all over their faces. Wilson, who made 10 of 13 shots, including three of six from 3-point range, seemed to get more confident with each trip, playing faster, with less fear and more aggressive the deeper they got into the game.
When Wilson's playing like he was on Saturday, Agbaji said his presence makes the Jayhawks "even more lethal."
The Mountaineers can certainly attest to that. Early on, it was West Virginia that got hot and showed what playing hard and together could produce.
A 14-0 WVU run midway through the first half turned a 14-8 Kansas advantage into a 22-14 West Virginia lead. From that point on, the Jayhawks outscored the Mountaineers 71-37.
With Wilson and McCormack leading the way, Agbaji said he was happy for both of his teammates to have breakthrough performances that they needed.
The fact that it came on the same day, in the same game, was what turned this one into the kind of highlight show typically reserved for nonconference games.
At one point, late in the game, Agbaji, Wilson and McCormack all delivered a series of dunks that came from transition, half-court sets and offensive rebounds.
Perhaps sensing that he and his team were powerless to stop it, WVU coach Bob Huggins chose not to call any timeouts, seemingly hoping that the clock would expire quicker that way.
You could almost see KU getting its mojo back after each dunk. Some guys flexed. Others roared. The bench went wild and the fans joined them.
Asked after the victory how much they needed a game like this one, Wilson said, "a lot."
"I feel like we needed something to give us some momentum and I think we all just clicked," Wilson added. "Everybody had their night."
Agbaji agreed.
"I thought everyone played well," he said. "Dave and J-Wil, they obviously played one of their best games of the season, and we were just aggressive."
Asked for his perspective on how the two veterans worked their way through their different struggles early in the season, Agbaji pointed to their maturity.
"A junior and a senior going through a slump like that, you just have to be mature about it and have a positive attitude," he said. "That's the only way you're going to get out of it."
Now that they have and now that they see how it can impact this team, the goal for Wilson and McCormack is to stay on the roll they created Saturday.
"I think it was just moving the ball. Once we bought into that style of offense, it made everything fun," McCormack said. "Everybody was able to score and get the looks they wanted."
Next up, Kansas will travel to Oklahoma on Tuesday for a 6 p.m. clash with the Sooners on ESPN.