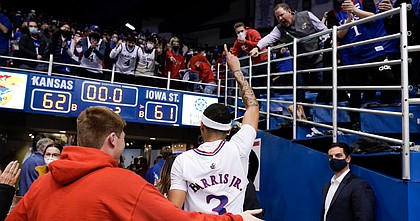 An already tough task of taking down the nation's 15th-ranked team became decidedly more difficult, both before and during Tuesday's Kansas basketball game at Allen Fieldhouse.
But after a sluggish start and a halftime deficit, the ninth-ranked Jayhawks proved they were up to the challenge, winning 62-61 in a thriller.
Sophomore guard Dajuan Harris Jr. hit an off-balance, driving layup inside of 10 seconds to play and the Jayhawks survived a 3-point attempt at the buzzer by ISU senior Gabe Kalscheur.
Kalscheur's miss set off a wild celebration that spilled onto the court and could be heard and felt in all four corners of the venue.
Photo Gallery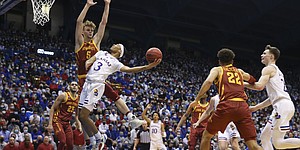 Kansas basketball v. Iowa State
View a gallery of images from Tuesday night's game between the Kansas Jayhawks and Iowa State Cyclones at Allen Fieldhouse.
Asked about his emotions after the victory, Harris shrugged and said simply, "I haven't hit a game winner in so long."
Asked if he was looking to be the hero when he caught the pass from senior guard Ochai Agbaji, who started the action by driving to the rim, Harris laughed and said: "There was five seconds left; I had to do something with it."
KU (13-2 overall, 2-1 Big 12) led for most of the second half, but fell behind by a point (59-58) in the final minute on a second-chance, scramble jumper by Caleb Grill with 36 seconds to play. KU trailed again, two possessions later, after a jumper in transition by Izaiah Brockington that put Iowa State ahead in with 15.6 seconds left.
Two free throws by Agbaji erased one of the deficits and the falling-down-layup on a drive to his right by Harris proved to be the game winner.
All of that — and so much that came before it — came with senior guard Remy Martin out because of continued soreness in his right knee.
Freshman forward Zach Clemence showed up in a walking boot during the pregame warm-up and also did not play. And senior guard Jalen Coleman-Lands, who started the second half against his old teammates in Iowa State red went to the locker room midway through the second half after taking an elbow to the head on a flagrant foul.
Related document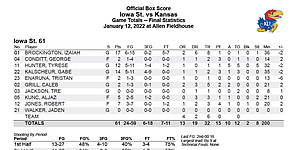 Box Score: KU 62, Iowa State 61 ( .PDF )
As if that wasn't enough, the Jayhawks started both halves with freshman forward KJ Adams making his first career start and holding down the 5 position.
"Our team just needs to piece it together right now until we figure out how we're going to play," Kansas coach Bill Self said after the victory. "But the guys hung in there and fought. I'm proud of them."
Agbaji led all scorers with 22 points and said KU's ability to pull out the hard-fought victory against a tenacious Cyclones squad was a prime example of what KU preaches day in and day out.
"Next man up mentality," he said.
Junior Christian Braun, who finished with 13 points, said Tuesday's victory was a perfect look at what Kansas can do.
"I think we've got a bunch of different looks we can put on the court,' Braun said. "Defensively, I think we just turned it up a little bit (in the second half) and that's what it takes to get wins in conference play."
In the first half, it was Iowa State's intensity that stole the show. The Cyclones (13-3, 1-3) led 19-10 early and still by five late in the half. But KU finished with a 3-pointer by Agbaji that cut the deficit to 33-31 at the break and then used a 12-2 run early in the second half to take control.
Iowa State closed the game with a series of gritty plays that led to points, but Kansas found a way to make sure those came in a losing effort.
"We guarded them really well in the second half and they made every shot," Self said. "But we did enough and we hung in there."
Tuesday's victory came on a night when No. 19 Texas Tech knocked off No. 1 Baylor in Waco, giving the Bears' their first conference loss and bringing KU back into a tie in the loss column atop the Big 12 standings.
Although they're still just three games into what promises to be a grinder of an 18-game conference slate, Agbaji said Tuesday's win was significant.
"It's just good to be back in the race," he said.
Added Self, when asked about his postgame conversation with first-year ISU coach T.J. Otzelberger: "I've known T.J. a long time. He's done a great job there. It was just a good game. I asked him, 'Who you got next?' I think he said Texas (and I said), 'This league is no joke.'"
Next up, Kansas will welcome West Virginia to Lawrence for a 1 p.m. tipoff on Saturday at Allen Fieldhouse.