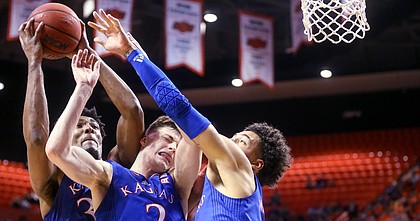 Stillwater, Okla. — Known as one of the best in the business at pushing the right buttons to inspire his players, Kansas basketball coach Bill Self delivered again on Tuesday night when he chose to bring senior forward David McCormack off of the bench in the Jayhawks' 74-63 win at Oklahoma State.
Instead of sulking about what some might deem to be a demotion, McCormack did some soul-searching and responded to his new role — temporary or otherwise — with 17 points on 8-of-13 shooting and a career-high 15 rebounds.
"I'm not a psychologist," Self said when asked after Tuesday's game about McCormack's response. "But I think I (saw) a motivated guy. Sometimes the best way to be motivated is not to think and to get mad. And I think he was probably more enthused to play because he was pissed. And I don't think that's all bad. I thought he did a really good job. A really good job."
Related document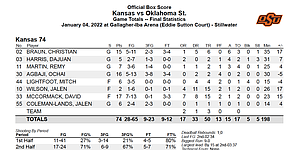 Box Score: KU 74, OSU 63 ( .PDF )
It wasn't always that way for McCormack on Tuesday night. His first few trips up and down the floor led to more calamities. A turnover here. A lazy rebounding effort there. A missed shot another time. For a while, it was a whole lot more of what McCormack has shown so far this season, which very closely resembled what he showed during the first half of last season, as well.
But then something triggered a change and McCormack began to look like the player who darn near averaged a double-double during Big 12 play last season. Some believed it was Self lighting into him after he let a rebound flub off of his hands.
"He just said, 'You know you've got to grab more rebounds. Don't try to grab it with one hand. Snatch it and be our big man. That's what you're supposed to do.' And that's what I did the rest of the game," McCormack said, recalling Self's message in that moment.
Others believed it was McCormack's ability to find a much-needed dose of confidence.
"He played his butt off," said senior forward Mitch Lightfoot, who took McCormack's spot in the starting lineup. "I was so excited to see him play that well. He cleaned up the glass, (was) scoring, hitting turnarounds, he had confidence. He was motivated. He had a nose for the ball. Energy finds the ball, and he got the energy (going). Once he saw his first basket go in, he started to get that little roll."
And once his teammates saw that, they knew exactly what to do.
"There was a point in the game when I was telling him to just keep going; we're just going to keep feeding you," senior guard Ochai Agbaji said.
That was especially the plan when Oklahoma State 7-footer Moussa Cisse was not in the game. But Self pointed out that, after McCormack found his confidence, he even hit a couple of tough buckets over Cisse, which only made his confidence soar higher.
"That just boosts your confidence so much," Lightfoot said. "He was able to really feed off of that and took it from there."
Seven of McCormack's 15 rebounds came on the offensive glass. He scored six points — on three consecutive baskets — in the first half and grabbed eight rebounds. And he added 11 more points on 4-of-6 shooting a three perfect trips to the free throw line to his seven second-half rebounds.
When totaled up, McCormack's final line read 17 points and 15 rebounds. All in just 23 minutes. More importantly, it helped rescue Kansas from a first-half collapse that saw a 29-15 lead turn into a 29-all tie at halftime. The rough stretch to close the half featured 19 consecutive misses and a scoreless drought of more than 9 minutes.
"In the first half, we were kind of playing up to their tempo," McCormack said. "They like to kind of speed the game up, which kind of sped up our shot selection and our shooting form."
But the Jayhawks (12-1 overall, 1-0 Big 12) regained the upper-hand when they found their poise and patience again. And so much of that came when the team ran everything through McCormack.
Kansas point guard Remy Martin was the beneficiary of some of that, and his back-to-back jumpers around the 5-minute mark effectively put the game away. But even in that moment, after two of his three makes on the night, Martin found himself feeling happiest for McCormack.
"I love it, man," the KU guard said after the game. "I'm happy for Dave. We want him to keep building and I'm just extremely happy for our guys that have overcome adversity."
Calling his latest outing a triumph over adversity might not be the way McCormack would choose to describe it. For him, it was merely the result of staying focused and doing what was asked of him.
"Coach decided to switch the lineup, and I think it was for the better," McCormack said. "I think it just made everybody feel at ease, in a sense; everybody stepped into a new role and we embraced it."
Asked if the bench role helped eliminate some of the pressure he puts on himself, which was, at least in part, some of the reason Self made the move in the first place, McCormack said his carefree night had more to do with the timing than anything.
"Actually, I just feel less pressure going into the Big 12 just in general," he said. "I don't know why. It's the start of a new season and, in my mind, it's (time) to refresh and just embrace the player that I know that I am."
McCormack reminded everybody what that player looked like on Tuesday night at Gallagher-Iba Arena. And if that winds up being the start of the kind of turn-around that led to him earning second-team all-Big 12 honors a season ago, this could wind up being one of the most important outings of the season.
"It's in my nature to do it either way," McCormack said of delivering big numbers as a starter or off the bench. "The Big 12 season is the start of a new season. Coach always says we start out 0-0. Today we are 1-0, and I'll continue to keep that mindset going forward. … I hope I set more career highs throughout the season."