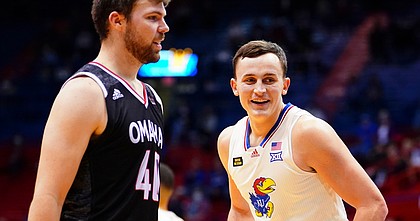 Kansas senior Mitch Lightfoot will start in place of David McCormack during Tuesday's game at Oklahoma State, where the sixth-ranked Jayhawks will open Big 12 play.
Kansas coach Bill Self announced the change during a Monday morning news conference, two days after saying it was time to give Lightfoot more minutes following Saturday's victory over George Mason.
After announcing the change, Self joked that he remembered telling a younger Lightfoot that if he stuck around the program long enough, he could wind up being a starter.
"I kept my promise," Self said Monday. "The kid's done pretty much everything he's supposed to do for us and he's not been a starter. So we're going to try something different. … I think it's something that's worth trying because we haven't gotten off to good starts with our 5 position."
For Self, the move comes down to efficiency. It's not that he expects either McCormack or Lightfoot to be a dominant offensive presence while in the game. The Jayhawks have plenty of other scorers and, with their four-guard approach, can find other ways to create offense.
But the 5 man has to be a part of that.
"From a big-picture standpoint, I think we can get 20 points and 12 rebounds out of that spot," Self said Monday. "I don't think our big guys have to score a ton. I think they have to be efficient when they get touches and I think Mitch has been more efficient when he's gotten touches."
Self said he announced the lineup change to his team in a group setting and that he presented it as a way to both reward Lightfoot for his recent play and as a way to help McCormack.
"I love David McCormack," Self said. "We will not be a terrific team this year unless he performs better. That's the bottom line. And we've got to do some things to help him perform better. That's it.
"It wasn't a one-on-one conversation. I'll probably talk to him one-on-one, but it's a team thing. You do what's best for the team if something isn't working. You don't need to candy-coat it. You can just be direct."
Self then shared the words he used while telling the Jayhawks about the change.
"Hey, we're going to try something different," he began. "We're going to start Mitch. Mitch has played well, he's earned an opportunity, and David maybe this will give you a chance to come off the bench and have a little bit of a different perspective and maybe be a little bit more relaxed when you're out there."
That last part — taking some of the pressure off of McCormack — might wind up being the biggest piece of all of this. And Self said he expected McCormack to play well in his new role. He also noted that if McCormack delivers, he could quickly work his way back into the starting lineup.
"I anticipate David playing well," Self said. "Of course, I anticipate him playing well all the time. He's too good a player not to play well. Maybe this'll take a little pressure off. This will maybe give David a chance to watch from the bench to start out and hopefully perform better when he gets in there."
As of Monday, Self said there was no plan for how the minutes specifically would be divided up between Lightfoot and McCormack. He noted that Lightfoot, as a starter, likely would have the opportunity to play "quite a bit," but also added that tinkering with things could open the door for freshmen KJ Adams and Zach Clemence to crack the regular rotation at the 5, as well.
"We've said all along, how do we get those guys more minutes and maybe this is an opportunity to do that," Self said of Adams and Clemence. "So I'm not going into it thinking Mitch plays this, David plays that, whatever. I'm going into it thinking we've got to start piecing that 5 spot together better where we're getting that 20 and 12 night in and night out."
Tuesday's game is set for an 8 p.m. tipoff on ESPN2.