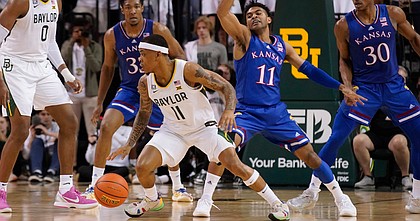 Waco, Texas — Kansas guard Remy Martin made his first appearance in four weeks during fifth-ranked KU's 80-70 loss to No. 10 Baylor on Saturday night at the Ferrell Center.
Available to play for the first time since shutting himself down in an attempt to get fully healthy, Martin checked into the game with 12:22 to play in the first half and Kansas leading 16-4.
Photo Gallery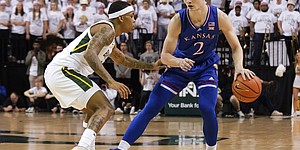 Kansas men's basketball vs. Baylor
View a gallery of images from Saturday's game between the No. 5 Kansas Jayhawks and No. 10 Baylor Bears at Ferrell Center in Waco, Texas.
Martin hit a deep 3-pointer early and also struggled to slide defensively during his first 3:27 on the court. But he looked like he was moving well and had no extra protection on his right knee. He checked out at the 8:55 mark of the first half.
Martin, who last played in KU's home loss to Kentucky on Jan. 29, has been working toward a return to action after suffering a bone bruise in his right knee in KU's home win over Nevada in late December.
Although the super-senior transfer played in a few games between Nevada and Kentucky, he rarely looked or felt fully healthy, and Martin and team doctors elected to shut him down completely at the start of February in hopes that he would return to 100%.
Kansas coach Bill Self said Saturday that Martin practiced the previous two days following his return to limited practice earlier in the month.
As for whether he planned to play Martin, Self on his pregame radio appearance said simply: "I will play the guys who give us the best chance to win the game … If Remy does that, great."
Martin finished with 5 points on 2-of-3 shooting in 11 minutes. He also fouled twice and was whistled for a key flop warning late in the game.
"I don't know that it really meant much," Self said of Martin's return after the game. "I was glad he was out there. I thought he did fine. He needs to get out there and get some rhythm, but I thought he did fine in his minutes."
Seed help?
A week ago, the NCAA Tournament selection committee revealed that the Jayhawks were one of four teams sitting on the 1 line for the top seeds in next month's NCAA Tournament.
Related document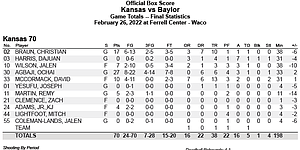 KU's strength of schedule, standing in the Big 12 and 10 Quadrant 1 wins, the best in the nation, played a big role in the Jayhawks landing in the No. 4 spot overall.
And on Saturday, KU may have gotten a little help in its quest to stay there, even with the loss at Baylor.
Auburn, Purdue and Kentucky all lost Saturday before KU's game tipped off. Auburn was the No. 2 overall seed in the bracket preview and Kentucky and Purdue were both penciled in as No. 2 seeds.
None of it is set in stone until Selection Sunday on March 13, when the official bracket is revealed. But the Jayhawks continue to position themselves well for one of the top seeds in the Big Dance.
"We didn't (help ourselves) in our league," Self said. "But on a national scale, we got huge help today because of the teams that we're fighting with for the higher (seeds). We all lost. We won't drop much, if any, I wouldn't think."
Top 10 the norm
Saturday marked the second consecutive top-10 battle in the KU-Baylor series. It also was the fifth time in the past six meetings between the two that both teams were ranked in the top 10 and the ninth all-time top-10 matchup between Kansas and Baylor.
KU and Baylor are two of the four teams in Division I who have been ranked No. 1 in four of the past six seasons. Duke and Gonzaga are the others.
College GameDay atmosphere
Hundreds of Baylor fans showed up early and came carrying dozens of signs to be featured on ESPN'S College GameDay broadcast from the Ferrell Center.
Saturday marked the third time overall — and the second time in three seasons — that Baylor has hosted GameDay, and Kansas was the opponent each time.
Some of the more notable signs in the crowd included included one that read, "More like No-Chai" in reference to KU guard and leading scorer Ochai Agbaji; another that read, "Kansas is a football school, signed Texas"; and one that made sure to point out that a Jayhawk is not a real bird.
The BU crowd also attempted a whiteout at their home venue, with all fans being given white T-Shirts to wear for the game.
This and that…
Saturday's loss was Baylor's eighth all-time win against KU, which now leads the series with the Bears, 36-8. That includes a mark of 14-5 in games played in Waco… The Jayhawks are now 6-3 in true road games this season and 10-4 in games played away from Allen Fieldhouse.