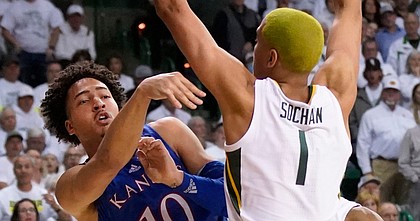 Waco, Texas — A combination of the versatility of Baylor's big men and too many missed free throws at key times cost fifth-ranked Kansas on Saturday night in an 80-70 loss to No. 10 Baylor at the Ferrell Center.
BU freshman Jeremy Sochan scored 17 points in 31 minutes and senior center Flo Thamba added 18 points and nine rebounds as the Bears avenged a blowout loss in Lawrence three weeks ago in front of a record crowd of 10,268 rabid BU fans.
The Jayhawks (23-5 overall, 12-3 Big 12) expected the environment they walked into and lamented the fact that they could not make enough plays late to leave victorious.
"If you get beat like that, obviously you're going to fight back and we knew that," KU's Christian Braun said of Baylor responding to the loss in Lawrence. "We knew they weren't going to roll over."
For a while, it looked like the Bears (24-5, 12-4) were headed toward doing exactly that.
Related document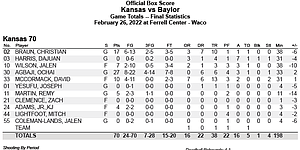 The Jayhawks stormed out to a 12-2 lead and completely took the home crowd out of it. Baylor, meanwhile, made just one of its first eight shots and five of its first 21 in falling behind by 13 on three separate occasions throughout the first half.
Kansas never trailed in the first half, but the Bears closed the half on a 16-4 run and trailed by just a point at the break (32-31) after being down by as many as 13 points in the first half.
"It was a missed opportunity because we played so well early," Kansas coach Bill Self said after Saturday's loss.
Added KU's Ochai Agbaji, who led all scorers with 27 points: ​​"They were the most aggressive team in that stretch."
Baylor took its first lead on a dunk by Kendal Brown 43 seconds into the second half. From there, although the Jayhawks were able to stay close and make it a tight game all the way into the final few minutes, the Bears played from in front and dictated the way the rest of this one went.
Thanks largely to another monster night by Agbaji, Kansas continued to stay connected, tying the game at 51 and again at 63-all after Baylor had built small leads. But the Jayhawks missed several key free throws — including two front ends of one-and-one opportunities — and watched as the Bears, and their home crowd, willed themselves to bigger and bigger leads.
Most of it came on the strength of Baylor's adjustment to go small, with Sochan and Brown at the 5.
Photo Gallery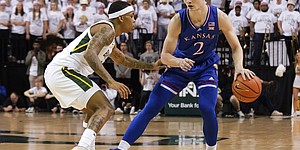 Kansas men's basketball vs. Baylor
View a gallery of images from Saturday's game between the No. 5 Kansas Jayhawks and No. 10 Baylor Bears at Ferrell Center in Waco, Texas.
The Bears wrestled back the momentum completely early in the second half, taking a three-point lead (35-32) after a pair of free throws by Akinjo that followed a technical foul called on Self.
After the game, Self joked that he did not think he deserved the technical. The official responded with, "Bill, you about accosted me at half court."
Setting the record straight, Self said he deserved the technical and liked to see his team respond with a 7-0 run — all scored by Agbaji — to reclaim a four-point lead.
"I think when he got the tech you saw the refs respond to it a little bit," Braun (17 points, 10 rebounds) said with a laugh after the loss. "We got a couple easy fouls after that. But it fired us up a little bit. We like seeing that out of him, that passion."
From there, Sochan found his grove and the Baylor big men — including wing Kendall Brown — put the Kansas bigs in mismatches the rest of the night, forcing guys to sag and give up 3-pointers and overplay, which gave up driving lanes to the rim.
That strategy, along with KU's struggles at the free throw line allowed Baylor to take a four-point lead (its largest to that point) with just under eight minutes to play.
This was different than the work Baylor big man Flo Thamba did in the early going, scoring 12 of Baylor's first 20 points to keep the Bears in the game.
KU quickly closed the gap to one and had a chance to reclaim the lead, but Braun had the ball stripped on his way to the basket and that led to an easy finger roll by Brown on the other end that put BU back up by three at 61-58.
"They were pretty hard to guard when they went small," Self said, noting also that James Akinjo and Adam Flagler's ability to get into the paint off the dribble throughout the second half played just as big of a role in Baylor winning.
Added Agbaji of BU's mid-game strategy shift: "We had to make adjustments on the fly. Credit to them for making that adjustment. It just made it harder for David (McCormack) to keep the ball in front of him and guard their stretch 5."
Before the first meeting with the Bears, Self called Sochan a future pro. On Saturday, he played like it, showing off his ball-handling ability, balance, strength and power.
He finished 5-of-9 from the floor and made six of seven free throws, nearly all of them coming at crucial points as Baylor tried to build their second-half lead.
"Sochan hurt us quite a bit with his ability to drive the ball," Self said. "That's the best I've seen (him) play. I thought he was great. And then we gave Kendall a dare shot and he made it. That was a big play, too."
That bucket, a 3-pointer from the wing by Brown, put Baylor up 59-55, which, at the time was the Bears' largest lead of the game. The crowd responded as if it were a lead five times as large and Kansas never quite recovered.
Despite the loss, which came on a night when Kansas could've clinched at least a share of the Big 12 title with Texas Tech losing to TCU earlier in the day, Self and the Jayhawks said they would leave Waco with their heads up.
"Definitely a lost opportunity," Agbaji said.
Added Self: "We played a really good team tonight and got beat. You look at the final score and it made it feel like a 10-point game, but that wasn't a 10-point game. We shouldn't dwell on this, leaving this building. We've got to get ready to play TCU back-to-back and if you don't take care of TCU on Tuesday you've got to win back-to-back games in order to get a tie. So we've got a lot of work to do."
Baylor now trails Kansas by just a half game in the Big 12 race. The Bears play at Texas on Monday night and have just one game left after that. KU still has three games remaining, starting with TCU in Fort Worth, Texas on Tuesday.