Kansas State coach Bruce Weber said Monday that the Wildcats needed Tuesday's Sunflower Showdown to be played in the 60s in order for K-State to have a chance to win.
By halftime, fifth-ranked Kansas needed just seven points to get there.
The Jayhawks scored many more than that in the second half, while punishing their in-state rivals 102-83 at Allen Fieldhouse.
KU's 53 first-half points marked a new season-high and they came from 63% shooting by the Jayhawks (23-4 overall, 12-2 Big 12) in the opening 20 minutes.
The 102 points — on 64.1% shooting for the game — also tied a season high for Kansas, matching the 102 points the Jayhawks scored in a home win over Missouri in December.
"We played pretty well offensively," Kansas coach Bill Self said after the win. "We were cooking there for a while."
Related document
Kansas, which topped KSU for the 16th consecutive time at home, picked up right where they left off in the second half, knocking in three of their first four second-half attempts to keep the lead at double-digits.
KU crossed the 60-point threshold on a jumper by Christian Braun at the 18:00 mark that put Kansas up 61-49. Two possessions later, a steal and easy finger roll by Braun put Kansas up 14 and forced another timeout by the Wildcats.
Braun scored nine of KU's first 14 second-half points, with several of them coming as the result of increased intensity, especially on defense.
The KU junior finished Tuesday's game with 20 points, seven rebounds, five assists and two steals, bringing his scoring average against the Wildcats to 13.3 in six career games.
Braun's partner in crime, KU senior Ochai Agbaji, did even more damage.
One day after being called the front-runner for Big 12 Player of the Year by Kansas coach Bill Self, Agbaji went out and likely locked up Weber's vote.
He scored 15 in the first half, 23 for the game, and stacked Tuesday's strong effort on top of his 29-point game in Manhattan earlier this season.
In six career games against K-State prior to this season, Agbaji scored a total of 41 points. In the two games against the Wildcats this season, he exploded for 52 points on 19-of-31 shooting.
Photo Gallery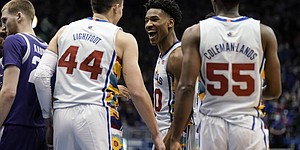 Kansas basketball v. Kansas State
View a gallery of images from Tuesday's Sunflower Showdown between the Kansas Jayhawks and Kansas State Wildcats at Allen Fieldhouse.
One basket, midway through the first half, moved Agbaji past Wilt Chamberlain on KU's all-time scoring list. It helped that Agbaji was playing in his 109th career game and Chamberlain appeared in just 48, but those facts won't mean much — or be mentioned — when Agbaji someday tells his grandkids about his accomplishment.

"How efficient was he," Self asked of Agbaji. "Thirteen shots, makes nine. He was so efficient again tonight. It's fun to watch him play and move right now. He's definitely in attack mode."
Added Agbaji of the milestone of passing Chamberlain: "That's an honor. I didn't know that."
No matter how fast and how far Kansas ran in this one, the Wildcats kept coming. K-State trailed by just 11 (72-61) midway through the second half, but that was as close as they would get the rest of the way.
The Jayhawks, decked out in their sunflower-splashed alternate uniforms, made sure of that with a 24-8 run that led to a 96-69 lead with 5:40 to play.
KU first pushed its lead to 20 on a 3-pointer by Jalen Coleman-Lands (nine points on 3-of-5 shooting) with 9:20 to play.
"It's hard to nitpick too much," Self said. "I'm pleased. We were pretty good tonight."
In the early going, it was the Wildcats (14-13, 6-9) who asserted themselves offensively.
Four of the Wildcats' first seven points came at the rim, as Davion Bradford scored in tight on the game's opening possession and Markquis Nowell drove to the rim from the 3-point line for an uncontested layup.
Both buckets gave K-State the lead. So did Nijel Pack's first shot of the night, a high-arching 3-pointer from the wing over the arm of Agbaji that ripped the net.
Agbaji responded on the very next possession to tie the game at 7 with a 3-pointer of his own. The Jayhawks hit four of their first six shots in this one, and five of their first eight.
None of it rattled the Wildcats, who took a 13-12 lead after back-to-back 3-pointers from senior Mike McGuirl, a veteran guard who did not start in the first meeting but was in the starting lineup on Tuesday night.
"K-State played pretty well offensively, too," Self said. "We couldn't stop them and they couldn't stop us there for a stretch."
That was about where things stopped being easy for the Wildcats. Nijel Pack, who torched Kansas for 35 points in the first meeting, was held to just 13 in this one, on 5-of-13 shooting in 29 minutes.
Asked to share KU's approach to guarding him, Agbaji said simply: "To make it tough. He moves well without the ball. No open looks, no helping off of him."
KU responded to that stretch with a 6-0 run, highlighted by a vicious, two-handed follow dunk by David McCormack to take an 18-13 lead.
From there, K-State struggled to keep up — or catch up — with KU's breakneck pace.
"We're well conditioned," Braun said. "We can do that all game."
Even when the visitors scored, the Jayhawks answered immediately and emphatically with quick strikes of their own, which both helped KU maintain the lead and kept the home crowd in it.
Agbaji answered three times. Jalen Wilson (17 points on 7-of-9 shooting in 29 minutes) had one. And KU's transition — even after K-State makes — was every bit the weapon in this one that it was in the first meeting in Manhattan.
A 9-0 Kansas State run late in the first half trimmed a 16-point Kansas advantage to just seven, prompting Self to call timeout. Whatever the KU coach said in the huddle seemed to work. The Jayhawks responded with three straight buckets of their own to reclaim a 14-point lead before taking a 53-43 edge into halftime.
Tuesday's victory kept Kansas two games up on Baylor and Texas Tech in the loss column in the Big 12 race, with Saturday's showdown at Baylor looming. Baylor and Texas Tech both have three games remaining. Kansas has four.
The Jayhawks and Bears will face off at 7 p.m. Saturday night in Waco, Texas.
"I think every test is (an) opportunity," Coleman-Lands said. "I think we get better as we progress throughout the year, and we'll continue to get better."