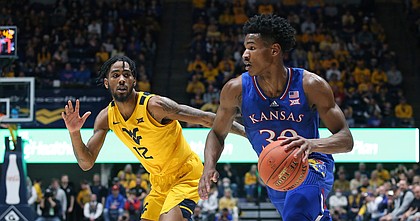 Morgantown, W.Va. — There was very little about Kansas sophomore Joe Yesufu's final stat line that jumped off the page following the sixth-ranked Jayhawks' 71-58 win over West Virginia on Saturday night.
But don't tell that to Yesufu's teammates.
With KU point guard Dajuan Harris Jr. limited at times because of cramping issues, Yesufu took over the role as KU's primary ball handler. And he made a whole bunch of plays that have nothing to do with that designation to help Kansas secure a win in a building that has been about as much fun to visit as the dentist's office for the Jayhawks throughout the years.
"I thought he played great," Kansas coach Bill Self said of Yesufu after the win. "I was really happy to see it, and we needed every minute of it."
Photo Gallery
Kansas men's basketball vs. West Virginia
View a gallery of images from Saturday night's game between the Jayhawks and Mountaineers at WVU Coliseum.
Yesufu scored four points on 2-of-3 shooting and had two assists, one steal and one rebound in 13 minutes.
Both the steal and the rebound were singled out as highlights by Self after the victory.
The former came with KU leading just 46-43 and West Virginia threatening to take control. And the rebound came a few possessions later, after one of the night's 49 missed shots by the Mountaineers. Soaring high for the rebound on the defensive glass, Yesufu pushed the ball up the court the second his feet hit the ground again. It led to an easy layup by Christian Braun and an eight-point lead for the Jayhawks with 9:30 to play.
After the game, Self called the rebound "as good a defensive rebound (as) a little guard can make."
Related document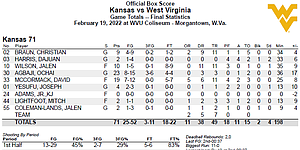 Yesufu's teammates called his steal one of the plays of the game.
"That play he had where he stole the ball, no one even saw it, but that's two points that we luckily got," said Ochai Agbaji, who led Kansas with 23 points on 8-of-15 shooting in 36 minutes. "It was just a great play, and he was just aggressive. I'm really proud of him."
Added senior forward David McCormack, who finished with 19 points and 11 rebounds in 25 minutes: "Amazing performance. He was athletic, he was quick, he was fast. He was a floor general out there when Juan wasn't."
Clutch free throw shooting, production from poise and domination on the glass led the Jayhawks' win. KU out-rebounded the Mountaineers 49-32 and finished one away from a season high on the boards. And the Jayhawks (22-4 overall, 11-2 Big 12) made 18 of 22 shots at the free throw line.
The night featured runs of 11-0, 9-0 and 8-0 for Kansas, with the 9-0 run opening the second half after WVU (14-12, 3-10) cut KU's lead to 33-30 on its first shot of the second half.
"I don't think everybody had a great game," Self said. "I thought Och and Dave were pretty good though, and everybody else was really solid. And I did think we played pretty tough."
That was evident from the start. And it came from some unexpected places.
An early lineup that featured reserves Mitch Lightfoot, Jalen Coleman-Lands and Yesufu was partly responsible for an 11-0 Kansas run that turned a tie game into a 20-9 lead for the Jayhawks midway through the first half. Agbaji and Braun were the other two out there. In taking that 11-point lead, Kansas made eight of its first 12 shots and followed that up by hitting three of its next 12. West Virginia, which shot just 29.7% in the first half, was not able to take full advantage of the Jayhawks' offensive struggles.
The Mountaineers cut KU's lead to seven on a couple of occasions but saw it jump back to double digits on a jump hook by Lightfoot with 1:03 to play in the half.
From there, things turned in favor of the Mountaineers. Big man Pauly Paulicap, who entered the game averaging just 11 minutes per outing, hit a pair of free throws with 27.4 seconds to play in the half.
Harris then turned the ball over on his way up the floor as Kansas set up for the final shot of the half. And Malik Curry's jumper with 2 seconds to play in the half cut the Kansas lead to 33-27 at the break.
The Jayhawks led by double digits for nearly half of the first half. But their lead was just two possessions at the break, despite Kansas out-shooting WVU by 15 percentage points and doubling up the Mountaineers 28-14 on the glass in the first 20 minutes.
Nine first-half turnovers by the Jayhawks, including four by Braun and two by Agbaji, helped keep Kansas from building a bigger lead at the break.
"That's about as poor as you can handle the ball to start the game," Self said. "They're going to turn you over, but these weren't from pressing. These were just from unforced turnovers. We're playing with one (lead) guard, so our team isn't the best ball-handling team that you've ever seen at times. But we're better than what we displayed tonight in the first half, and we were better the second half."
Kansas didn't blink when West Virginia opened the second half with a 3-pointer by Jalen Bridges to pull within three.
Agbaji fired right back with a 3-pointer of his own. McCormack then followed with a pair of free throws and an offensive rebound that led to a bucket. Agbaji then added an easy bucket in transition to push the KU lead to 42-30 with 17:07 to play.
Just 3:24 later, however, the Kansas lead was back down to a single possession (42-40), as the Mountaineers responded to KU's run with a 10-0 surge of their own.
One more time, though, Kansas responded with poise and production, ripping off a 10-4 run to reclaim an 8-point lead with 9:30 to play on a transition bucket by Braun and again at 56-48 after a tough bucket inside by McCormack with 7:29 remaining.
"There was a point in the game where it was just like, this is the time where we're just going to go through Dave," Agbaji said. "And we did just that."
Added Self of McCormack: "I thought he was great. Especially the second half. He rebounded the ball. He scored the ball. We went to him several times in a row when they went small. I thought Dave played great."
The Jayhawks weren't quite as good in transition in this one as they were in the first meeting between these two teams. But the buckets they did get on the run came at crucial times.
And McCormack, who has had some of his biggest games against the Mountaineers, played to his size throughout the night.
Those elements led Kansas to its fifth road win of the conference season and preserved the Jayhawks' two-game lead over Baylor and Texas Tech in the loss column, with the Big 12 entering the final two weeks of the season.
"We can see the finish line now," Self said. "Everybody in the league can see the finish line. So you can't take one for granted this time of year. The only reason we need help is if we don't take care of business. I told our guys that right before we played, and they took care of business."