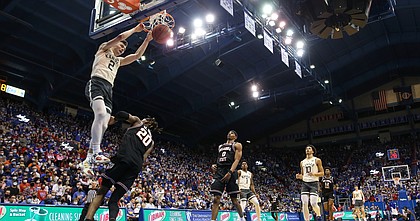 After weeks of grind-it-out, down-to-the-wire games that took their toll, mentally and physically, the sixth-ranked Kansas men's basketball team finally was able to relax in the final minutes of Monday's 76-62 win over Oklahoma State at Allen Fieldhouse.
Instead of sweating out every possession down the stretch, the Jayhawks built a lead of 22 points early in the second half and then watched as an all-out party broke out the rest of the way.
Highlights came in all shapes and sizes down the stretch, with steals leading to dunks, lobs out of timeouts and big blocks bringing KU fans to their feet.
Related document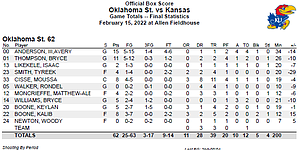 By game's end, the Fieldhouse crowd was roaring for walk-on Chris Teahan to play and signing a few bars of the Rock Chalk chant to send the Cowboys home.
"It was definitely a sense of relief just knowing we had the game sealed," KU forward David McCormack said after the win.
Dajuan Harris Jr. and McCormack led the way for Kansas (21-4 overall, 10-2 Big 12) with solid nights from start to finish.
Harris finished two points shy of tying his career high, with 12 points and five assists — against one turnover — in 34 minutes. McCormack finished with 12 points and 12 rebounds in 28 minutes.
Kansas coach Bill Self said several individuals played well in Monday's victory and added that, like McCormack, he sees value in not having the exhaustion of a game going down to the wire.
"We've been decent in those situations," Self said. "But it's nice to be able to not have to sweat every game."
Once the Jayhawks got rolling, the Cowboys (12-13, 5-8) found no way to stop them.
Even a 9-0 OSU run midway through the second half barely registered with the home team. Instead of panicking against the Oklahoma State zone that keyed the Cowboys' run, KU simply pushed its lead back to 22 (76-54) with some clutch free throw shooting and a deep top-of-the-key 3-pointer by Braun with five minutes to play.
The Jayhawks missed their next 16 shots to close the game and still didn't have to sweat. That's not to say Self was happy with how they closed.
"Coach was really mad because we really didn't close the game out that good," Harris said. "We've got to do a better job at the end."
Self went one step further, calling KU's close "awful."
"We had a 26-point lead with about eight minutes left and that should be a bench-clearing deal at the four-minute mark and it wasn't," he said. "You can't get outscored 7-0 every last minute of a game. It was still a good win and it was never in doubt and I'm happy we got out of here without having to sweat too hard. But we still need to be better."
Freshman forward Zach Clemence played well again, delivering a solid encore to his big game last weekend in his first action in a month.
Photo Gallery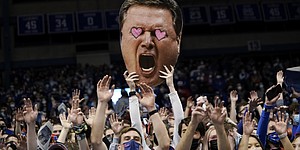 Kansas basketball v. Oklahoma State
View a gallery of images from Monday night's game between the Jayhawks and Cowboys at Allen Fieldhouse.
Clemence was the first big man off the bench for the Jayhawks in the first half and he immediately made an impact, grabbing three rebounds (two offensive) in his two first-half minutes.
Clemence played an even bigger role in the second half, with two more rebounds, two blocks and a bucket from the 5 position after a hard post-up and soft pass from Harris.
Even KU's free throw situation was less stressful in this one. And that may have had something to do with the Jayhawks' ability to cruise to the easy win. The Jayhawks hit eight of 11 at the free throw line in the first half and finished the game 19 for 27. That included a stretch of 17 makes in their first 20 attempts.
The way Self saw it, several of those misses in the final two minutes, when the game was not hanging in the balance, did not count.
"Nineteen of 23, we could live with that any night," he said of KU's free throw performance without those late misses.
Senior Ochai Agbaji (20 points, seven rebounds, four assists and three steals) led the Jayhawks at the line with a 9-of-10 showing. McCormack made all four of his attempts. And Christian Braun (16 points in 36 minutes) and Jalen Wilson (11 points and seven rebounds) combined to make six of nine.

After another sloppy and sluggish start, the Jayhawks woke up and took a 6-2 lead on the strength of two highlight-reel dunks.
The first came on KU's first basket of the night, when Dajuan Harris Jr. fed Ochai Agbaji on a back cut along the baseline that momentarily woke up the building and the five players on the floor.
Proof of that popped up two possessions later, when Harris picked the pocket of OSU's Bryce Williams and flushed a breakaway dunk of his own.
A Christian Braun two-handed slam on a back cut along the opposite baseline from Agbaji's pushed the KU run to 8-0 and the Jayhawks lead 8-2. But the Cowboys responded with a run of their own to take an 11-10 lead at the 9:40 mark of the first half. Most of those OSU points were the result of OSU running, harder, faster and with more purpose in transition after KU misses.
"Just kind of a grind," Agbaji said after the win. "I think things got a little bit stagnant. They kind of picked up their intensity on defense and we were giving them easy baskets on their end. That mixture never goes well. We knew it would pick up at some point."
The Jayhawks appeared to take control on a couple of different occasions during the first half, twice building leads of nine points. But the lead never grew and Oklahoma State kept running. Eventually, the Jayhawks broke through. Three consecutive 3-pointers from three different Jayhawks (Harris, Joe Yesufu and Agbaji) helped Kansas build a 26-17 lead. OSU trimmed that back to four, but a strong finish to the half by David McCormack put Kansas up by 10 at the break, 38-28.
McCormack scored eight of KU's final nine points in the first half and finished the half with eight points, eight rebounds (four offensive), three assists and one block in 17:34.
"I didn't think we played great by any stretch," Self said. "But from the eight-minute mark to the five-minute mark of the second half we were pretty good. That wasn't a good finish at all. But I would've taken a 14-point win before the game all day long."
Kansas now gets another breather before returning to action on Saturday at West Virginia. Tipoff is slated for 7 p.m. on ESPN.