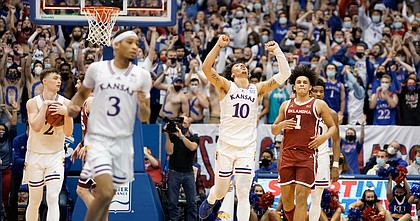 Kansas forward Zach Clemence was put into Saturday's game with Oklahoma to defend OU big man Tanner Groves on the perimeter.
As it turned out, he did much more than that.
After not playing at all for a month because of a broken toe, Clemence delivered nine crucial minutes and made his presence felt up and down the stat sheet during the 8th-ranked Jayhawks' 71-69 victory over the Sooners at Allen Fieldhouse.
"I thought our best chance to win was with Zach," Kansas coach Bill Self said after the victory. "He was the only big that could hedge a ball screen and get back to Groves."
KU forwards David McCormack, Mitch Lightfoot and KJ Adams all got their turn guarding the OU big man, who lit KU up in the NCAA Tournament a year ago when he was at Eastern Washington. None of them could slow him down.
Photo Gallery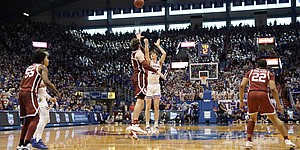 Kansas basketball v. Oklahoma
View a gallery of images from Saturday's game between the Kansas Jayhawks and Oklahoma Sooners at Allen Fieldhouse.
In fact, Groves' final line of 19 points, four rebounds and five assists in 30 minutes could've been much worse had he not missed some wide-open looks from 3-point range early in the game.
Still, he finished 7-of-14 from the floor and 4-of-11 from 3-point range. However, none of his points came with Clemence on the floor.
The 6-foot-10, 225-pound KU freshman checked in with 9:14 to play in the game and Kansas trailing by five. The Jayhawks immediately ripped off an 11-0 run to grab a six-point lead. While Clemence's active hands, all-out effort and general length made open looks tough to come by for Groves, the one shot Clemence hoisted had almost as big of an impact on the game's outcome.
Early in that 11-0 run, Clemence drilled a 3-pointer from the top of the key that gave Kansas a 58-57 lead. The Jayhawks never trailed again.
As he bounded back on defense with three fingers in the air, Clemence did his best Remy Martin impersonation, yelling to the crowd something to the effect of, "I'm back!" or "Yeah baby!"
"He was just yelling," KU junior Christian Braun said of Clemence's explosive celebration. "That's what he does. He just likes to talk. (We) never really listen to him."
Clemence did not reveal exactly what he was yelling, but he did say that the shot was only partly responsible for his giddiness.
"Being out four weeks really gets to you," he said. "So when I got back in it was like playing basketball for the first time. It felt good."
Related document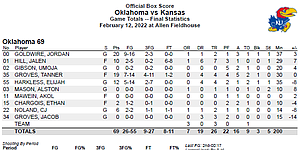 Box Score: Kansas 71, Oklahoma 69 ( .PDF )
Asked if the shot was the biggest or even best of his life, Clemence shrugged and smiled.
"That's like my favorite shot, so I was pretty confident (it was going in)," he said. "It was a great shot. I mean, I liked it. Yeah, best shot. Let's just go with it."
It also fell in line with a key part of what Self asked him to do when he put him in the game.
"I told him make easy plays (and) don't shoot unless you're wide open," Self said after Saturday's win. "I don't know if you've noticed, he'll shoot it when he's not wide open. …Usually when you play a guy that's practiced twice in six weeks, you may want to try to get him in in the first half. But he responded well. I think he played a big role in us winning."
So did Braun and Wilson. The two KU wings combined for 40 points on 14-of-22 shooting and combined for 17 rebounds while playing 37 and 38 minutes, respectively. Wilson led all scorers with 22 points and also grabbed a game-high nine boards. Big 12 leading scorer Ochai Agbaji labored to get to 11 points for the second game in a row, shooting 3-of-12 from the floor and 2-of-8 from 3-point range in 38 physically demanding minutes.
Twenty-seven of Braun and Wilson's 40 combined points came in the second half and Braun sparked a lot of it by dominating the open 5:38 of the second half.
In that stretch, he scored seven points, grabbed two rebounds, dished two assists and also snagged a block and a steal. A lot of it came with him doing work on the defensive glass and sprinting the other way to take the fight to the Sooners.
"CB was no factor at all the first half," Self said. "I mean, our team was flat. We played with no energy and we looked really, really, really slow. In the second half we looked more athletic and CB was a big reason why."
Braun said it was a matter of simple self-awareness that led the stronger showing in the second half. He always has prided himself on being a player who injects life into the game and inspires his teammates to do the same. And he knew on Saturday that he had not done that for the first 20 minutes, after which OU led 34-31.
"We needed somebody to take it up a notch on offense," Braun said after the victory. "We were just kind of dead to start the game. That's what I do is provide a spark. And I needed to do a better job than I did the first 10 minutes of the game."
Added Self: "If you take Och out and CB doesn't play with a lot of energy, we get average real quick."
Braun's aggressive and assertive play triggered what resembled a horse race the rest of the way. Both teams got up and down the floor. The ball moved quicker. And the action was less about what happened in the paint — as was the case in the first half — and more about how fast the 10 players on the floor could get from one end to the other.
"It gave us so much more energy," Wilson said. "That's what we do best is run. It just kind of ignites everybody, gets the crowd going and gives us momentum."
The Jayhawks (20-4 overall, 9-2 Big 12) road that momentum all the way to an eight-point lead (67-59) with 1:32 to play. That lead was trimmed to one (70-69) thanks to OU's refusal to go away and KU's 6-of-12 shooting performance at the free throw line in the final 1:38 of the game.
After OU (14-11, 4-8) stole an inbounds pass and scored a quick layup to cut the lead to one, Wilson missed the first and made the second of his two trips to the free throw line with 14 seconds to play.
That gave the Sooners one last shot at tying the game — or even a win — but, with KU switching on defense at all five positions, Jordan Goldwire's off-balanced jumper from the elbow over KJ Adams missed long and KU survived.
Asked what was going through his mind as the Sooners brought the ball up the floor with a chance to win, Wilson said: "Just to lock in and finish the game. We've had a lot of close games. So, we don't really get too rattled. Just close the game and finish what we started."
Added Self: "We don't get after people defensively like I'd hope we would (but) we actually defended the last possession very well."
On this day, with Baylor already having posted a win over Texas in the games-relevant-to-the-Big-12-race category, that was all Kansas needed to do.
Next up, the Jayhawks return to Allen Fieldhouse at 8 p.m. Monday night for a Big Monday battle with Oklahoma State on ESPN.