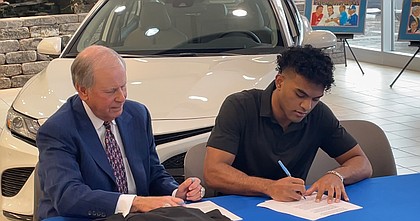 In the seven months since the NCAA made profiting on one's name, image and likeness legal, athletes at the University of Kansas have cashed in on close to half a million dollars.
KU Athletic Director Travis Goff on Thursday morning provided an update on KU's NIL statistics to the Kansas Athletics, Inc. Board of Directors.
In it, Goff said more than 80 different Jayhawks have brokered more than 170 total NIL deals since July 1 through the end of January. In addition, Goff said at least one athlete from all 17 of KU's varsity sports had received an NIL opportunity and that the average transaction value per deal was $2,728.
"(That's) heavily skewed by maybe the handful of five-figure men's basketball deals," Goff added. "Nothing in the six figures. Nothing that I think has been just at the forefront of progressive, so to speak, but we feel good having created a foundation of education with a strong lens toward compliance."
KU spokesman Dan Beckler told the Journal-World after the meeting that the exact numbers were 86 Jayhawks and 174 deals, with Rally House also selling roughly 2,700 KU-related items that factored into the NIL numbers.
In all, Beckler said 3,025 NIL licensed KU items had been sold to date, including shirts and autographed basketballs. This fall, KU plans to partner with with Fanatics to launch a Kansas football jersey program. And, as of Thursday, there were more than 40 different KU merchandise items in the market that were tied to NIL opportunities.
Among the bigger and more popular NIL deals at KU thus far are Remy Martin's car deal with Crown Toyota; the Applebee's commercial with KU football tight end Jared Casey, who caught the game-winning 2-point conversion in KU's upset win over Texas; KU quarterback Jalon Daniels' agreement with Gorilla Glue through an appearance on the Rich Eisen Show and senior forward Mitch Lightfoot's handful of deals with companies and apparel partners, including KU's first ever deal with 1-800-GOT-JUNK.
Goff also noted that other Lawrence-based companies and KU athletes who hail from Lawrence had agreed to NIL deals, as well.
"We're seeing some positive outcomes, where you have all types of programs represented, all kinds of backgrounds represented," Goff said.
He added: "We continue to make it a focal point in terms of multiple people in the department spending time on it as the market kind of settles in. And I think we're all very interested in what might still be out there in terms of leveling the playing field (through) federal legislation that will balance things out and give us some consistency across collegiate athletics."
In other news from Thursday's meeting, the board also:
• Praised recent efforts by Kansas basketball fans at Allen Fieldhouse for adhering to the mask requirement while watching men's and women's basketball games. KU Chancellor Douglas Girod called KU's efforts there "really uniquely successful within the Big 12." He added: "Having both watched and been in multiple other venues within the Big 12, nobody's even made an attempt to do it as well as you guys have."
• Received an update from KU's Chief Financial Officer, Pat Kaufman, on the state of the budget at the start of the spring semester. Kaufman called it "kind of a quiet year" after the past two fiscal years were impacted by the pandemic. And he noted that KU was 55% of the way to making its contracted revenue goal and 45% of the way to its variable revenue goal. The latter includes ticket sales and donor money, which Kaufman's data showed had reached 101% and 96%, respectively, of expected earnings for the current fiscal year. "It's nice to see the year playing out the way we had planned it," Kaufman said. "Things are looking pretty good."
Included in Kaufman's report was an update on the U.S. Supreme Court's recent ruling that struck down NCAA caps on student-athlete academic benefits in the Alston case. Kaufman said that the Big 12 Conference, in response to the ruling, has indicated that an additional $5,980 per scholarship athlete on top of the full cost of attendance benefits that already exist, would be available in Fiscal Year 2023, beginning this fall. The money will be tied to good standing in both conduct and academics and dependent on the scholarship of each athlete.
For example, those KU athletes getting a full ride will be eligible for 100% of the $5,980. Others, who are on partial scholarships in KU's non-revenue sports, would be eligible for the same percentage as their scholarship. So, a baseball player on a 50% scholarship would be eligible for $2,990, half of the full amount. Kaufman said the existing Kansas Athletics budget was prepared to absorb the cost of the additional benefit.