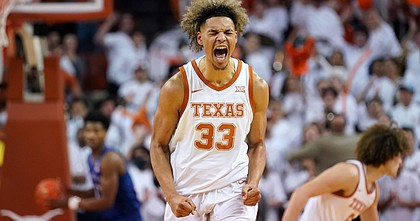 Austin, Texas — Multiple times already this season, the Kansas men's basketball team found itself in the very position it was in late during Monday's 79-76 loss at Texas.
And in each of those prior instances, the Jayhawks made a play to win the game.
On Monday, a banked-in 3-pointer by the Longhorns, an open lob that clipped the rim and a few too many miscues by Kansas left the 8th-ranked Jayhawks on the losing end of one of those games.
While all of it pointed to issues with execution by the Jayhawks (19-4 overall, 8-2 Big 12) the banked 3-pointer by UT's Tre Mitchell that cut the Kansas lead from four to one in the final minute was one of those "ugh" type of moments for the Jayhawks.
"That's just our luck," said KU forward David McCormack, who was defending Mitchell on the pick-and-pop 3-pointer. "That's the last thing we wanted. It was kind of a dagger. But we still had time to win the game."
Plenty, in fact. Mitchell's 3-pointer cut the KU lead to 76-75 with 55 seconds remaining. On the ensuing Kansas possession, a lob attempt in the paint from Ochai Agbaji to a wide-open McCormack hit the rim instead of McCormack's hands and gave the Longhorns possession with 38 seconds to play, trailing by one.
After a hard cut to the free throw line, UT forward Timmy Allen buried a jumper with 21 seconds to play to give Texas a 77-76 lead. All of a sudden, after leading 76-72 with 1:08 to play after an acrobatic follow-up by Agbaji — one of his four made shots on the night — the Jayhawks suddenly found themselves trailing.
The jumper by Allen, who went for 24 points and nine rebounds on 11-of-17 shooting, was the one that frustrated Self the most.
"That was the biggest play," Self said. "It wasn't the banked-in 3. Crap like that happens. The fact that we didn't contest that one possession was the biggest play of the game.
"I thought Allen was great. He was the one that we defended the worst."
Related document
Box Score: Texas 79, Kansas 76 ( .PDF )
While Allen's jumper and KU's inability to score late set the final outcome, no one, not even Self, could fully look past the banked-in shot by Mitchell.
In addition to it hitting hard off the glass and rolling around the rim before falling, it was one of three 3-point makes by Texas on Monday, in 20 attempts.
"Tough," Agbaji said. "It's basketball. That's how it is."
Added Self when asked about Texas coach Chris Beard's coaching decisions late: "I don't know that Chris drew up a play to bank in a 3. If he did, he's a hell of a basketball coach. But (Mitchell) was open. I think that was the play. I think he drew that up to get Mitchell a shot because David was guarding him."
Even the man who banked it in was laughing about the shot on his way out of the Erwin Center on Monday night.
After a lingering Texas fan told Mitchell that it was a great shot and that the bank was great, Mitchell threw his head back, shrugged and said, "I'll take it. It came at the right time."
The point of not over-emphasizing Mitchell's hard-to-handle 3-pointer was that many other mistakes — before and after the shot — cost the Jayhawks the game.
Agbaji said Self mentioned a defensive rebound by McCormack grabbed that led to a tie-up and Texas retaining possession. There were also three consecutive misses at the free throw line in the final 3:27 — two by Christian Braun and one by McCormack — that allowed UT to stay close. And then, of course, the lob to McCormack that Agbaji missed. Instead of being up three with under a minute to play, the KU lead was just one and Texas had momentum.
"It wasn't anywhere near where I was trying to throw it to," Agbaji said of the errant pass. "It just wasn't on target. I definitely saw the lob was open. It's just tough. Little stuff like that is what we've got to clean up."
Added Self: "That was just poor execution, but it was there."
What frustrated the Jayhawks as much as anything on Monday night was that the mistakes they made that led to the loss were the polar opposite of the plays they had made to win games against Iowa State, Oklahoma, Texas Tech and Kansas State.
"We've had a lot go right," Agbaji said. "But this kind of shows us you can never take that for granted when you're in those moments."
It wasn't that the Jayhawks (19-4 overall, 8-2 Big 12) believed they were invincible in those situations, more that they just didn't execute and the law of averages kind of caught up with them.
"It's just how it goes," said sophomore wing Jalen Wilson, who led KU with 18 points and 11 rebounds. "They got some good plays and we made some bad plays. It just comes down to the last few minutes and they were able to win those minutes."
Added Agbaji: "This one sucks. It definitely felt like we gave this one away."