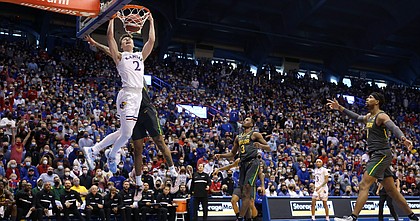 In the days leading up to the Jayhawks' home showdown with Kentucky on Jan. 29, Kansas basketball coach Bill Self went out of his way to express how insignificant that game was in the big picture of KU's season.
Fast-forward one week, to Saturday's 83-59 drubbing of No. 8 Baylor at Allen Fieldhouse, and it was easy to see that the Jayhawks' loss to Kentucky meant a lot more than anyone could have realized.
After falling behind 2-0 in the game's opening minute, the 10th-ranked Jayhawks unleashed an all-out blitz on the Bears, ripping off runs of 12-0 and 23-5 to take complete control of the game and leave the Bears looking for an escape route at the soonest possible minute.
Photo Gallery
Kansas basketball v. Baylor
View a gallery of images from Saturday's game between the Kansas Jayhawks and Baylor Bears at Allen Fieldhouse.
"We haven't lost two home games back to back in a long time," said KU junior Christian Braun after the victory. "We all kind of knew that, and we don't lose at home often. We especially don't lose at home in conference. The energy (early) kind of reflected that."
As a result, the Jayhawks (19-3 overall, 8-1 Big 12) now own a two-game lead over Baylor in the conference race at the midway point. And, perhaps more importantly, have righted the ship with a 180-degree turn from where things sat just one week ago.
"We had a great week," Self said. "People make a lot about last Saturday, which is fine, but it's not near as important as these last two games. If last Saturday somehow inspired us or lit a fire under us to maybe regroup or whatever, then I'm glad it happened."
Kansas was terrific in the first half against Baylor, bullying the Bears around the rim and playing with more pace and passion everywhere else.
Eleven of KU's first 23 points came in transition, and KU's defense fueled several fastbreak opportunities, which both led to easy buckets and brought the home crowd into the game in a major way.
"When we get out on fastbreaks, it's kind of hard to slow us down," said KU sophomore Jalen Wilson, who scored 15 points, grabbed seven rebounds and dished four assists with two steals in the win.
Related document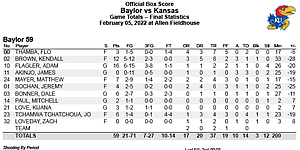 Box Score: Kansas 83, Baylor 59 ( .PDF )
He and Braun (18 points, 10 rebounds and three assists) were relentless in the early going. And that allowed KU senior Ochai Agbaji, who returned from a one-game COVID-19 absence, to find his rhythm early, as well.
Agbaji finished with 18 points and nine rebounds in his 32 minutes, but all three Jayhawks who led the team in scoring on Saturday wanted to praise the play of their defense above everything else.
Self was right there with them.
"I thought our defense was probably as good as it's been all year," Self said after the victory, which featured KU holding Baylor to 29.6% shooting, which was both a season-best and the lowest by a top-10 opponent against Kansas since Arizona shot 28.3% in a loss to KU in 2005.
Wilson, Braun and Agbaji gave most of the credit for that to the play of point guards Dajuan Harris Jr. and Joe Yesufu, who limited Baylor leading scorer James Akinjo to 0-of-11 shooting and a goose egg in the points column on the stat sheet.
"He's not going to do that very often, if ever again," Self said of Akinjo finishing scoreless. "But he had to take hard shots. I mean, they made him work."
"It was Juan and Joe," Wilson said. "They set the tone."
Added Braun: "Coming into the game, we knew how important Akinjo was to their team. And Juan and Joe did a great job of just kind of cutting the head off (of Baylor's attack)."
Baylor coach Scott Drew, who drew a technical foul early in the second half for storming onto the floor to dispute a call, opened his postgame meeting with the media by praising the way the Jayhawks took it to his team from the opening tip.
"Well, that's now how we envisioned the day," Drew said. "Blame starts with me. I didn't prepare our guys well enough, obviously. They killed us in transition, killed us in second-chance points, and that's 30 points in the first half."
For the game, KU outscored the Bears 20-13 in second-chance points and 17-9 in transition. Neither number accurately reflects the surge with which those two stats carried Kansas to the runaway victory.
"It was a lot of fun," said Braun, who played with the kind of fire and ferocity that he showed in the early minutes of KU's whipping of Missouri in December. "We did a really good job today coming out with more energy than we did last Saturday."
The Jayhawks led 39-21 at the break and pushed their lead to as many as 34 points (79-45) before cruising to the finish line.
Of the technical, which led to a pair of David McCormack free throws that made the score 46-26 in favor of Kansas with 17:10 still to play, Drew said simply: "I've been coming here 19 years. Sometimes things boil over. … I think it snowballed on us. We haven't been beaten like that in three, four years."
If you made a list of things that went right for Kansas and wrong for Baylor (19-4, 7-3) on Saturday, it would've rival the length of James Naismith's original rules of basketball, which are housed in the DeBruce Center next to Allen Fieldhouse.
Although Naismith could never have imagined what the sport would evolve into, the game's inventor himself, no doubt, would have been proud of the execution and complete precision the Jayhawks played with in all areas on Saturday.
KU shot, passed, rebounded defended and hustled better and harder than Baylor throughout the game.
Had it not been for KU's 17 turnovers — compared to 14 by Baylor — the Jayhawks would've picked up a clean sweep and outperformed the Bears in every statistical category.
Even the KU crowd was at its best in this one, roaring with approval throughout the game and ripping off chants of "Baylor's soft" and "over-rated" during the second half.
"We circled these three games on our calendar," Self said of Tuesday's win at Iowa State, Saturday's win over Baylor and playing at Texas on Monday night. "We know that that (stretch will) go a long ways (toward) the success of our conference season. We got two, now we need to go try to get a third."