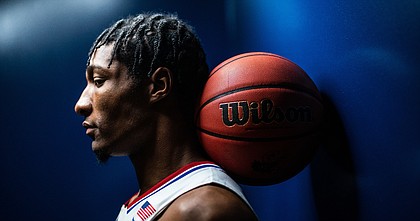 After averaging just 11.4 points per game during a rough and inconsistent start to his junior season in 2020, Kansas forward David McCormack found freedom in the coaches' steam room.
Frustrated by his performance and carrying the burden of trying to figure out why he was struggling, McCormack needed to find a way to relax.
It was not enough to just hear or think about playing with a free mind, a phrase that became McCormack's mantra. The KU forward needed to unlock his mind, body and spirit, as well.
So, he did. And it worked.
"It was not like an actual meditation state," McCormack said. "But using the coaches' steam room and hot tub to just kind of unwind and relax, listen to soft music and not have so much stress built up. From that point on, anybody who watched me said I just looked like I was having a lot more fun doing what I love to do."
McCormack finished the 2020-21 season by scoring in double digits in 12 of his final 14 games while averaging 6.7 rebounds per game in that stretch. It was a significant improvement from the season's first 15 games, when he had twice as many games of three rebounds or fewer as he did double-digit rebounding nights. And it led to him being named the Big 12's Most Improved Player and a second team all-Big 12 selection.
Heading into the 2021-22 season, the idea was for a more-confident McCormack to pick up where he left off. It didn't happen.
Through the first 15 games of the current season, McCormack's points-per-game average sat at 8.1. His rebounding was down, as well, and his field goal percentage had dipped below 50%.
While the physical acts of putting the ball in the basket and ripping it out of the sky after misses appeared to be a challenge, it also was evident that the mental side of basketball was weighing on him again.
According to McCormack's mother, Janine McCormack, her son has always carried with him a desire to be perfect. Whether that was as a young football player, on the basketball court as a child, when he threw the shot put during track season or while playing the drums, McCormack wanted to nail everything just right.
It's like that with his academics, too. Janine recalled a couple of instances when McCormack assured her he could finish a 16-week class in eight weeks. And he told her when he left Virginia for KU that he would graduate in three years.
He did, with a degree in communications. And now he's in the Journalism School's Master's program for Digital Media.
Even at his church, Tabernacle of Prayer, in Virginia Beach Virginia, where he and his family have spent countless hours helping out and focusing on their faith, McCormack wanted to be perfect.
It bothered him then when he wasn't. But the stakes were never quite as high then as they are now at Kansas.
The idea of letting both himself and thousands of Kansas fans down when he hasn't played up to his expectations, has been somewhat new to him. And it may have contributed mightily to the challenge of trying to get out of his own head during the down times.
"That's it," Janine said in a phone interview with the Journal-World. "It's rough. You just have to get through those nights."
McCormack said the experience of a prolonged slump like the one he endured to open his junior season was a first for him.
"I think that's why I kind of struggled with it," he said. "Just trying to get through it."

When similar struggles surfaced again this season, McCormack was more prepared to handle them and he has responded in a similar way.
He has cracked double digits in scoring in four of KU's last six games, while adding rebounding totals of 15, 15 and 14 in three of those. Arguably his best game of the season to date came Tuesday night, when he went for 14 points and 14 rebounds, without missing a shot, in a road win at Iowa State.
Before the season began, KU senior Ochai Agbaji said he could tell when McCormack's mind was where it needed to be on the court.
"When you play with a free mind, that's when you're going to let your entire body do what you normally do and all of that's just going to come naturally," Agbaji said.
In many ways, McCormack is the poster boy for that concept.
It's evident when he's struggling. He barks at himself and carries his frustration on his face.
When things are good, he taps into the swagger that shows, beyond a shadow of a doubt, that he's having fun. A shimmy here. A flex there. Both gestures his grandfather, Clifford Daniel, would be proud of because of how aligned they are with the message he always told McCormack when he was younger — "Boy, just go have fun."
Janine likened her son's happiest moments on the court to a time when she took him to Great Wolf Lodge when he was younger for a day of adventure and swimming.
"We could've done a commercial that day," she said, sharing that McCormack was so happy when they arrived that he jumped up and kicked his heels together.
McCormack and his mother talk every day. And their faith has helped McCormack view all parts of his Kansas basketball experience as part of a delightful journey.
The more you listen to Janine talk about how McCormack was raised and the approach to life the two have to this day, the easier it is to see how he has pulled himself through the rough patches and why playing with a free mind is so important to him.
"He's an 18-hour car ride from me," Janine said. "But every time we talk, I just let him know, yesterday is gone, tomorrow may never be mine and today is gift. That's why they call it the present."
Her biggest advice to him during these past two seasons has been about staying true to himself. And those words of wisdom, from his biggest supporter, have played on a loop in McCormack's head throughout the last 15 months.
"I tell him all the time, 'David, control what you can control,'" said Janine, uttering the very words her son has used in many postgame press conferences. "When you're good, the fans are going to love you. When you're not good, the fans are going to hate you. But at the end of the day, you're still going to be David McCormack; so you owe it to yourself to be the best version of yourself that you can be."
It's that approach that has kept McCormack smiling.
"I knew I had the faith of my teammates and my coaches, and I was like, 'Just relax, play calm and collected, you know, play free, play loose," McCormack said of the inner dialogue that has taken place during the past two seasons. "Don't put any pressure on yourself. Don't try to do more than what you have to do. Do what comes natural."
That last part, he admitted, was always "a hard thing to do." But the more he did it, the easier it became.
"I was doing too much or thinking too much and once I kind of let go it was like, 'All right, fine; I really let go.' And it was just natural. It was effortless," he said.
Even on the days when his mother sensed something was wrong or had caught wind of a particularly rough night, when the coaches or fans were extra hard on him, McCormack always told Janine that he was OK. They even have a saying to emphasize it. "All is well," they tell each other.
Sometimes, late at night, after a quick call by McCormack to let Janine know he made it home from another road trip, those words are the only words they exchange.
"I think he needs that," Janine said. "I think they all need that at some point in time. Not everybody is LeBron James."
Outside of some of the physical traits he shares with King James, no one will ever confuse McCormack for being that type of player. But he has started to play better — more freely — in recent weeks, bringing to mind the turnaround he delivered during the second half of last season.
"If we looked at it, it was this time last year that he kicked it in, too," KU coach Bill Self said during his "Hawk Talk" radio show on Wednesday night. "So, I'm hoping February is his month."