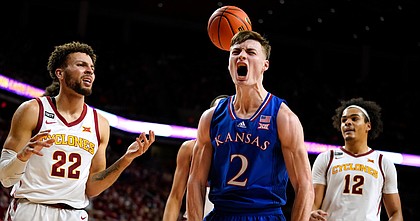 Ames, Iowa — With the Big 12's leading scorer back in Lawrence with COVID and the conference's preseason player of the year in street clothes on the bench, the 10th-ranked Kansas basketball team needed every available body to step up to survive No. 20 Iowa State at Hilton Coliseum.
And that's exactly what the Jayhawks got.
From strong efforts by starters Dajuan Harris Jr., Jalen Wilson and David McCormack to unexpected production from a couple of reserves who were thrust into bigger roles than ever before, the Jayhawks left Iowa with one of those total team wins — 70-61 over the Cyclones on Tuesday night.
It also was their fourth Big 12 road win in five tries so far this season.
"To win without Ochai, and then not have Remy, too, it meant a lot," said Kansas coach Bill Self of senior guards Ochai Agbaji and Remy Martin.
Agbaji missed the trip altogether after testing positive for COVID over the weekend. But he still found a way to impact the outcome from afar.
"We knew what we were missing," KU junior Christian Braun said after the victory. "But he called us (before the game) and told us what he thought we should do and we knew what to do. We knew what the job was and we got it done."
McCormack delivered 14 points and 14 rebounds in 31 minutes and Harris added 14 points, eight assists and three steals in what Self said was probably Harris' best game of the season.
But Self tossed seldom-used reserve Joe Yesufu into the conversation as one of the three players who "carried" the Jayhawks on Tuesday night, with Yesufu playing 23 minutes off the bench and scoring seven points to go along with five rebounds, four assists and three steals.
Related document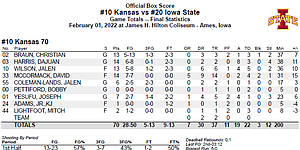 Box Score: Kansas 70, Iowa State 61 ( .PDF )
"Joe was great," Braun said. "He's similar to Remy. We're confident in him and this was great to see."
Yesufu said it was his defense that helped him calm down. Moments after checking in, he deflected a ball that stole the Jayhawks an extra possession and that allowed him to settle into the flow of the game, truly feeling as if he was a part of it.
"The kid was fearless after he got past the (first couple of trips up the floor)," Self said of Yesufu. "There in the first half, we only had guy that could dribble against their pressure. So getting Joe in there really helped take some pressure off Juan."
The Jayhawks (18-3 overall, 7-1 Big 12) turned it over 16 times in the first half but, thanks to their defense, still led by six.
Making the start in place of Agbaji, former Cyclone Jalen Coleman-Lands had an opportunity to impact the game early and often.
After missing a reverse layup try on a back cut on KU's fourth possession, Coleman-Lands made up for the poor decision with back-to-back 3-pointers — from basically the same spot — to put Kansas up 13-6.
Iowa State called timeout and the Jayhawks responded with a steal out of the timeout.
"That's kind of what pushed us forward," Braun said of Coleman-Lands' early buckets. "Once J-Cole hit those two, you kind of felt it pick up a little bit and everybody was confident."
KU followed up its hot start with a 5-minute scoreless drought that allowed the Cyclones to cut the KU lead to 13-10. But, despite the drought, KU never gave up the lead and actually extended it thanks to some big plays by McCormack and Harris, who combined to shoot 13-for-15 on the night, with McCormack going 7-for-7 from the floor.
Harris scored back-to-back buckets in transition — the second after a big block by McCormack — and also pilfered three first-half steals.
That duo combined for back-to-back buckets a little later in the half to push KU's lead to 23-14, and it grew to 10 (24-14) on a free throw by KJ Adams following an offensive rebound.
That was merely a sign of things to come.
Kansas played with a double-digit lead for much of the second half, including holding a 14-point lead with as late as :51 to play. Kansas never trailed in this one, forcing a stop on the opening possession and taking a 2-0 lead on a bucket inside by McCormack that gave Kansas the lead for the remaining 39 minutes and 22 seconds.
Self said electing to start with Coleman-Lands in Agbaji's spot was an easy decision.
"But it was also a no-brainer to go with Joe to finish," Self added.
The closest Kansas came to losing control came midway through the second half, when the Cyclones cut what was a 12-point KU lead down to five (44-39) with 13:04 to play. The building was rocking, the Jayhawks were on their heels and the outcome was hanging in the balance.
But on the very next possession Yesufu drilled a 3-pointer from the corner — one of his two makes on the night — to push the Kansas lead back to eight. Three minutes later, after a bucket inside by Mitch Lightfoot, the visitors' lead was back to a dozen.
"There was no option," said Braun when asked if he sensed that KU's entire roster would step up. "The team didn't bat an eye."
Added McCormack: "We just had the next-man up mentality. We kind of (rallied) behind (Agbaji's absence). He (wanted) this one as bad as we do. He just wasn't able to participate in it. So it meant more to get it for him since he can't participate."
Self said the tough road win without two of their most experienced players spoke "volumes" about the Jayhawks' character.
He also said, before the game, that, without those two seniors, it would be up to another one — McCormack — to find a way to lead the team to victory.
Whether it was through his production on the stat sheet, his unrelenting hustle on the court or his two emphatic blocks and a season-high 31 minutes, McCormack showed he was up for the challenge in any and every way imaginable.
"Like coach said, it was on me," McCormack said after the victory. "Since we didn't have one of our best players, we needed to find a way to get the second-chance shots, get open looks, and coach preaches that when you get second-chance opportunities, look out to the perimeter and I think that's what I tried to do."
That mindset allowed everyone to be a part of this one and the Jayhawks left Ames with smiles and a complete sense of accomplishment.
"We knew we had to do it as a unit," Braun said. "(Self's) most important message was, if you want to replace a guy that's the national player of the year, you have to do it collectively. There's not one person that can step up and score 20 more points than they normally do. We just knew that if we did it as a team, collectively, there's nothing we can't do."
Added Self: "Iowa State didn't play great tonight. Hopefully we had a little bit to do with that. But that's a team ranked 20th in the country and we (went) on the road and (won) without our best player. … It was a good team win."
Next up, Kansas will return home to host No. 8 Baylor on Saturday in a clash between the two teams at the top of the Big 12 standings. The Jayhawks currently have a half-game lead over Baylor and they're hoping to have Agbaji back for that one.
"It will meet protocol for him to come back, as long as he can pass everything else," Self said.
Tipoff is slated for 3 p.m. on ESPN.