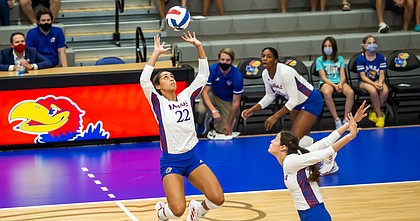 After a 3-0 start to the season that featured a win over the 22nd-ranked team in the country, the Kansas volleyball program moved up three spots in this week's American Volleyball Coaches Association rankings.
KU entered the season ranked No. 23 and jumped up to No. 20 after wins over Utah Valley, No. 22 Utah and Loyola Marymount at last weekend's Utah Classic. Utah fell out of this week's AVCA rankings.
Kansas, which reached the Sweet 16 last season, was led by strong play from all-tournament team performers Camryn Turner, a sophomore setter, and Anezka Szabo, a super-senior opposite. Turner was named the tournament's Most Valuable Player.
KU will stay on the road this week, when it travels to West Point, New York, to participate in the Black Knights Invitational at Army.
KU will face Temple at 12:30 p.m. Friday and Army at 5 p.m. that same day before closing things out with a Saturday matchup with Connecticut at 10 a.m.
Following a Sept. 7 match at Kansas City, KU will host its home opener at 6:30 p.m. on Sept. 8 against Wichita State in its first match of the Kansas Invitational.