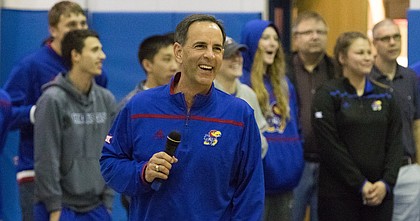 The Kansas women's volleyball team will open the 2022 season where it ended the 2021 season — ranked in the top 25 of the American Volleyball Coaches Association poll.
That news came Monday night, when the first AVCA poll of the season was released with the Jayhawks ranked in the No. 23 spot.
Ray Bechard's team, which got red hot and made it all the way to the Sweet 16 of the NCAA Tournament last season, ended the year at No. 19 in the final poll of 2021.
"We're going to get right back after it this year and see if we can create a new chapter and a new identity with this team that's just as successful," Bechard recently told the Journal-World.
KU, which was picked fourth by the Big 12's coaches in the conference's preseason poll, was one of three Big 12 programs to land in the preseason top 25. Texas came in at No. 2 and Baylor landed at No. 16.
The Longhorns received 27 of the 64 first-place votes, three more than No. 1 Nebraska, which finished with 10 more total points in the season's first poll.
UT was picked as the preseason favorite in the Big 12 and Baylor was picked to finish second. Iowa State, which finished third in the conference's preseason voting, did not crack the preseason top 25 and also was not listed among the teams who received votes and appeared on two or more ballots.
KU will open the 2022 season with an exhibition match versus Drake at 6:30 p.m. on Friday. The Jayhawks will get things started for real a week from Saturday, when they travel to Salt Lake City, Utah, to open the regular season at the Utah Classic.
KU will face Utah Valley and Utah on Aug. 26 before facing Loyola Marymount on Aug. 27.
Kansas' home opener is scheduled for Sept. 8 against Wichita State at Horejsi Family Volleyball Arena.