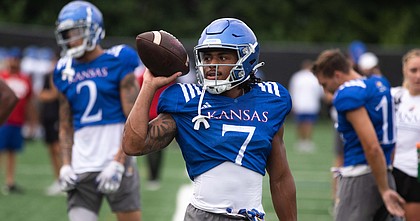 The Kansas football team wrapped up its second week of preseason training camp on Monday and has a little over two weeks remaining until it plays Tennessee Tech in the season opener at David Booth Kansas Memorial Stadium on Sept. 2.
As such, what the team will look like in coach Lance Leipold's second year is beginning to take shape. Some roles are evident and others are in flux, and several will continue to remain fluid even beyond the start of the season.
Here's how the Journal-World sees the Jayhawks' depth chart based upon observations from practice and conversations with coaches, players and others around the team.
Quarterback
Starter: Jalon Daniels
Backup: Jason Bean
Leipold has said Daniels, a junior, is expected to be the starter come Week 1. Quarterbacks coach Jim Zebrowski said that's because of the way Daniels finished last season and how he handled spring practice, which he missed in part as he recovered from ankle surgery. Bean, a redshirt senior, started nine games last season but has looked sharp in practice as he pushes Daniels. Ben Easters, a redshirt freshman, and Ethan Vasko, a freshman, are battling to be the third-team quarterback; Vasko has been impressive thus far but neither are expected to play barring catastrophe.
Running back
Starter: Devin Neal
Backups: Ky Thomas; Daniel Hishaw Jr.
In the mix: Sevion Morrison; Torry Locklin
Neal, a Lawrence High grad, will shoulder the rushing attack after a breakout freshman season but will have help in the backfield. Thomas, a Topeka native who transferred from Minnesota, and Hishaw, who missed all of last season with a hip injury, will spell Neal. Morrison, a transfer from Nebraska, and Locklin offer versatility especially in the passing game but will have to stay healthy. Offensive coordinator Andy Kotelnicki has said having two-, three- and potentially even four-back sets is a possibility.
Wide receiver
Starters: Lawrence "LJ" Arnold; Doug Emilien; Trevor Wilson
Backups: Luke Grimm; Steven McBride; Tanaka Scott
In the mix: Kelan Robinson; Quentin Skinner; Kevin Terry
A fluid position that will need more time to sort itself out. Arnold is a big target, Grimm has experience playing outside and inside and Wilson is reliable in the slot. Emilien, a transfer from Minnesota, provides speed and can also move inside. Much is expected from the younger wide receivers, especially Scott, but their opportunities may be limited.
Tight end
Starter: Trevor Kardell
Backups: Mason Fairchild; Jared Casey; Tevita Noa
In the mix: Will Huggins
The tight ends have been rotating extensively throughout training camp, but there are high expectations for Kardell, a tall, athletic redshirt sophomore. Kotelnicki said blocking for the running backs remains a priority given the depth at the position but part of being a multiple offense also means using the tight ends in a variety of ways, whether that's as receivers or as blockers in the backfield or in space.
Offensive line
Starters: LT Earl Bostick Jr.; LG Michael Ford Jr.; C Mike Novitsky; RG Armaj Reed-Adams; RT Bryce Cabeldue
Backups: LT James Livingston; LG De'Kedrick Sterns; C Deondre Doiron; RG Nolan Gorczyca; RT Dominick Puni
Kansas lost only one starter from last season in Malik Clark and Ford should move from right guard to left guard to fill in for him. Reed-Adams has struggled to control his weight but will get the opportunity to establish himself as a starter. Leipold wants to identify backups at tackle, guard and center; Puni and Doiron, transfers from Central Missouri and Buffalo, respectively, should be the sixth and seventh linemen. Versatility is key on the line; coaches want to cross-train players at multiple positions. Offensive line coach Scott Fuchs said Livingston, a freshman, is "the type of guy we're looking for" but likely will only play on offense in an emergency.
Defensive tackle
Starters: Sam Burt; Caleb Sampson
Backups: Eddie Wilson; Caleb Taylor
In the mix: Ronald McGee; Kenean Caldwell; D.J. Withers; Tommy Dunn Jr.
The oldest and most experienced unit on the team, the defensive tackles will be charged with stopping the run. Burt, in his sixth season, and Sampson, in his fifth, will get the opening reps at a position that heavily rotates players. Taylor started four games last season as an undersized redshirt freshman and has put on nearly 50 pounds. It's possible all eight players appear on defense in a single game.
Defensive end
Starters: Lonnie Phelps Jr.; Malcolm Lee
Backups: Hayden Hatcher; Jereme Robinson
In the mix: Zion DeBose; Cole Petrus; D'Marion Alexander; Davion Westmoreland
Phelps, a transfer from Miami (Ohio), will line up at strongside defensive end and lead the Jayhawks' pass rush. On the other side, Lee and Robinson are competing to start; Lee gets the nod for now, but Robinson will likely play significant reps. Hatcher and DeBose should rotate in, with Hatcher serving as Phelps' primary backup. DeBose and Petrus can play both sides.
Linebacker
Starters: Rich Miller; Eriq Gilyard; Craig Young
Backups: Taiwan Berryhill; Lorenzo McCaskill; Gavin Potter
In the mix: Cornell Wheeler; Donovan Gaines; Tristian Fletcher
The position with the most change from last season. Linebackers coach Chris Simpson said Young, from Ohio State, "fits in really well" as the hawk linebacker, a hybrid strongside linebacker/strong safety role. He's fast, rangy and a hard hitter. Miller emerged last season as a reliable tackler and Berryhill is, according to Simpson, the most improved player at the position. Gilyard and McCaskill, from UCF and Louisiana, respectively, are similar run-stopping middle linebackers but Gilyard gets the edge as he joined the team in January and McCaskill only did so earlier this month. The top six players should play significant snaps.
Cornerback
Starters: Kalon Gervin; Ra'Mello Dotson or Jacobee Bryant
Backups: Dotson or Bryant; Cam'Ron "Shaad" Dabney
In the mix: Monte' McGary; Kwinton Lassiter
Gervin immediately stabilizes a position that relied heavily upon youth last season. It seems likely he'll move inside to cover the slot in obvious passing situations, leaving Dotson and Bryant outside. Dabney, too, is poised to play snaps in the slot when needed. McGary is a wild card; a seventh-year senior transfer from Utah State, he only recently joined the team and is recovering from injury.
Safety
Starters: Kenny Logan Jr.; Marvin Grant
Backups: O.J. Burroughs; Jarrett Paul
In the mix: Edwin White-Schultz; Jalen Dye
Perhaps the Jayhawks' marquee transfer, Grant started all 13 games at Purdue last season. He has yet to take consistent reps with the first team but figures to be paired with Logan by the time the season starts. Grant should settle in as the boundary/strong safety with Logan moving to field/free safety. Paul, a transfer from Eastern Michigan and Rutgers, is a versatile defensive back who could even back up Gervin in the slot.
Specialist
Starters: K Jacob Borcila; P Reis Vernon; KO Tabor Allen; LS Luke Hosford; KR Kenny Logan Jr; PR Luke Grimm
All of the primary specialists return from last season except wide receiver Kwamie Lassiter II, who returned punts. Special teams coordinator Taiwo Onatolu mentioned only Grimm when speaking briefly Monday about punt returners. Grimm, Neal, Thomas and Trevor Wilson also are in the mix to return kickoffs.