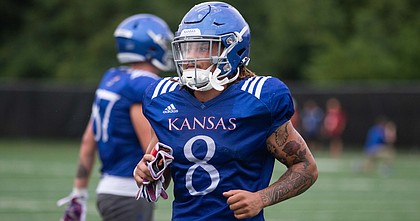 There's no denying that one of Kansas' strengths entering the season appears to be the depth it has at running back.
Sophomore Devin Neal returns after a breakout first season. So, too, do redshirt junior Torry Locklin, who emerged as a multidimensional threat before a November ankle injury, and redshirt sophomore Daniel Hishaw Jr., who was productive in 2020 before missing all of last season with a hip injury.
Add in Minnesota transfer Ky Thomas, a redshirt sophomore from Topeka who led the Golden Gophers in rushing last season, and Nebraska transfer Sevion Morrison, a redshirt sophomore who ran for more than 5,000 yards in high school, and there's no denying Kansas' ground attack appears formidable.
That, Neal said, is thrilling.
"We're really dynamic, and we can throw a lot of teams off guard with how fresh we can be, the different looks we can get — three running backs, two-running back sets," Neal said Sunday after the Jayhawks' fifth training camp practice. "Just the dynamics of our room is phenomenal and it's going to be really exciting to watch."
Kansas ranked ninth in the Big 12 last season with 139.3 rushing yards per game and 3.8 yards per carry. Much of that was because of Neal, the Lawrence High grad who was pressed into action early in the season and finished with 707 rushing yards and eight touchdowns — and averages of 64.3 yards per game and 4.5 yards per carry.
But that also came amid a change in offensive approach under first-year coach Lance Leipold, a series of injuries that included Neal missing the season finale against West Virginia and the departures of Velton Gardner early in the season and Amauri Pesek-Hickson after it.
Year 2, then, should be much better in many ways, those running backs said.
"We have a lot of pressure on us," Neal said. "Everything's just about us and how we can build off each other and how we can be the best we can be for the team."
Part of Neal's confidence comes from a greater understanding of the Jayhawks' wide-zone rushing attack, which was pioneered in the NFL by coach Mike Shanahan and the Denver Broncos in the late 1990s.
It's generally an uncommon approach in college, one that emphasizes stretching the field and asking the running backs to wait for their teammates to set up blocks before cutting upfield, often well outside the tackle box.
"Our backs have to do a really good job of maintaining their tracks, understanding where the vertical seams are opening, but also, too, setting up those second-level blocks," running backs coach Jonathan Wallace said. "The more reps those guys get, the better they're going to get at it."
A year ago, as the scheme was being installed, the coaches acknowledged that getting players to adjust to it would take some time.
Neal said Sunday that "the guys who were here before the transfers — me, Torry and Daniel, those guys — where we are now versus last year is phenomenal, and the two guys that came in, they picked it up right away."
Leipold, offensive coordinator Andy Kotelnicki and offensive line coach Scott Fuchs rode the scheme all the way to the best rushing attack in the FBS in 2020 with an average of 6.7 yards per carry. Running back Jaret Patterson, now with the Washington Commanders, ran for 7.6 yards per carry and 178.7 yards per game that season.
And while that approach may have worked at Buffalo, Wallace, who joined the Kansas coaching staff in 2020 and was not with his colleagues that season, believes it can work in the Big 12 as well.
"I think at the end of the day, for us being a really good offense, we have to be consistent in everything that we do," he said. "That's a big piece of it — us running the football and us being on the same page."
It may have taken some time — not through reluctance but through repetition — but Neal thinks he and his fellow running backs finally are.
What remains to be seen is how much more the coaches can get out of the position. Kotelnicki joked last week about defensive coordinators panicking when seeing the Jayhawks line up with four running backs on one play, but several of those running backs said Sunday that doing so is closer to reality than Kotelnicki may be leading on.
"I mean, three? Four? Two?" Thomas said. "We've got a lot of backs. We can find a way to get a lot of different looks on the field."
Neal thinks so, too.
"It's definitely a different challenge and stuff," Neal said. "But just finding out what each person can do differently than the other and you know, plugging that in — that's what the coaches are for. They put us in the best situation possible."