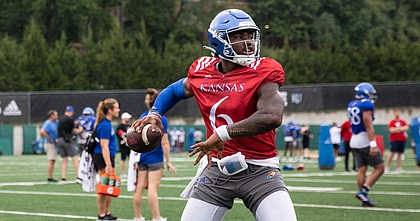 The Kansas football team has completed its first portion of its preseason training camp and will take the day off Saturday before beginning another four-day stretch.
Between in-person observation and discussions with coach Lance Leipold, offensive coordinator Andy Kotelnicki, defensive coordinator Brian Borland and several players, several of the main questions surrounding the Jayhawks are starting to be answered.
Here's what we've observed and noted over the first week.
1. The best players will play
It's not a bold strategy, but it's a complicated one given that Kansas has a glut of running backs who should be difference-makers and relatively unproven wide receivers and tight ends. Kotelnicki has frequently stressed since last season ended that the team wants an offense that uses multiple formations and will take advantage of its players' strengths.
What does that practically mean? The Jayhawks could look unconventional at times, with running backs going in motion out of the backfield, offensive linemen working in jumbo packages and perhaps even backup quarterback Jason Bean taking snaps elsewhere.
That doesn't mean Kansas will run a gadget offense; Leipold joked in mid-July at Big 12 football media days that the coaches weren't planning on running the wishbone. But consider that when they were at Buffalo, they led the MAC in passing offense in 2017 and then in rushing offense in 2019 and 2020, which demonstrates that they're willing to let their players dictate their strengths.
"If we've got seven really good offensive linemen, we'll have packages for them," Kotelnicki said. "If we have five really good receivers, we'll have packages for them. When you look at where we're at, especially from a skill position standpoint, there's a lot of competition and parity in a lot of the rooms, and so one of the things that we'll be able to use is multiple personnel groupings in each of them and have a nice little package for everything."
2. Transfers are making an impact
The Jayhawks added a Big 12-leading 19 players via transfer since the end of last season and several of them, including cornerback Kalon Gervin, linebackers Eriq Gilyard, Craig Young and Lorenzo McCaskill, safety Marvin Grant and running backs Ky Thomas and Sevion Morrison are expected to play significant roles.
Their contributions, though, go beyond just fortifying the team with experience at positions that were full of young players last season. Redshirt sophomore cornerback Ra'Mello Dotson said he was excited the Jayhawks added so many transfers.
"Because we need help like that," said Dotson, who played in all 12 games last season and started eight. "If somebody's got to come off the field, another man's got to step up. If they know what they're doing, that's even better."
Borland said that his message to so many of the players who have been recruited over with transfers is simple: "Make it so that I have to play you."
"Just because you're bringing in an older guy, that doesn't mean that that's his spot," Borland said. "Everything's earned here."
3. Several spots remain open
Although some roles have seemingly been sewn up, others have yet to be decided. Perhaps of greatest interest is who starts at defensive end opposite Lonnie Phelps, the redshirt sophomore transfer from Miami (Ohio). That could be redshirt senior Malcolm Lee, who would continue in that role from last season, or junior Jereme Robinson, whom Leipold mentioned unprompted after the first day because of his effort and intensity. They'll line up next to an experienced rotation of defensive tackles; who starts is also unknown, but Leipold said he could see the Jayhawks rotating as many as six or seven players at the position during games.
It's been long assumed that Grant, who started at Purdue last season, would pair with senior Kenny Logan Jr. at safety. If that happens, that may mean a change in responsibilities for Logan, who was the boundary safety last season. Grant has spent the first days in that role, and Logan said he has been splitting reps at boundary and field.
The starting offensive line appears to be set with left tackle Earl Bostick Jr., left guard Michael Ford Jr., center Mike Novitsky, right guard Armaj Reed-Adams and right tackle Bryce Cabeldue, but who assumes the backup spots is uncertain. The coaches want to at least identify a backup tackle, backup guard and backup center, if not an entire second unit; one player, Deondre Doiron, who started 10 of 12 games at right tackle at Buffalo last season, has been working as the backup center.
As for wide receiver, perhaps the battle on offense with the greatest interest, it's still unclear who will hold which role. Redshirt sophomore Lawrence Arnold, redshirt junior Trevor Wilson and juniors Luke Grimm and Steven McBride will try to build on last season, with redshirt sophomore Doug Emilien, a transfer from Minnesota, joining them. Redshirt sophomore Quentin Skinner and redshirt freshman Tanaka Scott are also making a claim for playing time.
"At the end of the day, we have a great group of receivers that are out there and they're going to try their best to get open and I'm gonna try my best to give him the ball when they do," quarterback Jalon Daniels said.