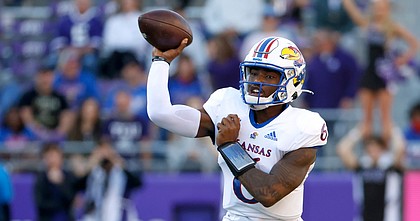 Jalon Daniels knows the challenges he faces. He also believes he knows how to overcome them.
As Kansas prepares to open its preseason training camp Tuesday morning, exactly one month before its season opener against Tennessee Tech, Daniels will be in line to take many of the first-team reps at quarterback.
"I definitely feel more comfortable," Daniels said last month at Big 12 football media days.
Coach Lance Leipold hasn't formally named Daniels the starter over fifth-year senior Jason Bean, though he may not need to do so. The way Daniels finished last season, picking up a surprising victory at Texas, forgoing a redshirt and leading a series of spirited performances, suggested the role was his for the taking.
The ensuing months, then, were designed by Daniels to remove all doubt — to be the reason why he and the Jayhawks would reach new heights following a wave of optimism not felt around the team in years.
"I think people are starting to rally around him and he's ready to be the face of that school," said Sam Fisher, a Los Angeles-based private quarterbacks coach who has worked with Daniels since his junior year of high school. "He's ready. He's working hard to be that guy."
•••
Daniels, who played in only six games last season after appearing in seven as a freshman, was relatively crisp and productive down the stretch — including the 57-56 overtime victory against the Longhorns on Nov. 13 that he started because of an injury to Bean. The only major blemish was an ankle injury that Daniels picked up in the third quarter of the game against TCU on Nov. 20 and fought through for the final six quarters of the season.
He underwent surgery on the ankle after the season ended and was limited throughout spring practice, restricted to individual drills and seven-on-seven work as a precaution until the final few sessions.
"I had to work through a couple of minor pain issues, especially coming off of the surgery," he said.
Daniels, though, couldn't let an abbreviated practice window hold him back. He linked up with Fisher when he returned home to California late in the spring, and they put together a series of workouts that, alongside the guidance of Kansas' coaches, they believed would help Daniels achieve a new level of success beginning with his junior season.
The two didn't just focus on rote drill work. Rather, their sessions were dynamic — and they also included other young Power 5 college quarterbacks from the area.
Some of their approach centered on physical adjustments. For example, Fisher believed Daniels could benefit from tightening his mechanics and throwing with a smaller windup, as well as learning when he'd need to zip a ball to his intended receiver and when he could lay up with a more catchable throw.
Much of it, though, was mental. Fisher's greatest priority was getting Daniels to slow the game down, which they attempted to do by focusing on reading coverages, trusting the blocking in front of him and making more anticipatory passes.
"He's a natural playmaker, so very Russell Wilson-esque, and when he gets out of the pocket, that's when he's the most dangerous," Fisher said. "For me, it's like, OK, that part, scrambling, off-platform, off-time throws, those are there. Now it's about, can we throw in a phone booth? He's come a long way to being a really sharp pocket passer and having a good base underneath him, staying quiet with his feet and being accurate with his spots."
Daniels, who was recruited to Kansas by former coach Les Miles, thinks he was ready to embrace the plan because of what he has already experienced with the Jayhawks.
"That's the one thing that I've taken advantage of since I've been here," he said. "The fact that I've gotten different coaches has allowed me to open up my game to different ideas and different horizons."
•••
Daniels was 17 and going against 22- and 23-year-olds when he took his first snaps as a freshman at Kansas, and a desire for greater durability has led to him bulking up to 220 pounds in preparation for his junior year.
Leipold also noted that Daniels' freshman season was affected heavily by pandemic restrictions, limiting how much he could mature.
"Now, it's a chance to do that and learn and grow as a quarterback," said Leipold, who is entering his second season. "These guys watch ... Philip Rivers and (Tom) Brady and (Aaron Rodgers) or whoever else it is and the time they spend. I think he's embraced that as he's been in college now a couple years. He gets to see and he builds his routine and he's comfortable and he's maturing."
Daniels wants to have an NFL future, and he acknowledged that his goals are being set with a professional career in mind. Fisher, though, doesn't want him to lose sight of his immediate challenges and wants him to recognize that each stage of development rests soundly on the work put in throughout it.
"I think for where Kansas has been and the situation that he's had to kind of navigate through, he's right on course," Fisher said. "When he got his number called, he's obviously made the most of it. I think this year, with that type of stability and consistency with reps with what him and the coaches are trying to accomplish, I think he's going to (make a statement)."