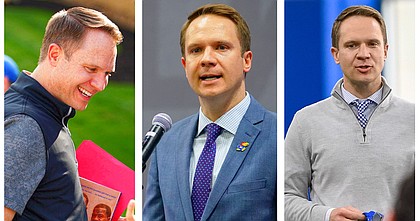 One of the primary goals of first-year Kansas Athletic Director Travis Goff was to improve morale in the department during his first 12 months on the job.
Now that he believes he's done that, Goff said the goal for Year 2, which is already a month old, is to further cement KU's culture and push the standard for Kansas Athletics higher.
"As soon as you have momentum, the biggest challenge becomes how do you not just maintain it but build upon it," Goff said during a recent sit-down interview with the Journal-World. "We can't take for granted that we have great alignment and great relationships that are going to propel us. Year 2 becomes a lot more important than Year 1."
That's saying something, considering the significant undertakings Goff encountered in his first year as an AD.
Just a couple of days after starting, he was tasked with hiring yet another football coach. He needed someone who would take on the challenge of rebuilding the struggling program and someone he could sell to a skeptical fan base.
In Lance Leipold, Goff believes he found that and then some.
"More than I expected and better than I expected," Goff said of Leipold. "I knew the program needed attention to detail and I knew the program needed somebody who was going to zero in on the biggest liabilities and address those. That's what he's been so unbelievably masterful at. No stone left unturned. No willingness to accept even mediocrity. That's what our place had to have."
Goff also praised Leipold for the way he and his family immersed themselves in the community.
"We had to have a head coach and a family and a staff that was going to love Lawrence and love KU," Goff said. "You hope for that, you hear it, you think it shows itself, but until you live it, you wonder a little bit. But they've been unbelievable – as real and sincere as it gets."
While Goff said he appreciated the opportunity to make new hires and evaluate the department throughout Year 1, he noted that showing "strong, concrete, tangible statements of our commitment to football" remained one of his top priorities.
"There's a lot of components to that," he added. "And that's got to be something that occurs in Year 2. That's not me speaking about the stuff that has to happen on the field. That's the stuff off the field that has to reinforce that KU is going about football in a different manner."
The Big 12 Conference underwent its own changes during Goff's first year, which certainly will impact the future of Kansas Athletics, both financially and competitively.
Last July, Oklahoma and Texas announced they were leaving the conference for the SEC. A month later, the Big 12 identified four replacements in BYU, Cincinnati, Houston and Central Florida. Recent reports have indicated that those four could be competing in the conference as soon as next year.
While Goff did not play a major role in any of the decision making on either side of those comings and goings, he was involved in some of the conversations.
Further shortening the length of his honeymoon period at Kansas was the constant hum of conference realignment and KU's own future in the Big 12, dramatic shifts in the landscape of college athletics through name, image and likeness and the transfer portal, along with the lingering NCAA investigation into KU's men's basketball program.
"There were moments when I realized, 'Gosh, we needed it more than I even envisioned,'" Goff said of the fresh approach he sought to bring to KU. "It was pretty clear that there was either baggage or just some bruising that had occurred. For us to get healthy and even think about our potential, we just had to push through it. That was a bigger challenge than I even expected.
One thing that helped was the success of a handful of KU programs.
Long before Bill Self's team cut down the nets in New Orleans, Ray Bechard's volleyball program returned to the NCAA Tournament and made a run to the Sweet 16 and Brandon Schneider's women's basketball team enjoyed its best season in a decade, complete with its own return to the postseason.
Goff also said Leipold's squad playing its best football in the final weeks of the season helped KU "get off the mat" and added to the athletic department's momentum.
"No one person, or even leadership team, could ever manufacture the energy that those things provided," Goff said.
He called KU's student-athletes "exceptional." He said his staff was "incredible." He noted that he "couldn't feel any better about" the athletic department's campus partners, and said the alumni and supporters had been "unbelievable."
"We're not fighting any battles with anybody around here," he added.
Since Day 1, Goff has led with his heart, showing people who he is and talking openly about what he believes is possible at KU. That approach provided guidance when he had to make key hires and grounded him on the days when things got intense.
"What's probably been the greatest take away is just the quality of people that we're around day in and day out," he said. "That's been the fuel for me."
He continued: "A big part of Year 1 was figuring out how do we build morale and culture that extends outside of the walls of the athletic department. I sort of thought, 'If we can do that, then Year 1 would be considered a success.' And I feel exceptional about that. I give credit to an audience and a group of constituents who were hungry for that. That's going to be the biggest driver of our future."
There were also somepersonal moments in the past 12 months that were more meaningful than Goff ever could have imagined.
It started with him getting an insider's view of the team he grew up rooting for on its run to a national title. The stops along the way allowed Goff and his wife, Nancy, to bring their three children back to where they were born in Chicago and the whole family to where the Goffs first met in New Orleans while at Tulane.
"There was definitely a degree of it being just surreal, a homecoming in Chicago and a homecoming in New Orleans," said Goff. "All of it just even more fully emphasized that this is all a family affair."
The symmetry was so strong that Kansas won the 2022 national title on the same date, one year later, that Goff took the call from KU Chancellor Douglas Girod offering him the job.
It seems safe to say that April 4 will always mean a little more to Goff than most of the other 364 days on the calendar.
By Goff's own admission, his first 12 months at KU went by "really fast." But he said the challenges and tasks that kept him busy, and the attention that each demanded, helped keep Year 1 from feeling like total chaos.
"I think the bar and the standard has been raised for a variety of reasons around Kansas Athletics," Goff said.
Now that the foundation is in place, Goff wants to add to it and borrow from it. Doing so will not be easy, and Goff, as well as those around him, know that new challenges will arise.
The football puzzle will remain top-of-mind, but so, too, will the impending men's basketball ruling from the Independent Accountability Resolution Panel, of which there remains no known timeline.
"We've got to get to an outcome on the NCAA investigation," Goff said. "We've got to navigate that really, really well as a department (and) as a university."
Asked how worried he was about what the ruling could bring, Goff sat back before responding.
"I think after a year of getting fully up to speed and being engaged and not being a bystander, the part about worrying goes away," he said. "You're embedded and committed and you're trying to find ways to move forward and then you're trying to demonstrate leadership for a department that has needed it and will continue to need it all the way through getting through it. So, worry's not the word that I use. More probably eager and optimistic and excited for us to move forward and put that cloud behind us."