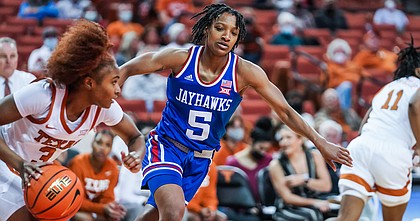 Former Kansas guard Aniya Thomas, who spent much of her four seasons as a starter, will use her fifth year of eligibility at Missouri State, the school announced Thursday.
Thomas, a 5-foot-7 guard from Duncanville, Texas, will play for one of the more successful mid-major programs in women's basketball. The Lady Bears have been to four of the last six NCAA Tournaments and are a perennial contender for the Missouri Valley Conference championship.
"We are thrilled to have Aniya join our Lady Bear family," coach Beth Cunningham said in a statement released by the university. "She will impact our program immediately with her versatility and ability to handle the ball, while making plays for herself and her teammates.
"She is an outstanding defender and will change the game for us on the defensive end of the floor. Aniya has experience playing — and winning — in the NCAA Tournament and she brings a familiar winner's mentality to Springfield."
The longest-tenured player on the team, Thomas started 16 games for the Jayhawks last season and averaged 8.5 points and 2.5 rebounds per game — numbers that nearly mirror her averages over her four seasons in Lawrence.
Coach Brandon Schneider said last week that Thomas was looking to transfer to a school that would ease her transition into an eventual coaching career.
In Missouri State, she'll play for a first-year coach in Cunningham who spent the last two seasons as an assistant to Kara Lawson at Duke. Prior to her time with the Blue Devils, Cunningham spent eight seasons as the associate head coach to Muffet McGraw at Notre Dame, where she was the school's all-time leading scorer after her four seasons playing there, and nine seasons as the head coach at VCU.
The Lady Bears defeated Florida State in a First Four game last month, then lost to Ole Miss in the first round of the NCAA Tournament. Their former coach, Amaka Agugua-Hamilton, left for Virginia after the season, leaving their roster in flux. They have just seven players listed on their roster after three chose to transfer, including two of their seven seniors from last season.