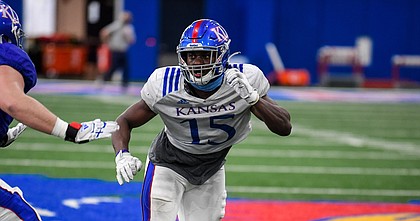 The photo still hangs on the refrigerator of the Johnson family home in Fort Worth, Texas, a reminder of the days when football wasn't as fun for Kyron Johnson as it is now.
It's team picture day, and Johnson, then in elementary school, was upset that his team had just lost a game. Fighting back tears that had been flowing moments earlier, Johnson was unwilling to entertain the photographer, decidedly not smiling and looking for an escape with his younger brother, Kayron.
"At that point, I thought, 'Oh, God, they're not going to make it, but we're going to keep them playing anyway,'" said Johnson's mother, Stephanie. "Because the thing was to always keep them in something so they didn't have time to worry about trouble — or trouble finding him."
What Johnson found instead was success, which carried him from district first-team honors at Lamar High in Arlington, Texas, to a scholarship offer to play football at Kansas to Big 12 recognition.
This weekend, it will carry Johnson to a level even he didn't consider likely at the start of last season. He will begin a professional career as soon as he is selected in the NFL Draft, which begins Thursday and concludes on Saturday.
Johnson is expected to be a late-round pick, which means he will likely be chosen in the final four rounds on Saturday. If so, he would become just the third player drafted out of Kansas since the end of the 2014 season, following defensive end Dorance Armstrong in 2018 and left tackle Hakeem Adeniji in 2020.
"It's funny, because I really didn't even care much about playing football until I got to high school," Johnson said. "That's when I really started to take a strong interest in football. I was like, 'OK, I'm gonna go to the NFL. I want to see if I can make it that far. I want to see if I can be the best player ever — to try to get into the Hall of Fame.'
"It's like, this whole process right here is a blessing in disguise because a lot of people couldn't fathom being in my shoes. I'm just lucky."
Johnson lined up as a defensive end for the Jayhawks last season, finished with team highs of 5.5 sacks and 10 quarterback hits and was measured by scouts in March at 6 feet and 231 pounds. That means he will most likely find a home as a weakside linebacker in the NFL, he was told by coaches and scouts, many of whom took an interest in him in recent months because of what they perceive as his unrefined talent and his athleticism.
Teams are only allowed to meet with 30 players at their facilities and they are strategic with those visits. As a sign of how much attention Johnson has drawn, he flew to meet in person with the Baltimore Ravens, Green Bay Packers, Indianapolis Colts, Kansas City Chiefs, Minnesota Vikings and Pittsburgh Steelers, to say nothing of the phone calls and videoconferences held via Zoom with other interested parties.
The Steelers' linebackers coach, Jerry Olsavsky, had Johnson walk him through plays on video, and Johnson said he believed Olsavsky was impressed by his knowledge.
"They just wanted to see if I could retain information in the little short time that I had with them and see if I can call it out based on watching their film," Johnson said.
Johnson started to garner attention at the Senior Bowl, an annual college all-star game held in Mobile, Alabama, on Feb. 5. He was not among the 324 players invited to the NFL combine in early March — he was widely considered one of the more high-profile players snubbed — he recaptured that focus with an electric performance at his pro day workout at Kansas on March 9.
That included a 4.4-second 40-yard dash, which would have ranked second among the defensive ends and linebackers who were measured at the combine, and the decision by a few curious scouts to put him through drills meant for defensive backs to test his versatility.
That's no problem for Johnson, who was also used as an inside linebacker, outside linebacker, nickel linebacker and pass rusher during his five seasons at Kansas. He also grew a fondness for playing on the coverage units on special teams, roles he said he wants to embrace during his first few seasons in the NFL.
"Not the biggest guy, but explosive, and the biggest thing he had was a motor," said Kansas special teams coordinator and defensive ends coach Taiwo Onatulo, who was promoted to those roles after he spent last season as a special teams analyst.
"Everything we talk about on the defensive line is playing fast, playing physical and playing with a motor, and that's something he did. That's why he's in the position that he's in."
Johnson spent several weeks after the pro day working with specialized trainers in Frisco, Texas, not far from his childhood home. That allowed him to spend time with his parents, Stephanie and Broderic, and give them a chance to reflect on his journey toward a professional career.
"We didn't talk about it, really, as to whether or not it would go into playing in the NFL," Stephanie said. "That's always the hope, right? You play and then you get a full scholarship to a college, and then you're like, 'OK, next step is the NFL. Can we make it? Is that possible?' That's always in the back of your mind."
The Johnsons are planning to order pizza and chicken wings on Thursday for the first round of the draft and make tacos and nachos on Friday for the second and third rounds. Then, on Saturday, they'll host a barbecue for immediate family members, during which they expect to hear Johnson's phone ring and see his name flash on the television screen.
Unlike all those years ago, Stephanie Johnson is confident any photo taken in that moment will capture an immeasurable level of excitement.
"He's going to be all smiles," she said. "You won't be able to see anything except for those white teeth. I promise that."